If you are a tiny bit interested in home decor, interior design and renovations, you've definitely come across the name Farrow & Ball. And if you've got attuned eyes, you might even recognize at a glance some of their most famous colors.
Founded in 1946 by John Farrow and Richard Ball in England, the high-end paint company is beloved by designers around the world. It prides itself on using the finest ingredients and traditional methods. Compared to paint you could by at the local hardware store, Farrow & Ball's products contain less binding agents, less water and more pigments, which means the depth of color is quite impressive. It is a fantastic choice for rich-hued rooms, and especially if you like a matte finish or appreciate a subtle transformation under different light conditions. Some even say a lick of Farrow & Ball paint and it instantly makes a space look more expensive, but you'd kind of hope so considering the price tag… Indeed, a gallon (4 L) of Farrow & Ball paint will cost you $115, about two to three times more than an alternative product.
Is it worth it? A designer will tell you it is the best choice. Sure, it will be stunning, but most of us cannot afford the splurge and/or wrap our head around spending that much money for paint. What we can all do, however, is indulge in the tremendous inspiration the company offers. The website is filled with gorgeous images of their colors in situ – Have a look!
This is starting to feel like a sponsored post, but I assure you it is not. I absolutely love their products, but I am more the type of person who tries to match paint chips to what is more accessible out there. I recently painted my entryway in what is the closest I could find to Mole's Breath by Farrow & Ball – I am SO happy with it! It might not be as rich or deep as the real deal, but I could get new sconces and an area rug, and still be withing budget.
I wanted to show you beautiful rooms dressed up in some of my favorite colors* from the high-end English paint company, and to give you alternatives to get a very similar look in brands like Benjamin Moore, Sherwin Williams, Behr and others.
So whether you can splurge or not, you've got options to paint your home in a Pinterest-worthy muted hue.
*For this roundup, I've purposely omitted whites because a dedicated roundup is coming up soon, but mostly because we increasingly see colors in Scandinavian interiors, too. I think it is nice to experiment a little with our decor scheme, and a new lick of paint if one of the easiest ways to transform your home!
The inspiration:
Color: Setting Plaster
Description from Farrow & Ball: "This dusty pink is named after the blushing walls we often admire in newly plastered houses. It is definitely a pink in historic terms but has a certain softness to it due to the inclusion of yellow pigment. Our timeless 'Setting Plaster' creates a wonderful backdrop to antique furniture, and also works incredibly well when paired with Mahogany in a more contemporary home."
Alternatives:
Benjamin Moore, AF-190
NCS 1950, S 1510-Y60R
Tikkurila. Angora H466
Duluxe Trade, Soft almond 4, 90YR 53/132 (slightly browner)
The inspiration:
Color: Oval Room Blue
Description from Farrow & Ball: "'Oval Room Blue' is the most blackened of our blues, giving it a subtly aged feel. Named after the attractively shaped rooms of the late 18th century, it sits perfectly with our popular greys to create depth and balance in either a hall or a darker, cosier family room."
Alternatives:
PPG, Aqua Smoke 1034-5
Kelly Moore, KM4853
Federal Standard 595C, Gray 26329
AMS Standard 595C, Gray 16329
The inspiration:
Color: Pavilion Gray 242
Description from Farrow & Ball: "This classic mid grey was originally created for a bespoke pavilion, but is also reminiscent of an elegant 18th-century Swedish color. One of the Architectural Neutrals, the subtle blue undertones of 'Pavilion Gray' adds a contemporary touch and sense of spaciousness. Combine with 'Dimpse', 'Blackened' or 'Manor House Gray' in any combination for a scheme that is perfect for the modern family home."
Alternatives:
Antique Silver D393, True Value
KM822, Kelly Moore
Federal Standard 595C, Gray #49 / Gull gray
The inspiration:
Color: De Nîmes
Description from Farrow & Ball: "This quietly elegant blue feels wonderful down to earth, so could be used on anything from a kitchen island to an airy drawing-room. The exact shade is rooted in a regency palette but is inspired by the cloth of everyday workwear made in the French city Nîmes. Like denim, its blue hue is ultimately fashionable and yet always feels grounded."
Alternatives:
Benjamin Moore, Montpelier AF-555
Jotun, Blåis 5044
NCS, 1950 (close, but slightly greyer)
PPG, Garrison Gray 1039-5 (close, but distinguishable)
+ Make sure to see the related post here for more of my favorite smoky blues.
The inspiration:
Color: Cromarty
Description from Farrow & Ball: "This very light green grey is named after the Cromarty Firth estuary, a place of swirling mists mentioned daily in the Shipping Forecast. A neutral yet atmospheric color, 'Cromarty' 'brings a muted softness to any room, creating an easy to use finish that is neither too green nor too grey. A shade lighter than 'Mizzle', it works beautifully when grouped with 'Blue Gray' or 'Pigeon'.
Alternatives:
Benjamin Moore, Vapor Trails 1556
Sherwin Williams, Sedate Gray SW6169
RAL, Natural grey 100 80 05 (a bit less green)
NCS 1950, S 2005-G40Y (a bit cooler)
The inspiration:
Color: Worsted
Description from Farrow & Ball: "This rich mid grey conjures memories of city suits made from flat woven fabric, so was named after the Norfolk village where the yarn was originally woven. For devotees of our Easy Neutrals, 'Worsted' is stronger in tone than its counterpart 'Purbeck Stone', but lighter than 'Mole's Breath'. It has an understated richness with no cold tones, making it the perfect background to make clean accent colors pop."
Alternatives:
Jotun, Vallmofrö
Tikkurila, Cacite K487
Benjamin Moore, CC-518
Little Greene, Lead Colour LG 117
NCS 1950, S 3502-Y
The inspiration:
Color: Blue Gray
Description from Farrow & Ball: "With its subtle mix of blue, green and black pigments, 'Blue Gray' creates the most relaxed of rooms that feel as if they have always been there. It is a cooler, more weathered version of 'French Gray' and has the same almost magical quality of gently shifting between blue and grey depending on the light and time of day."
Alternatives:
Cloverdale, Silverberry CA 157
Benjamin Moore, October Mist 1495
DIN 6164, TDS 24-1-2 (a hint greener)
Tikkurila, Serpentine V447 (slightly bluer)
The inspiration:
Color: Elephant's breath
Description from Farrow & Ball: "This warm and contemporary grey is renowned for its characterful paint name, originally created by John Fowler, the notable English interior designer. 'Elephant's Breath' reads as an uplifting mid grey with its hint of magenta, but can become almost lilac in the cooler light of west facing rooms. Try offsetting with 'Charleston Gray' and 'London Clay' for an invitingly earthy scheme with more intense accents, or pair with other Contemporary Neutrals such as the softer 'Strong White' for a sense of neutrality and calm."
Alternatives:
Behr, Race Track N180-3
True Value, Mocha Stone D293
Little Greene, Slaked Lime Dark LG 151
Dulux Trade, Bleached Lichen 2, 30YY 58/082
The inspiration:
Color: Light Gray
Description from Farrow & Ball: "A stony neutral, this traditional grey green was originally used as a colour name in the 9th century – an ancient name for a timeless colour. The subtle green base of our 'Light Gray' brings an unsurpassed depth of colour when used on walls. It is the perfect accent for all our Traditional Neutrals, used on furniture and joinery in many 'Off-White' rooms alongside 'Old White'. It can also be combined with 'Stiffkey Blue' to create a very relaxed, almost mismatched feel."
Alternatives:
RAL Design, Raffia Greige, RAL 085 70 10
Duluxe Trade, Setting Stone, 40YY 38/107
Dryvit, Pearl Ash 106
Kelly More, KM4594
The inspiration:
Color: Dimity
Description from Farrow & Ball: "'Dimity' is named after the lightweight cotton fabric originally used to make ladies' bustles, but which is now more commonly used for bedding. One of our Red Based Neutrals, this pale and subdued taupe is brimming with warmth and an unmatchable depth, making it perfect for elegant and understated hallways. It can be combined with 'All White' and 'Pointing' to read pinker, or with the darker 'Oxford Stone' on woodwork for a slightly aged look and relaxed feel."
Alternatives:
PPG, French Cream PPG 14-15
RAL Design D2, 070 90 05
NCS 1950, S 0804-Y30R
RAL Classic, Cream 9001
Tikkurila, Tofu Y462
Dulux Trade, Candle Cream 30YY 79/070
The inspiration:
Color: Railings
Description from Farrow & Ball: "More blue than black, 'Railings' is a softer alternative to black which is particularly suited to the ironwork it takes its name from. When used in Full Gloss on front doors it creates a handsome and commanding entrance, but becomes much more relaxed in feel in our Estate Eggshell finish. The bluer undertones of this dark hue transform rooms into dramatic and enveloping interior spaces."
Alternatives:
BS Other, Middle Graphite 671
AMS Standard 595A, Army Blue 450, 25049
Benjamin Moore, Raccoon Fur 2126-20
RAL Design, Diamond Grey, RAL 240 30 05 (slightly bluer)
The inspiration: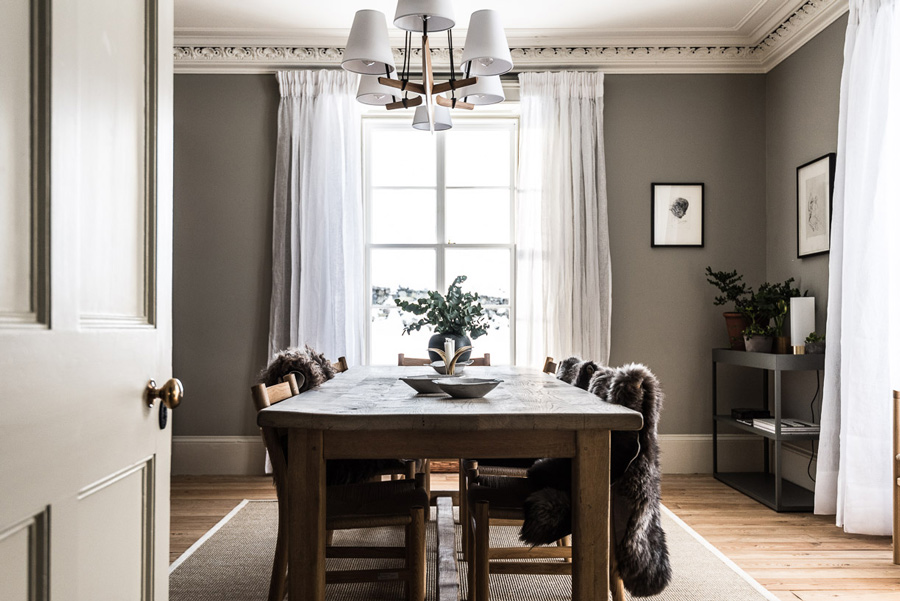 Color: Charleston Gray
Description from Farrow & Ball: "A warm and muted grey, 'Charleston Gray' is named after the much loved home of the equally artistic and intellectual Bloomsbury Group in West Sussex. Very popular for use in modern living rooms, its brown undertones create a warm, enveloping and hushed atmosphere. It is the perfect accent colour for all the warm Contemporary Neutrals or can be used on woodwork with rich 'Brinjal'."
Alternatives:
Valspar, State of Mind V130-4
RAL Design, Screed Grey 060 60 05
Federal Standard 595C, Gray 36306
RAL Design, Flannel Grey, 080 60 05
NCS 1950, S 4005-Y50R (slightly lighter)
---
Pin this for later:
First photo: Hotel St. George in Helsinki, in a similar hue as Setting Plaster
---