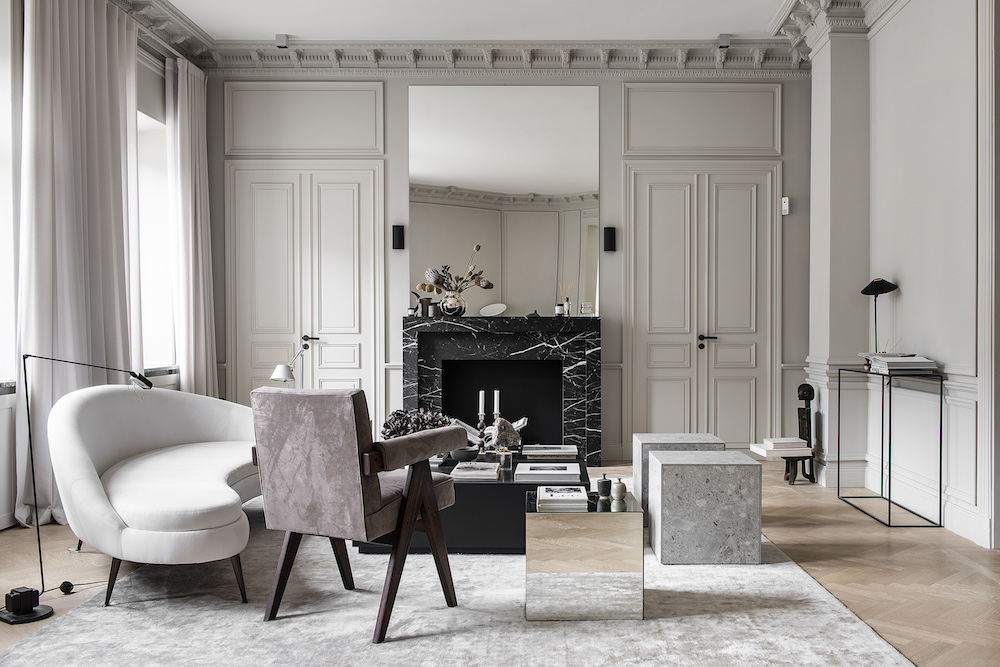 .
This fantastic apartment is a real show stopper.
It is the home of Emma Blomqvist, founder of Apartment Stories. We've already had a peek inside her beautiful home (see article here) some time ago, and I am super pleased to have a more extensive tour for you today.
The 1895 building is located in Östermalm, a prime neighbourhood of Stockholm, Sweden, a stone's throw away from the city center. Carefully renovated throughout the years, the place still boasts with plenty original features. Deep window sils, ornate ceilings, herringbone parquet floors, wall paneling… Exquisite details that give this turn-of-the-century home lots of character and historical charm.
The interior, on the other hand, is sleek and modern. It was decorated with exquisite furniture and accessories. Everything seems carefully curated, just like in an art gallery. This impression surely also comes from the fact that there are sculptural elements in every room, like a bust, a striking curved sofa, plinths with objects on display, iconic lighting, and more.
Let's take a look around, shall we?
.
.
How amazing is this kitchen? Notice how it blends in rather than stand out. The wall cabinets look like furniture and there are no uppers. All appliances are built in. The island, with its carrara marble countertops and waterfall e.g. the stone continues down the sides of the cabinets, is an elegant design statement. Simple, but oh so beautiful.
It is also worth to point out that there is no dining room per se – The kitchen island is where Emma and her family sit together to enjoy their meals.
.
.
Blomqvist created a sophisticated and minimal home with a cohesive style throughout. She chose a timeless monochrome palette, sticking mainly to white, grey and black. Different textures, materials and shapes are what prevent the look from falling flat.
I am also really fond of the generous ceiling height (about 3.4 meters) and the large windows. The place feels spacious, airy and bright.
.
.
The bedrooms are rather small, but storage was built around and above the beds to make the most of the compact space.
Oh, and who said a family home and stylish living couldn't go hand in hand? Here, you have a proof that it is possible.
.
.
I just love everything about this place. I can't stop gushing over these pictures!
This beautiful apartment could be yours for $1.5 million. Interested? Head over to Wrede for more info.
If you'd like to know a few tricks to make your home feel more luxurious, have a look at this article.
.
Photos: Wrede
---