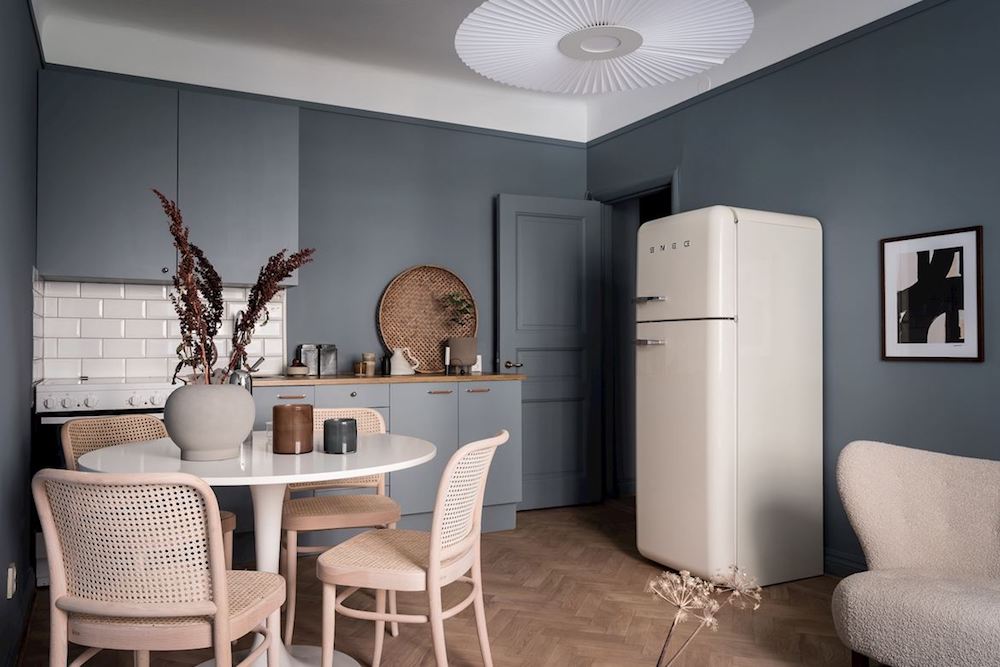 In color psychology, blue is said to evoke serenity, and you have a fabulous example here!
This small apartment in Sweden looks like a comfortable and tranquil cocoon with its smoky blue walls. The dramatic shade makes an excellent backdrop for the light-colored furniture and accessories. Natural touches, like the few wooden elements, give the interior a more organic feel. It is serene for the eyes, and calming for the soul – I am loving it!
I did some research and came up with my top picks for smoky blue paint colors – See below. But first, lets enjoy this home tour!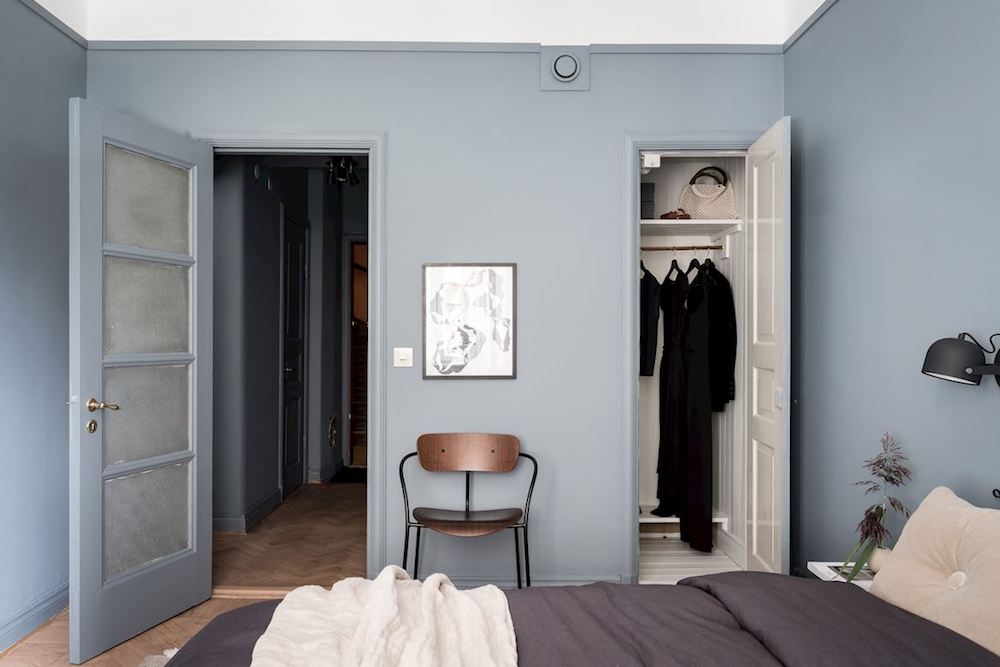 It is worth to point out that as shown just above, the bathroom was kept bright and fresh – Quite a contrast with the rest of the apartment. It is a good way to optimize the light in such a small space. It looks composed and stylish, thanks to a restrained color palette and the numerous textures.
Now back to that gorgeous shade of blue! Did you notice how it beautifully transformed with the light from room to room? Tip: Going for a color that is twinged with grey helps make the hue read like a neutral, instead of being overpowering. For those of you who'd like to try something similar at home, I've gathered my top picks for smoky blue paint colors. I've included options by Benjamin Moore, Jotun Lady, Sherwin Williams and Farrow & Ball, so you can probably find one option below at your local home improvement store. You are welcome!
1. Montpelier AF-555 by Benjamin Moore | 2. Needlepoint Navy SW 0032 by Sherwin William | 3. New Providence Navy 1651 by Benjamin Moore | 4. De Nimes #299 by Farrow & Ball | 5. Flint AF-560 by Benjamin Moore | 6. Van Deusen Blue HC-156 by Benjamin Moore | 7. Blåis 5044 by Jotun | 8. Charlotte Slate AC-24 by Benjamin Moore | 9. Bracing Blue SW-6242 by Sherwin Williams
For more beautiful Scandinavian homes, have a look at the inspiration gallery or follow me on Pinterest!
Styling: Bon Interior
Photos: Alen Cordic for Bjurfors
Got a decor inspiration board? Pin this for later:
---