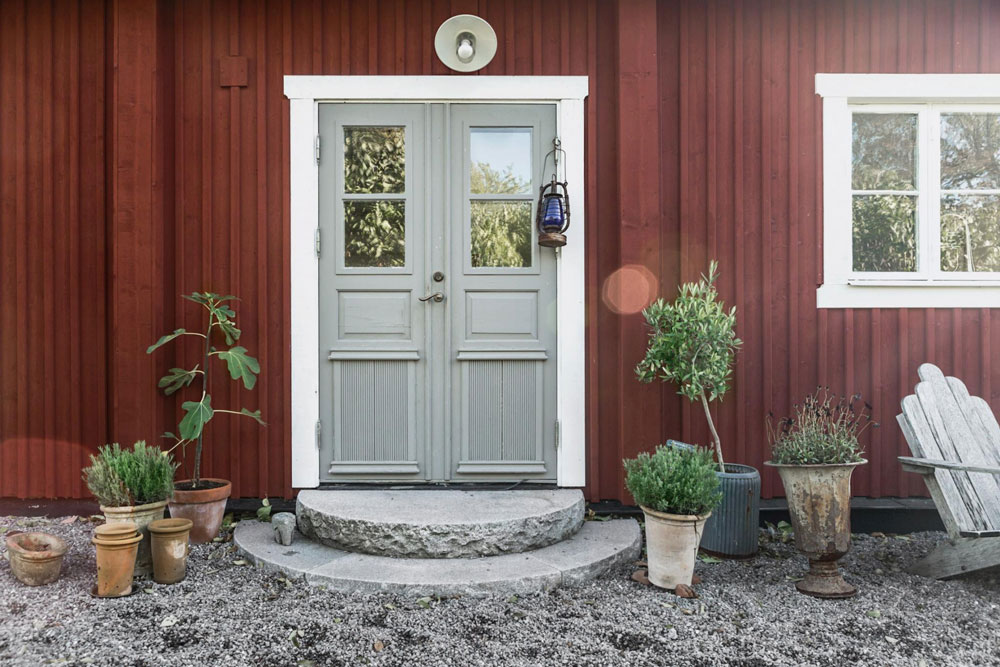 With over 2000 articles published on Nordic Design over the last 10 years, I have undertaken a thorough cleanup for the good health of the website.
So I was knee-deep into the archive and came across lovely cabins that were shared with you a long time ago and that I still find absolutely inspiring.
They are all unpretentious places that emanate peace and quiet, where you imagine you'd feel calmer the minute you walk in; places with no glitz or glamour, but with lots of character, personality, and good vibes.
Here I've rounded up charming 8 Scandinavian summerhouses that I hope you'll enjoy discovering or revisiting.
A fresh, bright and airy Danish cottage for barefoot-all-day vibes!
This luminous cottage in Klint, Denmark, was built in 1830, and used to be a fisherman's home. Today, the place has a relaxed, eclectic style, with many vintage finds from the owner's shop, Dorthe Brocante. The ethnic rugs, throws, and pillows really add a personal touch to the space.
This lovely 75 m² summer house is located in Sjælsø in North Zealand, Denmark. It's a traditional wooden cottage, with a contemporary style. It has a lot of white furnishings, which brighten up the space and provides understated elegance. It is simple, but very well executed.
Gotland in Sweden is a true haven for people looking to escape for the warm season, and here's a summerhouse on the island that makes me want to pack my bags and go. The place seduced me with its plastered walls, wood paneling, concrete floors, exposed beams, and high ceiling. The interior is kept simple, but well-edited. I'm loving all the natural textures and earthy tones, as well as the casual vibe going on.
This is the lovely summer house of Tine Kjeldsen, founder of Danish company Tine K Home, so it is easy to expect a stylish interior! The gorgeous 65 m² house in North Zealand, Denmark, has a great Scandinavian look and feel, with an ethnic vibe – Just like Tine's brand. The outdoor space is fantastic, don't you think? Perfect for warm summer days!
This gorgeous red-painted traditional cottage in the eastern part of Sweden is so lovely! The rustic interior in neutral colors adds to the serene look and feel. I love that the place is filled with antiques, family heirlooms, and travel souvenirs.
Located in Denmark, this small and cozy house has everything needed to fully unwind. Can you picture yourself spending the summer holidays over there, with the french doors opened all day long? I can!
Hard to believe that a family of five and their dog can fit in this tiny 15 square meters cottage – But they do! I guess they spend most of their days outside, it's summer after all. They also probably cross their fingers hoping it won't rain for more than two days in a row… But this place is lovely! It looks warm and has a relaxed atmosphere, with gorgeous views. It's definitely a great summer retreat!
---
Did you find these summerhouses inspiring? Let me know in the comments below!
First photo: Fantastic Frank
---