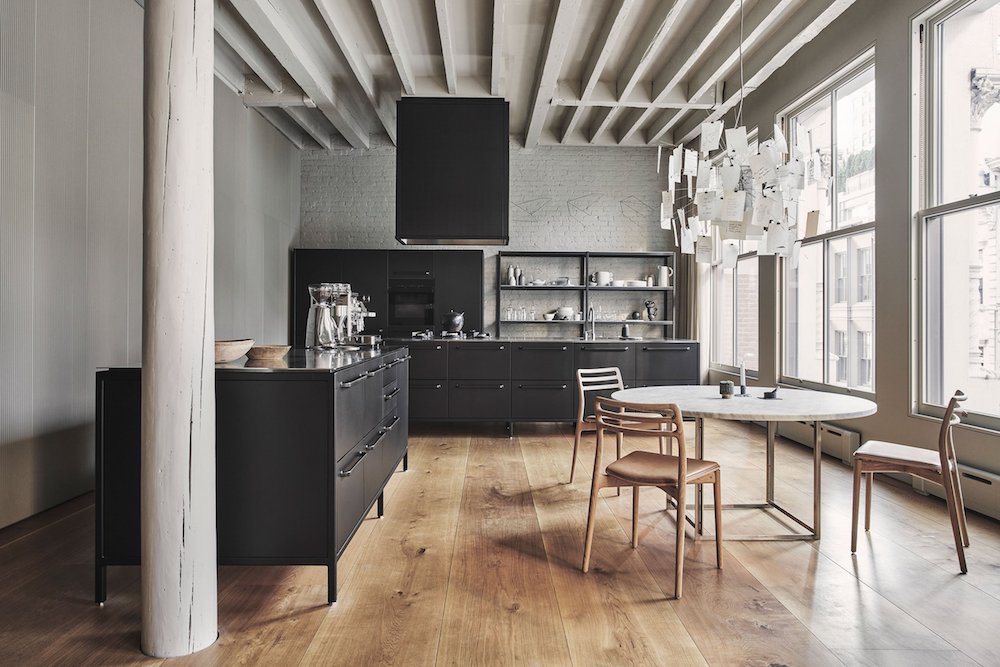 This showroom in New York City is an absolute stunner!
If that looks like a dream home, that's because it actually is; this loft also doubles as the family home of Frank and Sofie Christensen Egelund and their two children.
Sofie is the 3rd generation Vipp-owner who moved from Copenhagen to the Big Apple with her family in 2014 to develop the North American market for her company.
They envisioned and designed their dream space in collaboration with Raëd Abillama Architects, with the goal to create an authentic, homey setting where the products "come alive", as explained by Frank, President of Vipp USA.
The spacious 350-square-meter loft is located in a former factory in a classic cast-iron building in TriBeCa dating back to 1883. The place was completely gutted and rebuilt to create a bright and airy apartment, and the perfect industrial-chic setting for a Vipp showroom.
Let's take a look!
The Danish design company's now-iconic modular kitchen is at the heart of the loft.
There are several pieces from Vipp's lighting and furniture collection throughout the apartment, as well as designs from Scandinavian masters like Poul Kjaerholm, Borge Mogensen, Hans Wegner, and Alvar Aalto, among others.
The loft boasts 17 large windows and 4-meter-tall ceilings, adding to the luxurious look and feel.
The cool industrial vibe and refined elegance are enhanced with the muted palette of white and warm grey tones. Lots of textures and tactile materials add depth and warmth.
The exposed brickwork, the solid oak floors, the upholstered walls, the marble tabletops, the extruded aluminum cabinets by Elie Chaker, the bespoke wine-glass oak storage system, the fluted Ceppo stone and Persian travertine in the bathrooms, the glass partitions… Such a rich space with exquisite details!
Curious to see Sofie Christensen Egelund's former home? Click here!
Want to see another beautiful NYC residence? Have a look at this stunning penthouse by Danish designer Søren Rose.
Styling: Colin King
Photos: Adrian Gaut for Vipp
---