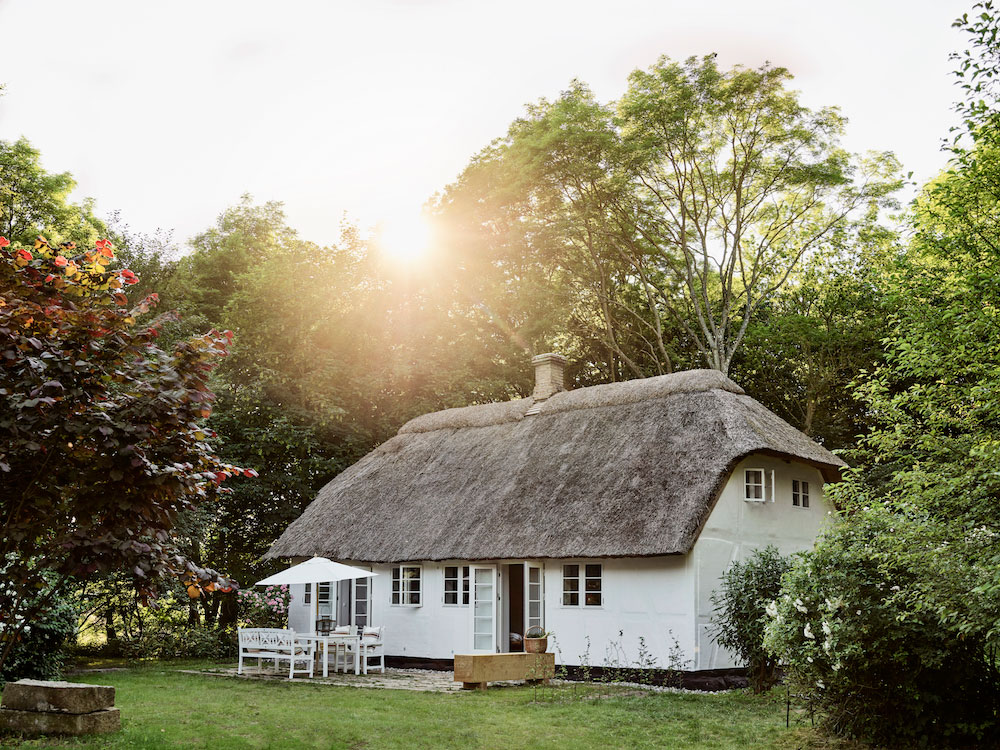 The latest addition to Vipp's portfolio of unique hotels is a fabulous little farmhouse with lots of charm to spare. Located on the Danish island of Lolland, Denmark, the 1775 building used to be a gardener residence nestled in a forest on a 1400 acres estate.
With great respect to the place's past, the exterior has a whitewashed facade and a thatched roof, just like a real, traditional Danish farmhouse.
The interior was beautifully modernized, with function in mind. It is a compact 948 square feet (88m2) with 3 bedrooms, a bathroom, a combined kitchen, and living space.
It is furnished with Vipp's assortment, from furniture to lighting, as well as with the now-famous steel kitchen the Danish brand is well-known for. The look is a minimal, contemporary country home with character.

"During lock-down, we have rediscovered nature and the charm of the Danish countryside, and now we share it with you. Vipp's fourth hotel destination offers a convenient escape to nature. A taste of farm life, where the cow has already been milked". – Jette Egelund, 2nd generation Vipp owner.
Welcome to this historical canvas fully furnished by Vipp.
The soft color palette consists of natural shades – Greys, browns and whites. Tactile materials like thick-weaved blankets, linen, jute rugs, straw and wicker accessories, and bouclé upholstery add warmth, and so do other numerous wooden accents.
I am loving the stone floors, the original exposed beams, and that stunning grey Vipp kitchen!
What a lovely place, I am smitten! I could move to the Danish countryside in a heartbeat…

While nature is omnipresent at Vipp Farmhouse, so is history. The neighboring estate Søllestedgaard houses a manor dating back to 1800 and boasts the largest private greenery in Denmark under the name 'Den Grønne Verden'.
Freshly picked produce is consumed by guests at Michelin restaurants and at the estate restaurant Spiseriet.
"Our old horse stable is now transformed into a restaurant and shop where Vipp Farmhouse guests can buy or taste our variety of 250 greens cultivated on the fields next door," says estate owner Ulrik Th. Jørgensen.
And if you prefer to cook yourself, seasonal picks are waiting to be cooked in the Vipp kitchen at the farmhouse.

Visit:
Vipp Farmhouse
Søllestedgårdvej 8
DK – 4920 Søllested
Denmark
Vipp's other hotels include a loft in Copenhagen and the Chimney House, among others. Check them out!
Interior design : Julie Cloos Mølsgaard
Photos : Anders Schønnemann
---