The Bolder Sky Lodges provides a unique experience for design fans and nature lovers alike; a little hideaway high above a Norwegian fjord, nearby the famous Pulpit Rock (the cliff from which Tom Cruise hung off in Mission Impossible 6).
Each cabin (there are two so far) is built on a single column to minimize the footprint, a steel beam drilled 3.5 meters into the ground, with a two-floor cube perched atop. It is wrapped in Canadian cedar, and boasts floor to ceiling glazing to fully immerse visitors in the surrounding nature.
Danish design company Vipp was chosen to furnish the 22 square meters of living space, from furniture and lighting to tableware and accessories.
There is also a beautiful designer kitchen by Vipp, a fully equipped bathroom, two double bedrooms, and a dining room – All with a breathtaking view over the spectacular Lysefjord.
The interior was conceived to harmonize with the view: Stained oak ceiling and walls, concrete flooring, and a dark-toned décor dominate the space.
"My intention was to give visitors a front row view to one of the best-known fjords in the world. The border between inside and outside had to be blurred to convey the feeling of floating in nature." – Tom Norland, entrepreneur and owner of The Bolder
This is yet another place to add to the travel bucket list!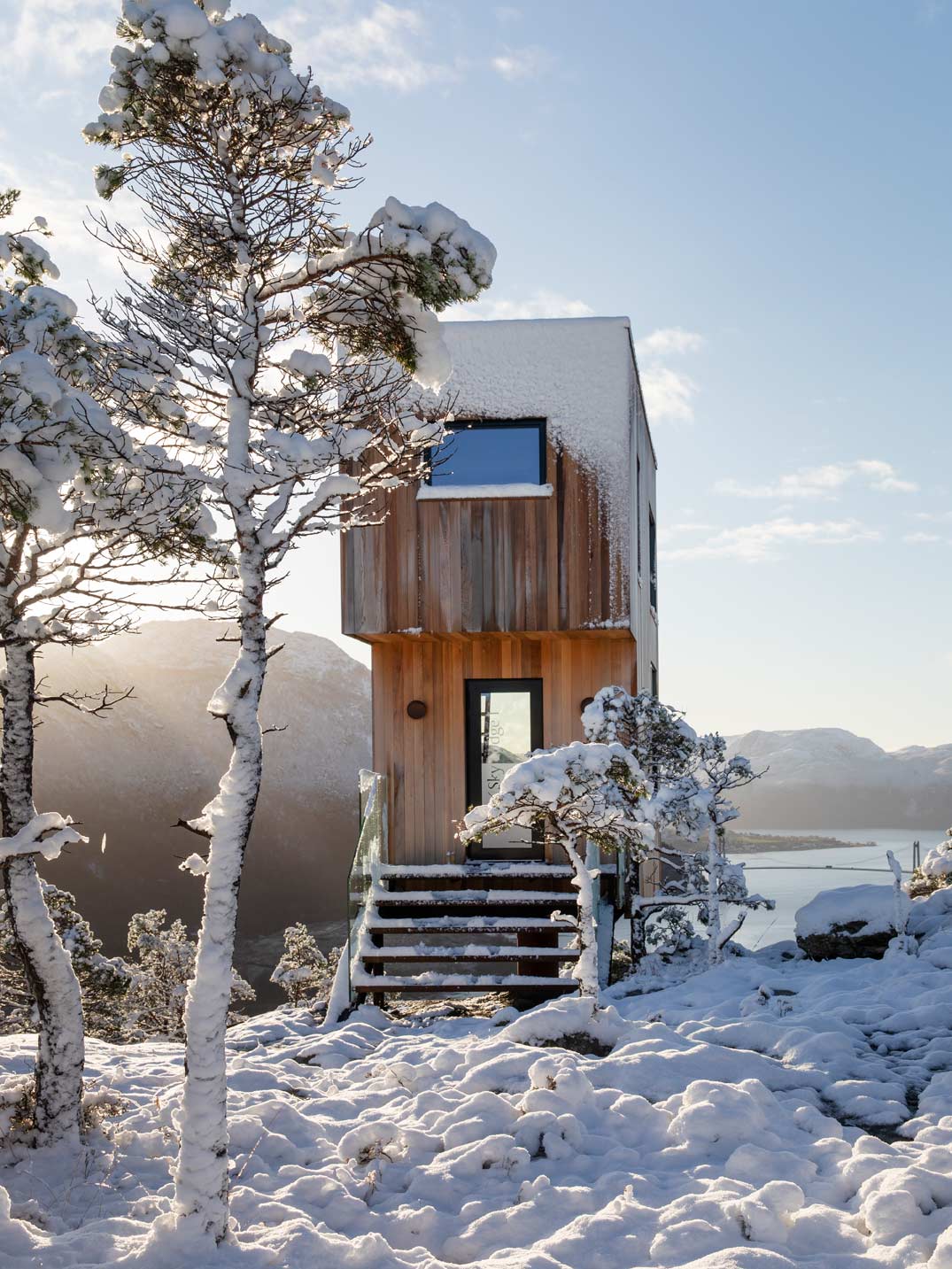 You can also take a little virtual tour of a sky lodge here:
If you'd like to test drive a Vipp Kitchen during your next vacation, have a look at the brand's hotel concept, which includes The Chimney House and The Loft, both in Copenhagen, as well as this gorgeous shelter in Sweden.
Photos: Anne Bråtveit via Vipp
---