While traveling is not in the cards for the near future, I can't help but dream of my next adventures. I've had plenty of time on my hand to indulge in wanderlust, and I thought it would be fun to create the ultimate wish list for anyone looking for the perfect Nordic escape. Here's a list of once in a lifetime experiences that should be on your radar.
Who's coming with me?
---
Doze off under the Northern Lights in Lapland
The Aurora Borealis are Nature's most amazing light show, and luckily for us they are visible about 200 nights a year in Lapland, Finland. To make the most of this grand spectacle, it is possible to camp directly under the skies, but if that's not your thing, stylish accommodations with XL windows and Scandi flair are increasingly available – From a treehouse hotel to glass igloos and villas. Here you'll find a few stunning options.
---
Stay at Manshausen Island Resort, Norway
Manshausen Island Resort consists of modern cabins overlooking the sea and mountains of Northern Norway, one of the most beautiful regions I've ever seen. Located on a 55-acre private island owned by polar explorer Børge Ousland -the first person to reach the North Pole in a solo and unsupported expedition- the resort was developed in harmony with nature.
The sleek architecture is by Snorre Stinessen, who incorporated large windows in its design to allow visitors to fully take in the breathtaking views and connect with nature. The place also boasts hot tubs, a saltwater pool and a private beach.
---
Go on a polar bear and Arctic wildlife tour
Explore the town of Churchill, once a fur trading post in Manitoba, Canada, and embark on polar bear safaris. Custom Tundra vehicles facilitate a close encounter with Arctic wildlife. This has been a childhood dream of mine, and I promised myself to finally make it happen soon – Fingers crossed!
I found great tours with Natural Habitat Adventures and Frontiers North.
---
Live the Deplar Farm experience in Iceland
I've been thinking about Deplar Farm since the day I found out about it – And it's not difficult to see why! Picture this: A traditional sheep farm converted into a modern hotel in the rugged and remote Troll Peninsula in northern Iceland. It boasts high-end amenities like the outdoor geothermal pool and a spa, in the middle of magical landscapes. Adventure tours are available; I'm particularly drawn to heliskiing if visiting in winter, or to go angling for salmon and Arctic char between June and September – Two reasons that make this ultimate luxury experience a must on my bucket list.
---
Cruise like a (fancy) Viking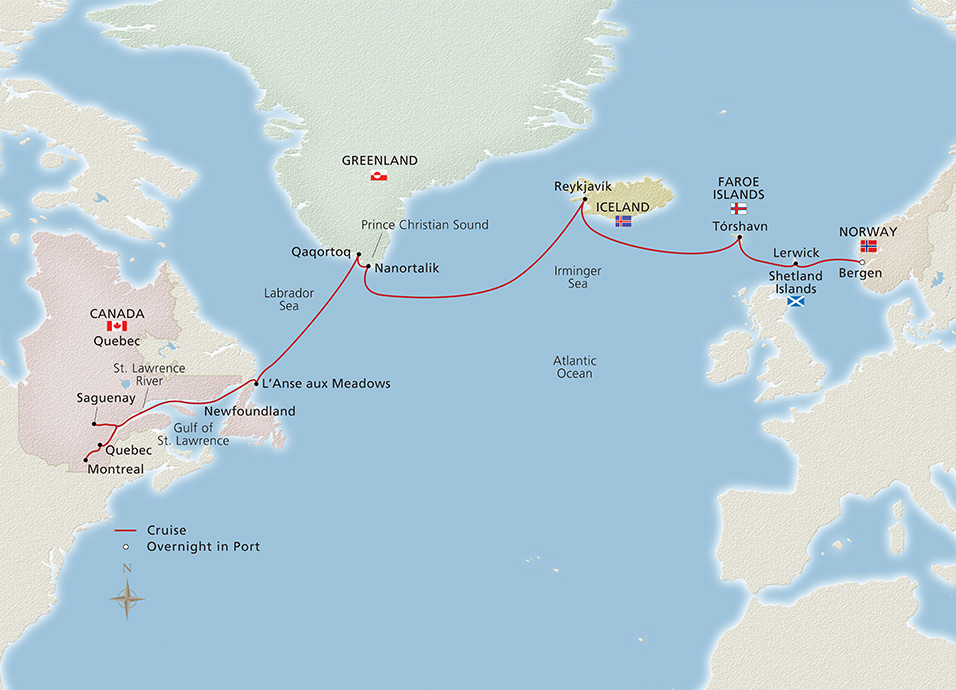 Sail across the Atlantic following the route of Viking Leif Eriksson who discovered American shores 500 years before Columbus, onboard of a luxurious cruise ship. The journey takes you from Bergen in Norway to the picturesque Shetland Islands of Scotland, and then to the Faroe Islands, Iceland, Greenland, and Canada, passing through Ancient Norse settlements in Newfoundland, and historic towns of Quebec and Montreal. Take a dip in the infinity pool or get a massage at the spa between ports, and indulge in fine dining the entire trip… A journey of a lifetime!
---
For more Nordic travel inspiration, click here.
First photo: Isabelle Thordsen and Furgus Bell, via Manshausen Island
---