How to mix different wood species in an interior is one of the most frequently asked questions I've had over the years. I get that it isn't always intuitive, and we often have to make-do with existing floors or stained moldings in our home, and with items collected or inherited throughout the years. What's more, nothing is further away from a considered, intentional and personal interior than one with a matchy-matchy set… So here, I am sharing my foolproof tips on how to mix wood like a pro!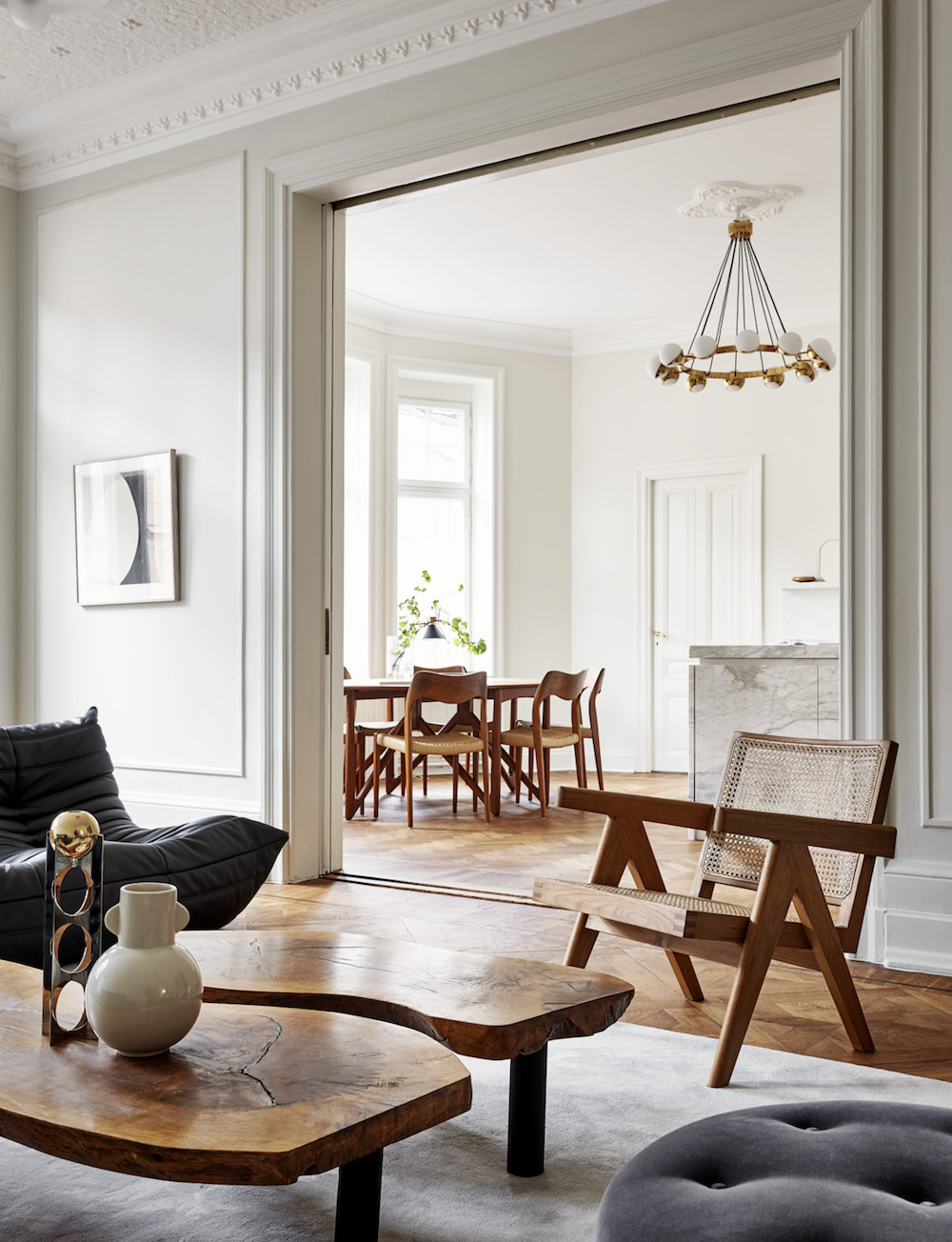 1. DOMINANT TONE
Look at your room and identify the dominant wood tone. The largest element is your starting point – It is usually a hardwood floor, or cabinetry, or a big piece of furniture that remains in the room.
If nothing stands out as the main wood tone because no surfaces are significantly larger than the rest, select two to three main pieces that together will constitute your foundation.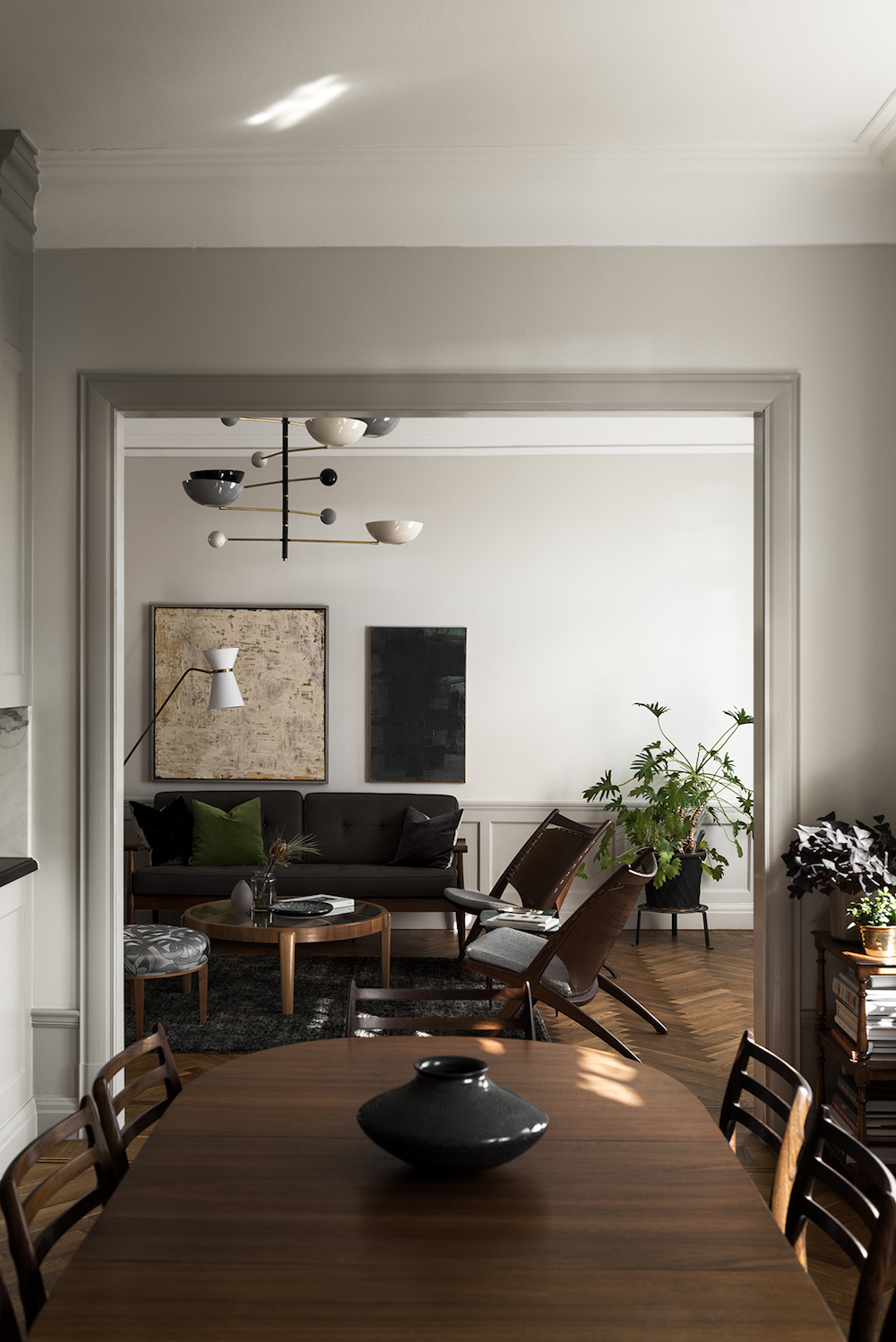 2. UNDERTONES
Now that you have your dominant wood tone, now it's time to understand its undertone – Cool, neutral or warm. Look closely at the palest tone in the grain or look at the dominant wood tone from across the room. How is the main shade?
Warm: It appears yellow, orange or red.
Cool: It is a little bit grey, blue or even green.
Neutral: If there is no real greyish or yellow cast, it is likely a neutral.
It is difficult to categorize wood by undertones because a stain/dye and patina will transform its appearance. Moreover, the color will vary drastically depending on which part of the tree it is cut from (center versus outer rings). But usually, you'll notice that most antiques have a warm undertone, just like Cherry, Mahogany, Hickory and Teak fall in the warm category, while Ash, Poplar, driftwood and reclaimed barn wood have cool undertones. Walnut is a great neutral wood because it has no real undertones, just like whitewashed oak.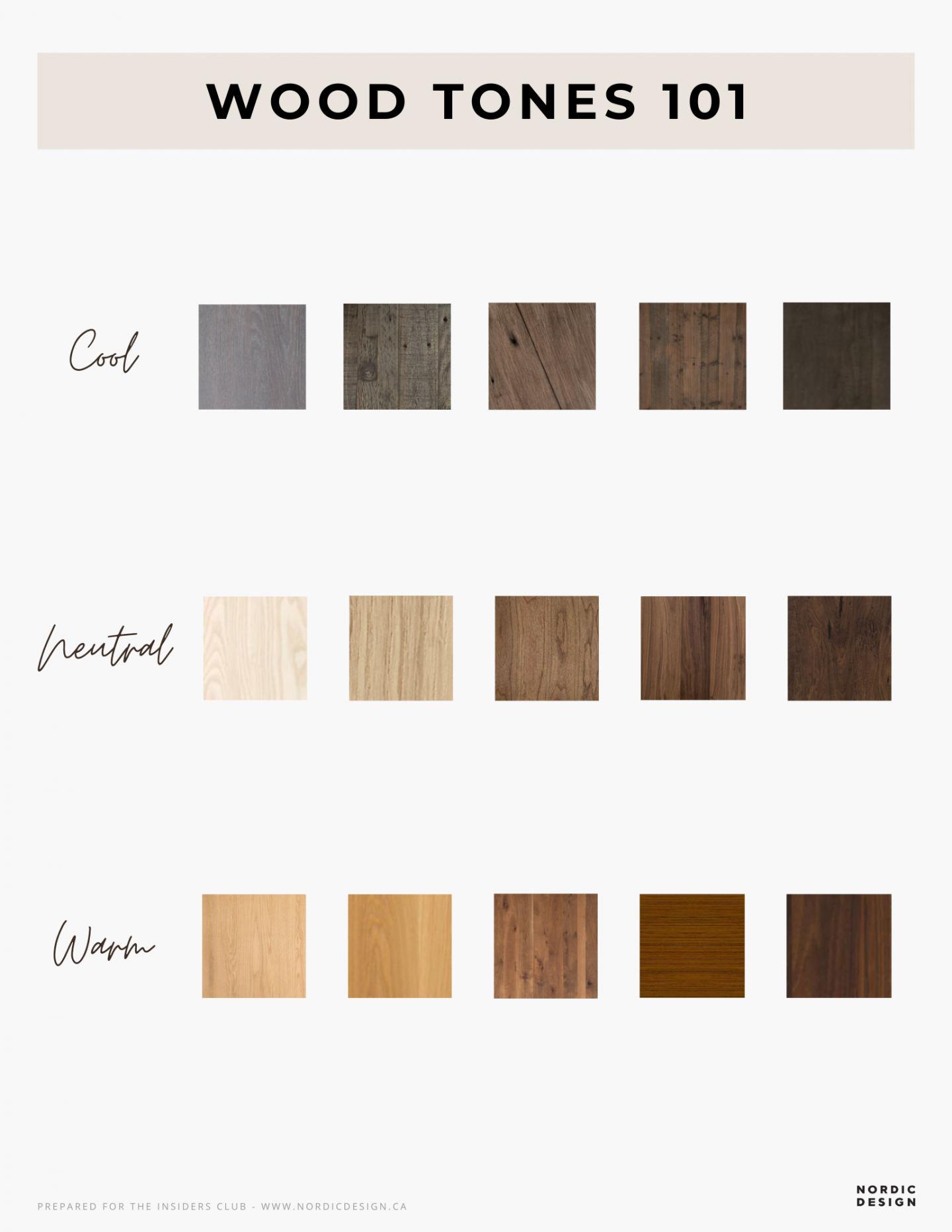 3. TO MATCH OR NOT TO MATCH
This is important to remember: Don't try to match the wood tones, match the undertones!
Use the undertone of your dominant wood surface as your foundation for choosing your furniture and decorative accents. Staying within the same family is how you'll create continuity, a coherent thread that will ensures all your pieces make sense together. The only exception is with neutrals – They are so versatile, they can be combined with either cool or warm tones.
Why use complementary tones rather than matching them? Wooden furniture can get lost when they are too similar to the floors, and the look can fall flat. Plus, finishes that almost match look like you tried and missed the mark.
Remember that contrast is an important piece of your interior design puzzle, to add visual interest, depth and texture. This particularly applies when mixing wood. The look will be more layered and organic, as if all individual pieces have been collected over time rather than purchased all at once. Compared to having a matching set, which is more calculated and bland, your interior will feel more inviting, authentic and deliberate.
4. FINISHES
It is recommended to try matching finishes of your wooden elements – Matte, satin or glossy. This is especially true if you have floors with a different undertone than the one of your beloved dining set, for instance – It is easier to make it all mesh together.
But I say: Let's not sweat over sheen! In my opinion, matching finishes is the kind of rule that can be broken without going rogue.
We rarely buy all furnishings all at once, but rather collect and inherit things over the years. What are the odds they all have the same finish, anyway? The key is simply to scatter finishes around the room, rather than keeping them close to each other.
Plus, almost everything can be sanded down and refinished for a look that is effortlessly well put together.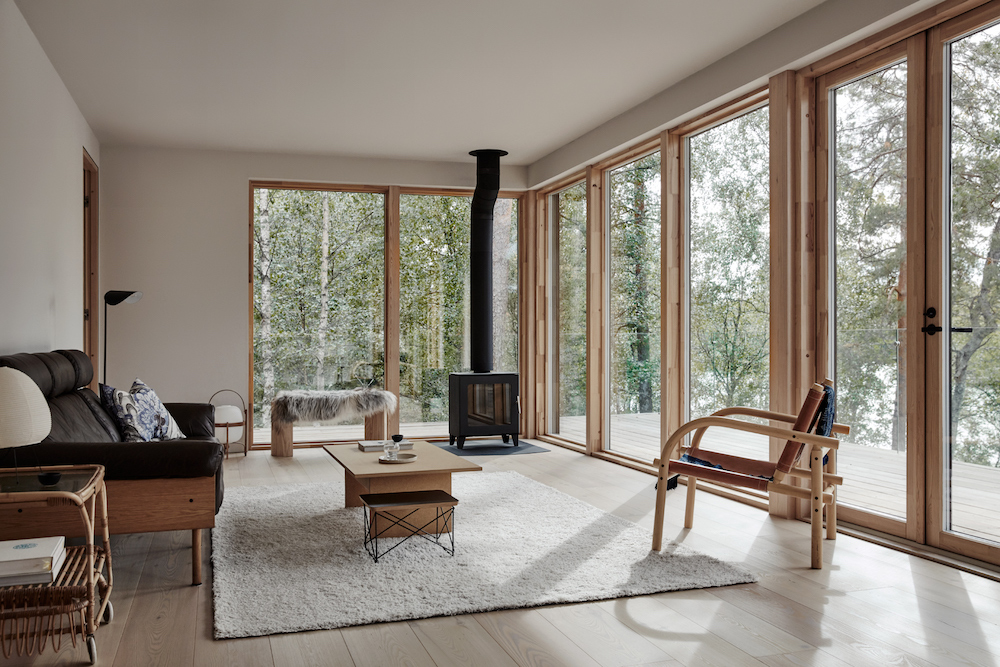 5. SIZE MATTER
The wood grain will contribute to the mood and style of your room. Large wood grain suit more rustic, rugged and casual look, while delicate grain are best suited for transitional or contemporary interiors that are polished and more formal. A bit of both is the way to go – Mixing wood grain will make a home look intentional, eclectic and personal.
For your reference, white oak is has a grainy texture, and maple has a finer grain.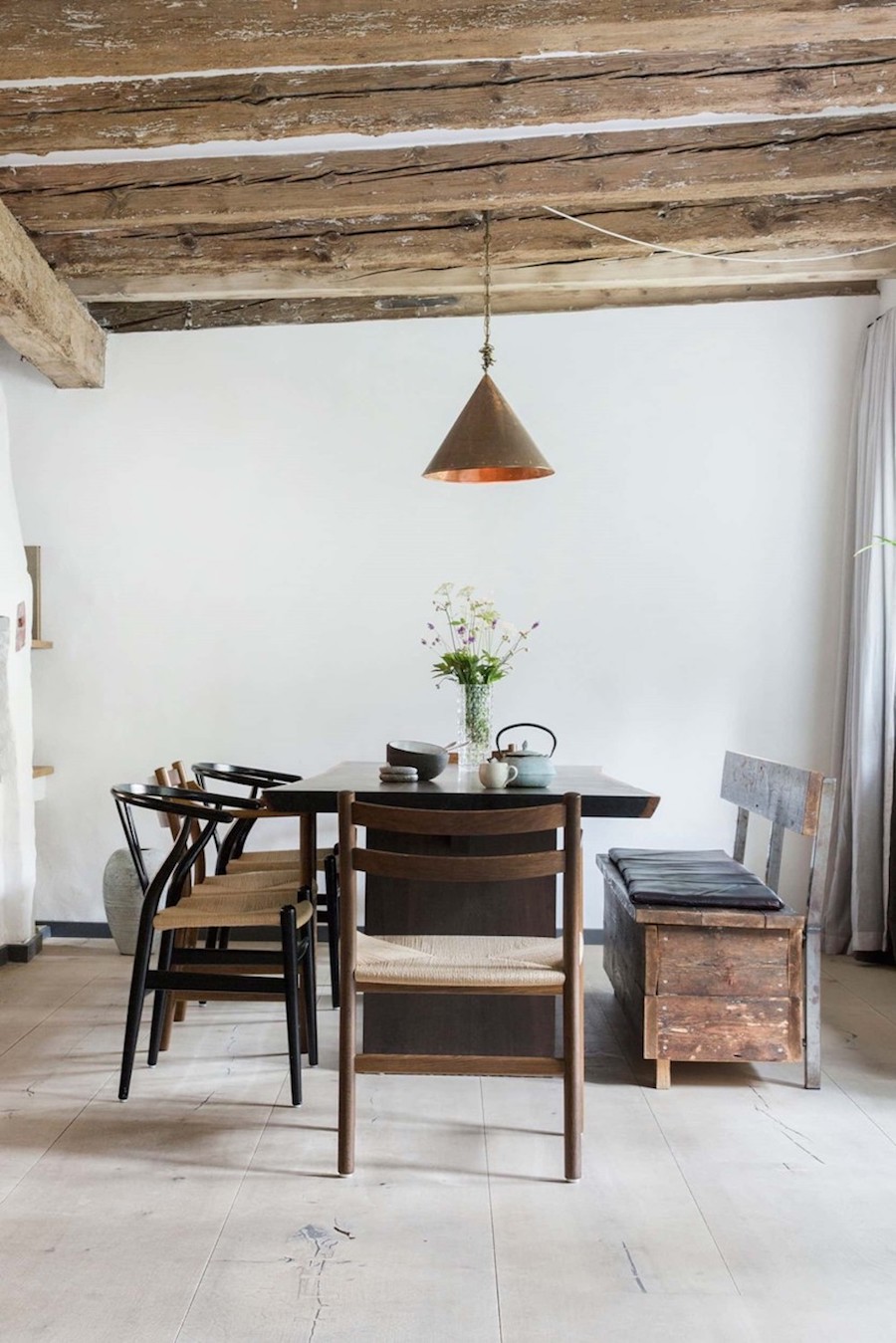 STYLING NOTES:
Slow and easy does it: If you don't feel adventurous, stick to two to three types of wood. As long as they all have the same undertone AND with a similar finish (matte, satin, glossy), it is totally acceptable to have more.
An easy way to start mixing wood colors is choosing a combination of 1) light and medium, 2) medium and dark, or 3) a light, medium and a dark tone. Don't try to balance out your dominant tone by adding the same amount of contrasting wood; there's a reason it's called "dominant".
Repetition will make the look cohesive. Use each wood tone more than once, and each at least twice, to keep a room from feeling disconnected. If a wood tone needs duplication, small accents like sculptures, bowls, bookends, frames, lamp, storage box, side table, etc. work wonder.
Scatter the different tones throughout the room for a balanced and visually pleasing look, rather than keeping them in close proximity.
Greater balance can also be achieved with a common thread between your wood surfaces, whether it's the shape (curvy or clean lines), the style, the period or formality.
Before buying a new wooden piece of furniture or decorative accent, see it in your home by ordering samples from a manufacturer or a shop. A wood undertone will look drastically different depending on the light available. Alternatively, you can also try to take pictures that capture accurately the finish and tone of what you already own, and use them when you are on the go.
I like to treat different wood tones as an integral part of the overall palette for a room. Just like with colors, if it gets too busy visually, scale back your scheme. White is a fantastic neutralizer; it complements a space with numerous wood species beautifully by balancing out the browns. That's why you often see bohemian interiors with white walls – So as a rule of thumb, the more wood tones you have in a room, the simpler the rest of your color arrangement should be. Tying the look together with one or two additional accent colors will make it complete, effortless and harmonious.
Your flooring and your dining set don't coordinate very well? Add a rug. By breaking the continuity, it will act as a buffer that will help soften the transition and make the difference less jarring. Following this idea, surfaces that absorb/reflect the light differently like glass, acrylic, metal or mirror, will help to lighten up the look when there is too many dissimilarities going on between your wooden elements.
You read this article and now realize you are all over the place with your wood undertones – Now what? If selling/donating/upcycling furniture is not an option, I suggest incorporating a piece with a "unique" wood that displays a range of colors and undertones. It will act as a bridge between your surfaces, and unify the look. These are usually made of zebrawood, reclaimed timber, burl wood, live-edge and inlaid, among others.
I hope these tips help you mix and match wood confidently in your home.
Experiment, move around furniture and accessories, train your eye, and see it all come into place beautifully!
First photo: Our Food Stories
---