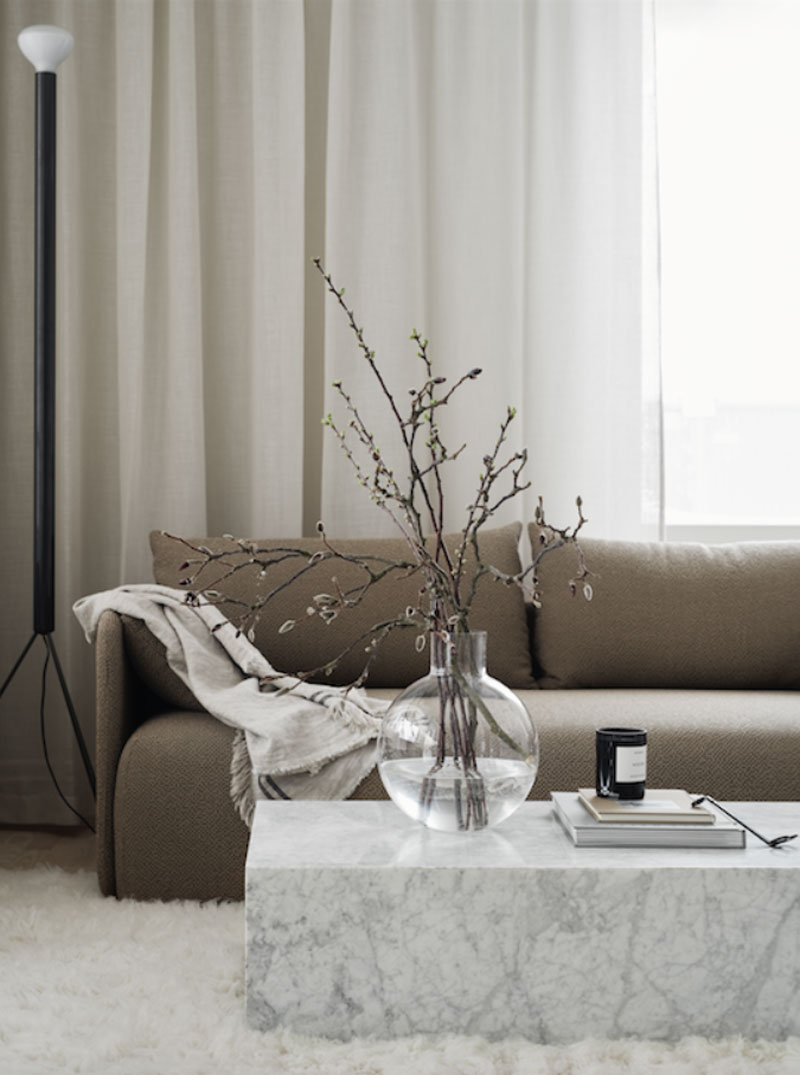 Such a beautiful interior and, best of all, easily replicable! Swedish interior designer Lotta Agaton is a major inspiration, and as you can see in this show model apartment (the full tour is here), her signature style is refined, serene, and beautifully monochromatic.
Here, I am showing you how to get the look at home.
For this article, I wanted to make sure you got a complete picture, so I included two color palettes, a shopping list with products and a few tips.
I also created a printable checklist with the 'ingredients' to achieve this look, even if you do not have access to the exact products as seen in this home. Because I strongly believe that a harmonious, composed and well-put-together interior goes beyond owning a specific chair or lamp. If you understand the essence of a look, what works and why, it will be easier to implement it into your home, wherever you and a no matter your budget.
Living room palette:
Bedroom palette:
Shopping list:
1. Gray Owl OC-52 from Benjamin Moore – A gorgeously warm grey without real undertones. It's my go-to color! Here, it is combined with white trims. Alabaster from Sherwin Williams could be a great option.
2. Annalouisa curtain panels from IKEA – Same as in the bedroom. They are slightly sheer.
3. Clay pot from Tine K Home
4. Ceramic vase by Tina Marie
5. Deconstructed no.35 art by Atelier CPH – Other pieces with a similar look are also available.
6. Luminator floor lamp by Achile & Pier Giacomo Castiglioni for Flos
7. Offset sofa by Menu
8. Linen throw from Tine K Home – Same as in the bedroom.
9. Pallo vase by Carina Seth Andersson
10. Woods scented candle by Byredo
11. Eumenes Arkys armchair – For a similar look, see the Bertoia Side chair or Diamond chair.
12. Shag pile rug – To avoid looking tacky, go for a wool rug and forgo synthetic alternatives.
13. Marble Plinth coffee table by Menu
14. Lantern pendant by New Works – For similar options, see this article.
15. Yuh Wall Lamp from Louis Poulsen
16. Smoke Embers 1466 from Benjamin Moore – If you want something a little lighter but still cohesive and harmonious with the living room color, try Nimbus 1465.
17. Crisp white sheets, like these
18. Ceramic bowl from Made In Japan
19. Dome vase by Kristina Dam
20. A branch of olive tree or eucalyptus – If you go for faux greenery, silk will make it look more realistic.
In the kitchen and the dining room, white is predominant, with some black accents as well as wooden details. I spy Afteroom bar chairs from Menu.
In the bathroom, you will see a ML42 stool from by Lassen, a toolbox from Finnish brand Verso Design, as well as waffle towels in white and gray. You'll notice the beauty products have simple, minimal packagings – Have a look at this article for hand soaps to prettify your sink, as well as this roundup of hand creams.
Checklist:
Click here for a printable version of this list.
If you've enjoyed this Get The Look article, do not hesitate to let me know by sending an email to [email protected] or by posting in the community!
If you'd like me to help you find an alternative product and/or a retailer near you, leave me a comment below and I'll happily get back to you!
First photo: Kristofer Johnsson
---