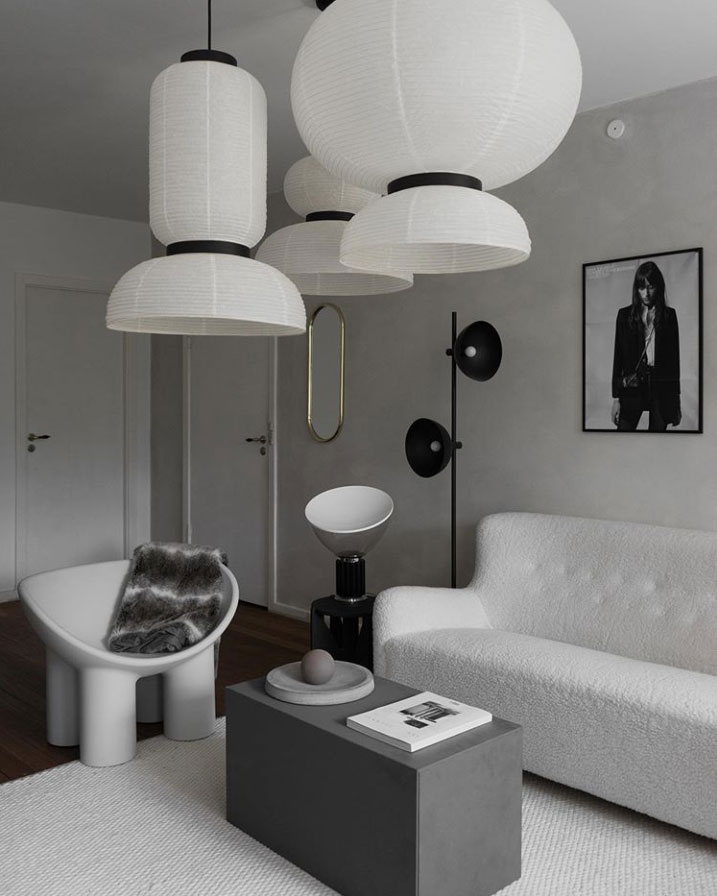 Looking for an elegant, delicate and versatile lamp that would fit in most interiors? Then you have to consider lantern-inspired fixtures. We've seen them increasingly in the last few months – Just browse through the ND image gallery to see SO many examples of beautiful rooms featuring one (or two!) of them. With their sculptural shapes covered with cotton, resin, paper, frosted opal glass or porcelain, they create a unique visual atmosphere. Adding such lamp to your home can give a striking, decorative touch to your décor while providing you with a warm, diffused and weightless glow.
I've gathered a few of my favorites (below), but first, let's take a look at some inspiring images that will convince you of their beautifying impact:
Lantern-inspired lamps are the go-to accent these days, and understandably so! As I am shopping for one for my home, I thought I'd share my top picks with you in this roundup. All sources after the jump.
.
Are you on Pinterest? Save this for later!
Find them here:
1. Knit-Wit pendant by Made By Hand | 2. Formakami JH4* pendant by & Tradition | 3. Strand pendant by Muuto | 4. Saucer pendant* by Herman Miller | 5. Gatto table lamp* by Flos | 6. Rice paper shade by Hay | 7. Akari 16A light by Vitra | 8. Lantern table lamp by New Works | 9. Apple Pendant* lamp by Herman Miller | 10. Criss Cross ball pendant lamp* by Herman Miller | 11. Satellite pendant by Gubi | 12. Model 375 table lamp by Le Klint | 13. Cumulus light by Enoki | 14. Rituals 1 table lamp* by Foscarini | 15. Model 195 pendant by Le Klint |
For more great home accessories, take a peak at the ND virtual shop!
Photos: Mikey Estrada | Entrance Makleri | Janne Olander | Our Food Stories | Erik Lefvander | Anders Bergstedt | Alvhem | Alvhem
---