Dreaming of summer already?
Check out this beautiful white summerhouse! It is located in Farö, north of the Swedish island of Gotland, in the baltic sea.
Nestled near the coast, between sandy dunes, pebble beaches, limestone cliffs, and tall pine trees, this 700-square-foot (65 square meters) is a gorgeous retreat for a family from Stockholm.
Designed by its owners, the house is small and cozy, with a kitchen, living area, bathroom and two bedrooms. Nothing is superfluous, and the emphasis is on nature. Perfect to unplug and rest.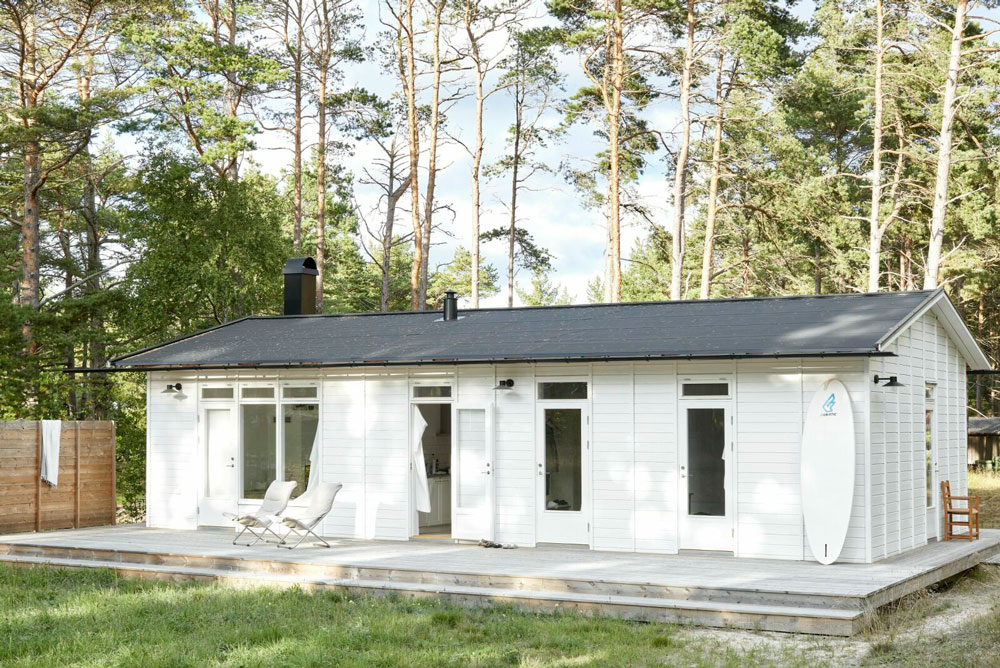 The elongated house is simple and low maintenance, and blends in beautifully with the surrounding nature.
Notice that most windows are doors – This allows the residents to quickly step outside from any rooms, and access the spacious wooden deck.
The color palette is light and airy, mostly layers of whites, creams and soft greys. Furniture and decorative elements in wood, paper cord, and woven grass warm up the look.
The chosen materials are all natural and understated. Travertine, wide pine floorboards, limestone, linen… They all add to the timeless appeal and simplicity of the interior.
The house is uncluttered, devoid of unnecessary embellishments and anything too precious. Pieces of drift wood, dried branches, pebbles and other small handpicked treasures bring nature in and enhance the subtle coastal vibe.
If you like this place, make sure to have a look at this monochrome lake house with a Scandi-inspired look.
I also have a roundup of 13 modern cabins to make you dream of a summer escape.
Styling: Pella Hedeby
Photos: Sara Medina Lind for Residence
---