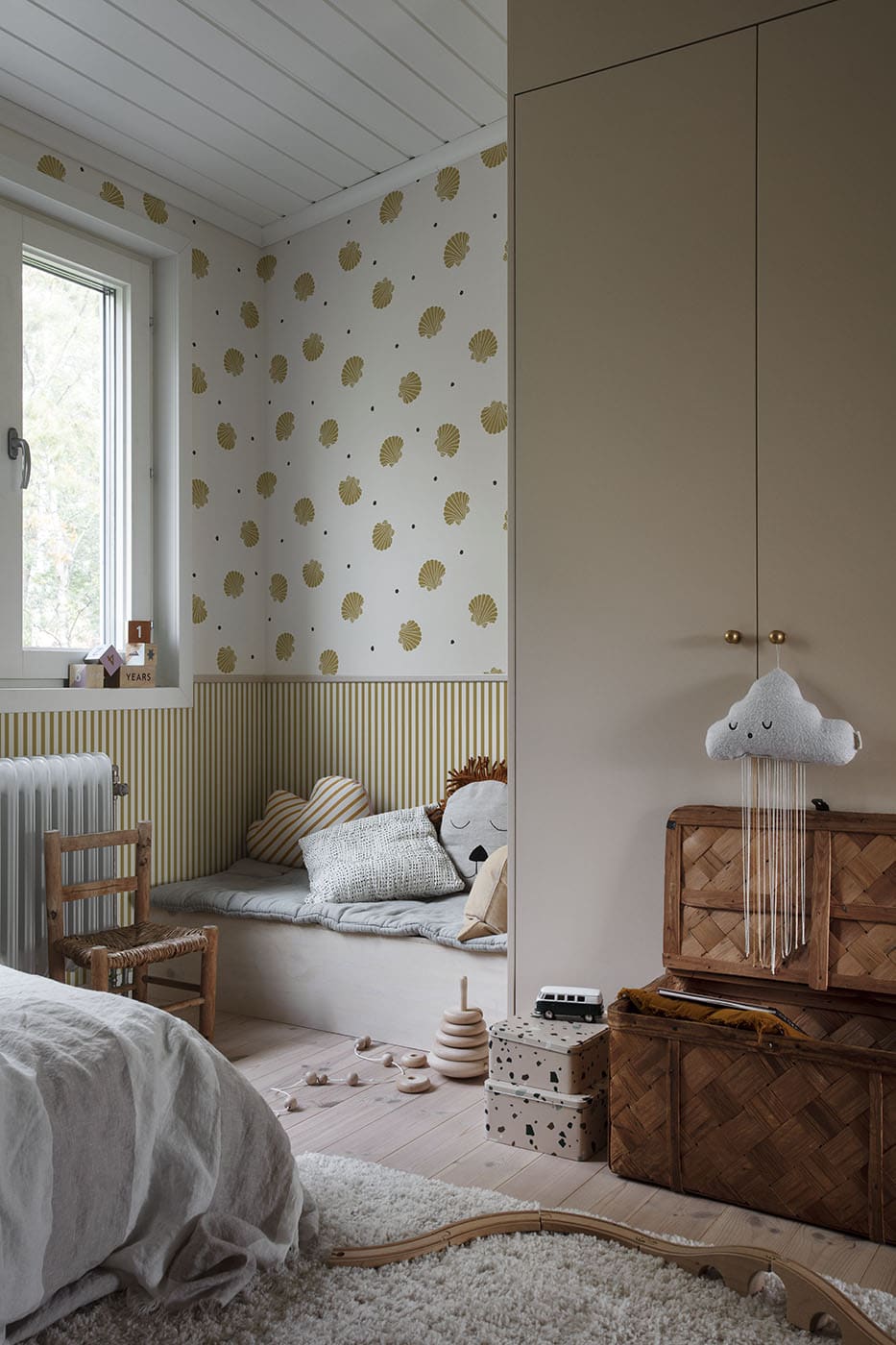 Your little ones' room is their sanctuary, a space where they can freely play, learn, rest, and grow.
Many parents want to create a beautiful and playful world where their children will feel inspired, and it is a request I get A LOT from interior design clients!
I find that a kids' bedroom or playroom is the perfect place to experiment, step out of your comfort zone and let your imagination go wild, so I often recommend the use of wallpaper. It is a design investment worth making, as it quickly adds tons of personality and a whimsical atmosphere.
From classic fairytale-like landscapes to minimal yet graphic patterns, there are a lot of gorgeous designs out there to choose from that will let your walls tell a unique story.
Here, I've listed my four go-to Scandinavian companies for high-quality, non-toxic wallpapers with beautiful Nordic aesthetics.
Ferm Living:
Wallpaper – It's where it all started for Danish brand Ferm Living. The company made its mark with geometrics and graphic designs that give walls a bold expression. The company offers a wide selection of playful patterns that will turn your kids' room from blah to fun and lively.
Sandberg Wallpaper:
This Swedish company specializes in wallpapers since the 1920s. Their designs are inspired by Swedish nature, from the northern lights to the beautiful archipelago along the coastline to the dense forests. They also pay homage to the country's historical and cultural heritage and are initially drawn entirely by hand. Sanberg Wallpaper is a go-to brand for that classic and romantic look.
Littlephant
I had the pleasure to interview the founder of Littlephant a decade ago, when she just launched the children's design brand. Featuring her playful illustrations, the company now offers lovely designs in muted colors, from light pink and soft grey to mint green, pastel blue and yellow. Littlephant wallpapers are made in Sweden by Ulricehamns Taperfabrik, a small manufacturer that combines traditional craftsmanship with new shapes and ideas.
Boråstapeter
Boråstapeter is Sweden's most famous wallpaper brand, founded in 1905. With a diverse collection of characterful designs with intricate patterns to pick from, their fabulous kid's wallpaper range provides artistry, fun, and stimulation that will appeal to young and old alike. Perfect for that touch of nostalgia!
First photo: Sandberg Wallpaper
---