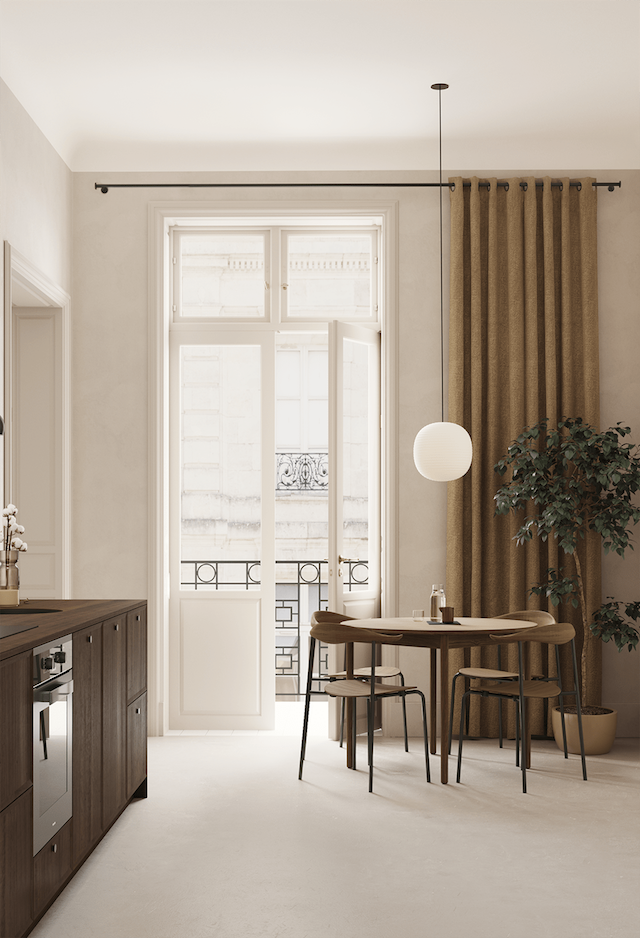 Big news: It's official, the Insiders Club is now open! Find out all about the perks of being a member here. Plus: If you join today, you'll get a special launch rate. Doors are open until June 3rd. Join the club!
Behind the doors of an 18th-century architectural monument in Lviv, Ukraine, a major renovation is underway, and in a few months, a modern and refined residence will be completed. Lis Design Studio was enlisted to redesign the apartment and to bring it in 2020 while respecting its historic character.
Here we can take a look at the realistic 3D renders created to visualize the place before construction began. It is quite a stunner, with a Nordic-inspired interior that is minimal, simple, and light, with beautiful materials and details.
The design features furniture and accessories from Scandinavian brands such as Skagerak, Menu, Hay, ferm Living, &Tradition, Gubi, New Works, and Louis Poulsen, among others.
The restrained color palette is cohesive throughout the home, and it enhances the serene atmosphere. It has a subtle mid-century modern vibe going on, while still being very contemporary.
Enjoy the tour!
If you are curious to see the 'before' photos, check out Lis Design's IG account.
Thanks to The Design Chaser for the tip!
Design: LIS design studio
Team : Shpelyk Roman, Uliana Smolska and Oleksa Marko
Images via Behance
Hey! See that bookmark button just above? This is one of the many exclusive perks of being a member of the Insiders Club! Doors close on June 3, 2020 - Don't miss out!
---