It apparently rains 270 days a year in Bergen, but that shouldn't stop you from visiting Norway's second-largest (and possibly the most charming) city. Tucked away between mountains and fjords, the town's spectacular and historical setting makes it a must stop on your travel itinerary. It has a cool, university city vibe, with plenty to please everyone, including design fans and style-seeking visitors. It has gorgeous colourful facades and cobblestone streets, numerous art galleries and museums, interesting shops, and a thriving culinary scene.
I returned to Bergen a few weeks ago, 15 years after my first visit. I was so pleased! As the perfect gateway to the Norwegian west coast, it was my starting point of a scenic journey with Viking Cruises. I had less than two days to explore and (re)discover this little gem of a town, and I am sharing here my suggestions of what to do, eat and see, to make the most out of a short city break.
The bar area at The Lobby, Hotel Norge by Scandic
My room at Hotel Norge by Scandic
.
.
Where to sleep:
Hotel Norge by Scandic (> Nedre Ole Bulls plass 4) has been around since 1885 and is a well-known landmark in the city. It reopened its doors in 2018 after two years of extensive renovation, and it proved its reputation as an iconic lifestyle destination. The interior is elegant, urban and modern, with a contemporary ambience. The décor is vibrant, with colors and elements inspired by the surrounding nature. I particularly liked the giant "sun" in the lobby, which adds to the atmosphere. Plenty of design pieces and lighting by Atelier Areti, Normann Copenhagen, Fredecia, Muuto, Hay, Flos and Menu, pepper the place. I also liked the rooms with floor-to-ceiling windows, fab breakfast and amazingly comfortable beds. Moreover, Hotel Norge is also a fantastic base to explore the city. It is located on Bergen's main square, Torgallmenningen, right next to Byparken City Park, and across from lake Lille Lungegaardsvan. It is slightly out of the busy and touristic harbour area, so you can enjoy a more laid-back, local vibe, while still being in the heart of town. Tip: Get a room with a balcony and view over the lake!
.
Where to eat breakfast:
Arguably one the city's best breakfast spots is a flight of stairs away! Located at Hotel Norge (and included for guests -Yay!), Novastuene offers an extensive and tasty buffet to kick start your day. You'll find high quality, local food, and recipes concocted by Bocuse d'Or winner Orjan Johannessen and his team. You'll definitely go back for seconds (or thirds!), and you'll surely enjoy lingering in this gorgeously decorated space.
.
Around Bryggen
Walking around the cute little streets of Bergen
.
.
Attractions & shops:
Go explore Bryggen, this historic, postcard-pretty harbour, with its lovely 14th-century wooden buildings, Hanseatic wharf and narrow alleys. It is listed as a UNESCO World Cultural Heritage site, almost untouched since the Middle Ages. There are many souvenir shops, but I recommend spending more time at Røst (> Bryggen 15) and Ting (> Bryggen 13) for great Scandinavian design and at Småting (> Bryggen 9), a super cute kids store. Discover products by local artisans and makers at Heim (> Bredsgården 1B) and traditional knitwear at Susan Fosse (> Jacobsfjorden 6C). Located on the other side of the harbour, Illum Bolighus (> Strandgaten 20) is a true interior design haven.
The Fish Market is apparently the best known and most visited outdoor market in Norway. It is situated in the heart of the city, right next to Bryggen. Tip: Go grab fresh oysters and a glass of bubbles at Mathhallen, the indoor part of the market.
Lille Lungegårdsvannet is a small but picturesque lake is a beautiful place to walk around, with the hills in the background and surrounded by a well-kept park and lots of benches. It is bordered on the south side by Rasmus Meyers allé, known as Bergen's art street, where you'll find your next stop(s).
You'll find a lot of interesting street art around town, so keep your eyes peeled.
.
There is plenty of nice shopping to do near Bryggen
Lille Lungegårdsvannet
.
.
Museums:
KODE (>Rasmus Meyers allé 9) is a renowned museum spreading over four 1930s buildings features an impressive collection of contemporary art as well as masterpieces by Munch, Picasso, Astrup and Dahl, among others. Depending on the depth and breadth of your interest for art, half a day could be spent in here.
If you are very much into contemporary art, go to Bergen Kunsthall (> Rasmus Meyers allé 5)
If you've got time on your hands, Old Bergen Museum (> Nyhavnsvein 4) is free and only a seven-minute bus ride away from the city center. Walk around this idyllic small town with its lovely reconstructed 19th century homes, to get a feel for what life used to be like in Bergen.
Where to go for the best views:
Make your way to Fløibanen, the funicular railway to go up Mount Fløen. At the top, you'll enjoy magnificent vistas of the city and the surrounding mountains and sea. It is also a gorgeous and peaceful area for a hike. You can rent a bike, do a zip-line, or paddle a canoe for free.
Tips:
If it is raining or time is limited, buy a two-way ticket, but if you've got an hour to spare, take the walk down for a pleasant stroll.
Before getting into the tram, try to spot the viewing platform – If it is hidden in the clouds, it is worth waiting for the sky to clear up before making your way to the top. The weather radar map was a particularly handy tool during my trip.
.
.
Views of Bergen at the top of Mount Fløen
Peaceful lake at the top of Mount Fløen
.
Pretty colors of Bergen
.
Where to grab coffee:
Kaffemisjonen (> Oevre Korskirkeallmenningen 5) is a must for anyone looking for a quality caffeine fix. The scent of grounded beans will welcome you inside, and you'll meet the locals queuing for a cup of coffee prepared by award-winning baristas. With its simple and unpretentious décor, this lovely little cozy place makes a great pit stop to relax, rest your feet and/or to hide away from a rainy spell.
Where to eat out:
Located inside one of the KODE buildings, Lysverket restaurant (> Rasmus Meyers allé 9) is one of the city's best culinary experiences. Dishes are by Christopher Haatuft, whom Jamie Oliver calls 'the punk rock chef'. Make sure to reserve well in advance for dinner, or go for a more accessible/affordable option at the café opened between 12h and 15h.
If you are hit by jet lag or too tired to go out but still don't want to miss out by staying in, go to Café Norge at Hotel Norge. It has a modern and stylish interior with a lively and cosy ambience. The place is often packed with locals. The menu has a fantastic spicy lobster pasta dish, and the beef tenderloin was pretty great, too.
For a meal to remember, grab the boat that departs from Bryggen at 18h to go to Cornelius, a restaurant located 25 minutes away from Bergen in the archipelago. Enjoy fresh seafood in an intimate, glass-fronted boathouse on an island's shoreline.
Colonialen 44 (> Kong Oscars gate 44) offers exquisite local cuisine, gorgeous presentation and an elegant décor. It is a fab place for wine lovers. For a more informal, casual experience, try their nearby brasserie (> Østre Skostredet 5-7).
.
Where to go for a drink:
Lysverket restaurant (mentioned above) has one of the best cocktail menu in the city.
You can also grab a drink at The Lobby before heading back to your room at Hotel Norge. You'll enjoy a delicious cocktail prepared by the skilled bartender, as well as the mesmerizing and changing light in the room. The setting is stylish and informal; a great place to unwind and hangout with other guests.
.
.
Lysverket restaurant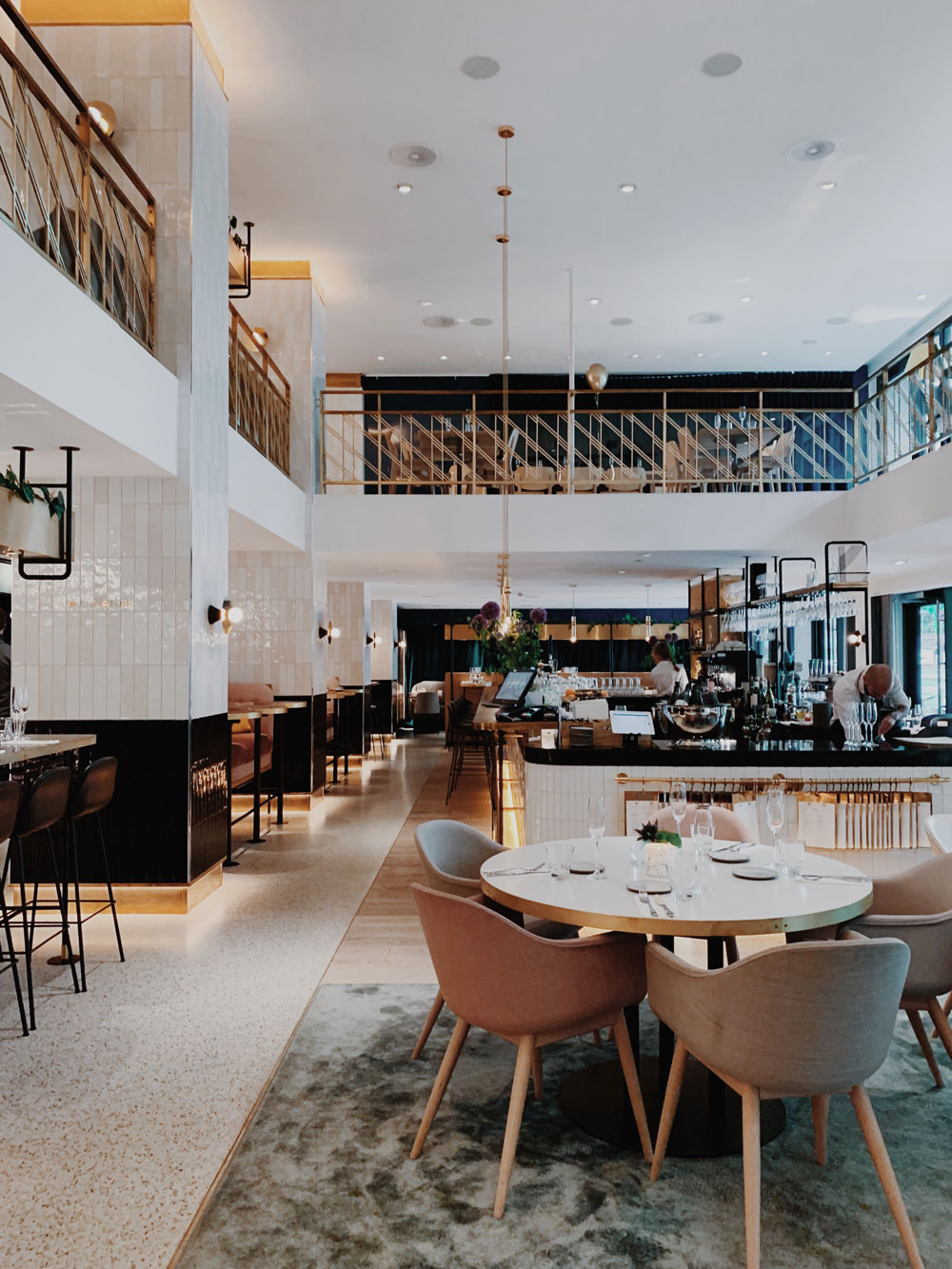 Café Norge, Hotel Norge by Scandic
.
The Lobby bar at Hotel Norge
I hope you enjoyed this introduction to this awesome little city. If you are planning a trip to Bergen and would like more tips on what to see and do, don't hesitate to ask in the comment section below!
Photos: Catherine Lazure-Guinard
---