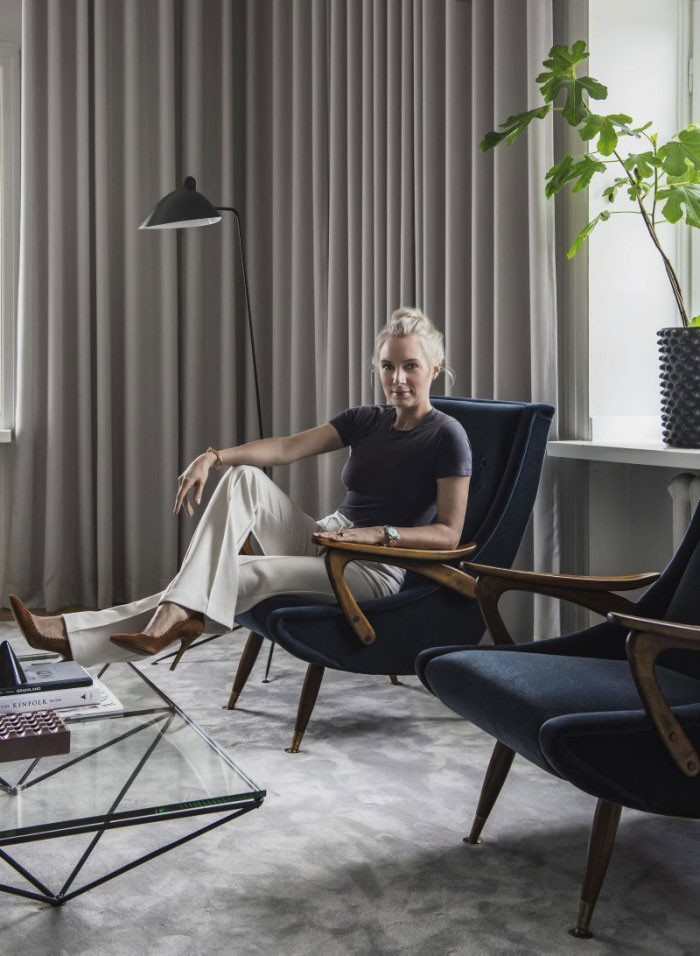 Big news: It's official, the Insiders Club is now open! Find out all about the perks of being a member here. Plus: If you join today, you'll get a special launch rate. Doors are open until June 3rd. Join the club!
This is the stunning home of Hanna Wessman, a Swedish TV host, a blogger, an interior designer, and an entrepreneur.
This multi-talented woman definitely has a knack for creating a refined, elegant look that is also relaxed and cozy.
I love the restrained color palette, with an occasional pop of color. The warm shades of grey on the walls and carpeting create a cocoon-like atmosphere, and the black and white accessories provide the right amount of contrast.
Beautiful paintings and photographic art adorn the walls of the apartment, as well as large mirrors that reflect the light and make the space feel spacious.
Notice also the perfect blend of furnishings – Old and new, as well as designer pieces mixed with products from affordable retailers. I believe it's key to make an interior look and feel timeless.
I'm in love with this place! Can I move in?
Styling: Hanna Wessman
Photos: Erik Lefvander
Source: Residence
Note: This article was first featured in 2016, but it was significantly updated and republished.
Hey! See that bookmark button just above? This is one of the many exclusive perks of being a member of the Insiders Club! Doors close on June 3, 2020 - Don't miss out!
---