This post is part of the series Best of 2014 – I thought it would be fun to look back at what happened in the last year, and to come up with a few articles that summarize it well.
Here are five trends that influenced the world of design in the last year, in no particular order.
We wrote: "Marble has been increasingly popular throughout 2013 and it looks like the trend is here to stay! Marble can go with any style. Make it chic by teaming it up with brass, or understated when combined with a black and white palette. (…) Inspired by the beauty and sophistication of this natural stone, designers from around the world are using it in unexpected ways." – Read more here.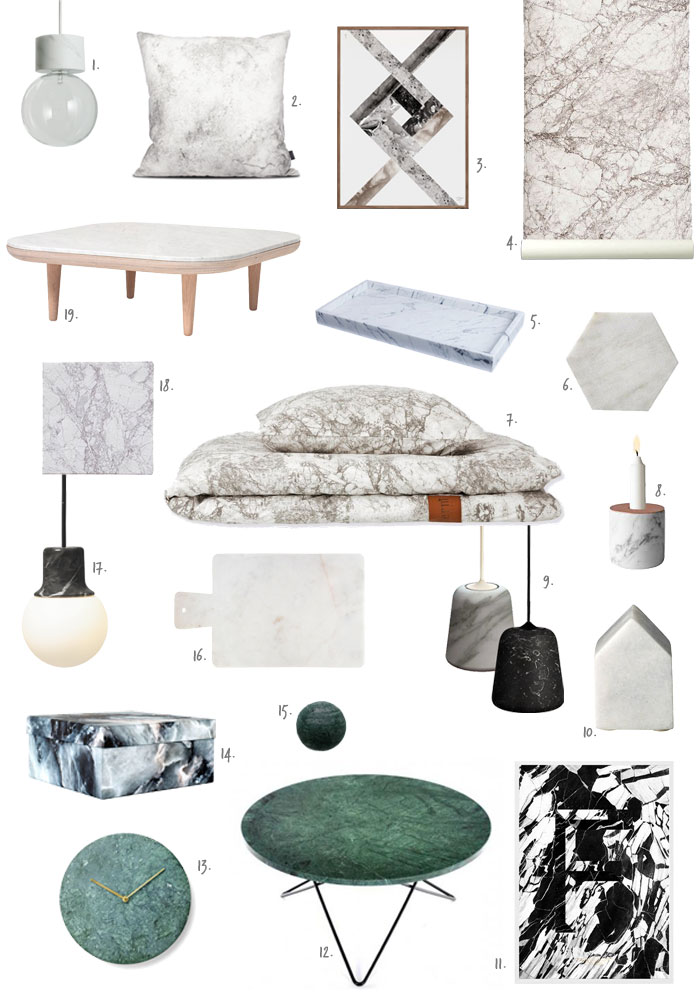 We wrote: "All that glitters is no longer silver – From glowing faucets, burnished door knobs, honeyed furniture to shiny lamps, brass is making a comeback! Loved for its warmth, rich gleam, timelessness and artisanship, brass surprisingly adds fresh touches to any decor. It is contemporary, but has an authentic beauty and personality. I personally love it combine with grey or black, marble or wood." – Read more here.
We wrote: "One of the trends to watch in 2014 is along the lines of what I call 'natural minimalism'. Simplicity is the rule of thumb, and quality over quantity is key. Taking inspiration from nature, this trend is all about a calming colour palette of beautiful and muted shades of cream, beige, sand, grey and white." – Read more here.
"While pale pink has been a major favorite in the last few years (see here a 2012 post, 'Going Pink'), it is still very trendy this season! This color is beautiful and sophisticated when combined with all shades of grey, and brass or copper accents. The mix of sparkly details with matte effects creates a harmonious whole. Whether you prefer a more classic or modern look, rosé hues can add a sophisticated and elegant touch." – Read more here.
We wrote: "Radiant Orchid is the colour of the year 2014 according to Pantone. An invitation to innovation, Radiant Orchid encourages expanded creativity and originality… An enchanting harmony of fuchsia, purple and pink undertones, Radiant Orchid inspires confidence and emanates great joy, love and health. It is a captivating purple, one that draws you in with its beguiling charm." – Read more here.
---