Marble has been increasingly popular throughout 2013 and it looks like the trend is here to stay!
Marble can go with any style. Make it chic by teaming it up with brass, or understated when combined with a black and white palette. Use it in smaller doses for a budget-friendly way to add a contemporary touch to your home, or search for easy DIY projects like this one from IKEA's Swedish blog Livet Hemma. If you can afford it, you can also go full-on with statement walls, cabinets, countertops, etc. for a striking effect.
Inspired by the beauty and sophistication of this natural stone, designers from around the world are using it in unexpected ways. I've noticed that not only white marble is enjoying a renaissance. At recent design shows, I've seen black marble, as well as a more daring green version, too. And I'm ready to bet we'll see more of this coloured stone in the coming months!
Here are a few personal favourites: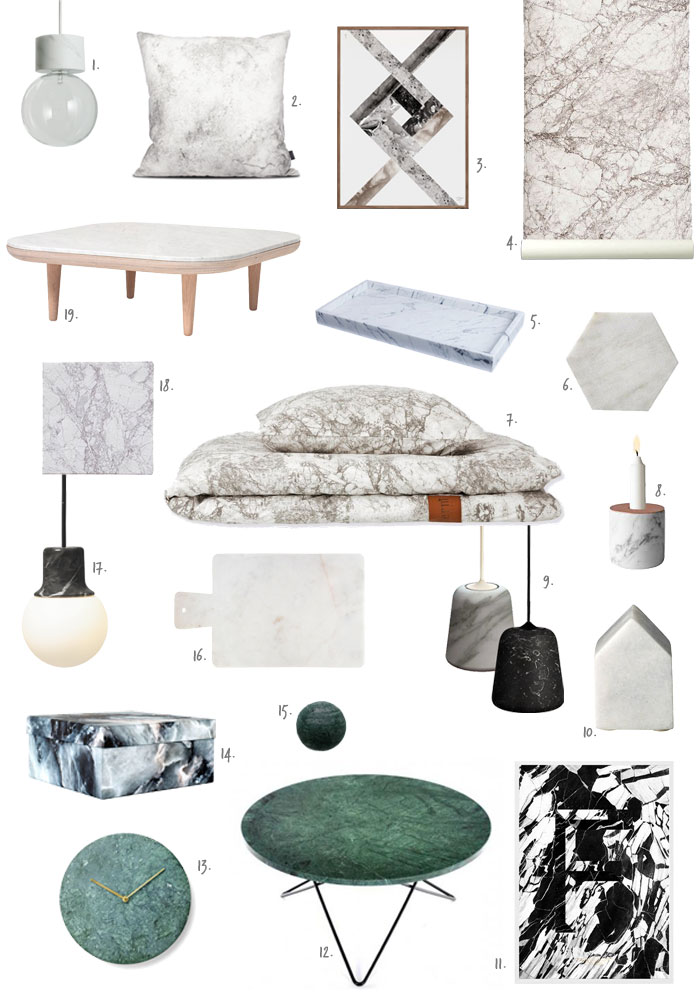 1. Marble light, Studio vit; 2. Pillow, How Are You; 3. Knot print, Kristina Krogh; 4. Wallpaper, Ferm Living; 5. Tray, HAY; 6. Serving plate, Bloomingville; 7. Bed linen, Ferm Living; 8. Chunk candleholder, Menu; 9. Material Pendant lights, Nevvvorks; 10. Decorative house, Bloomingville; 11. Faux Collection Print, Playtype; 12. Big O Table, OX Design; 13. Wall clock, Menu; 14. Nina box, My My Copenhagen; 15. Door handle, Superfront; 16. Breadboard, Asplund; 17. Mass light, &Tradition; 18. Napkins, Ferm Living; 19. Fly Lounge table, &Tradition
Psst: This post is part of a special Trend 2014 series. Click here to see more!
---