I'm kicking off the week with a selection of noteworthy news of the moment. Expect more to later on this month, as many brands and designers will reveal collection, collabs and products at the Salone del Mobile in Milan. The much-anticipated event will take place April 17-22, 2018.
Shelving System by Moebe
Copenhagen-based studio Moebe, known for its wooden frame, has just launched a flexible storage system. With its fine lines, it has a refined look and a beautiful simplicity. It is very versatile and can be assembled without tools, screws or glue:
"Shelves are held together by a set of wedges, which slot up into precisely angled holes in the timber slabs. Rounded steel uprights hold the shelves in place, allowing them to be placed at any height. As the wedge is pushed in from below, any additional weight on the surface only makes the joint tighter and more stable. (…) Using wedges as the key principle gives the users the full freedom to play around with the system, placing the shelves at any given position and fitting it to their specific needs," said the Danish design studio.
The shelving system is available in oiled oak and black stained ash wood. The steel bars come in three heights, making it easy to customize it.
.
Wishbone chair in Ancient Oak
Hans J. Wegner's elegant Wishbone Chair will be available in oil-treated Ancient Oak, a unique design to commemorate the designer's 104th birthday. The limited-edition comes with a certificate of authenticity as well as a brass plate engraved with Hans J. Wegner's signature and date of birth – discreetly placed on the inside of the chair's frame.
If you are interested, you'll have to be quick: The chair will only be available for purchase on April 2-3, 2018. Find your nearest Carl Hansen & Son dealer here.
.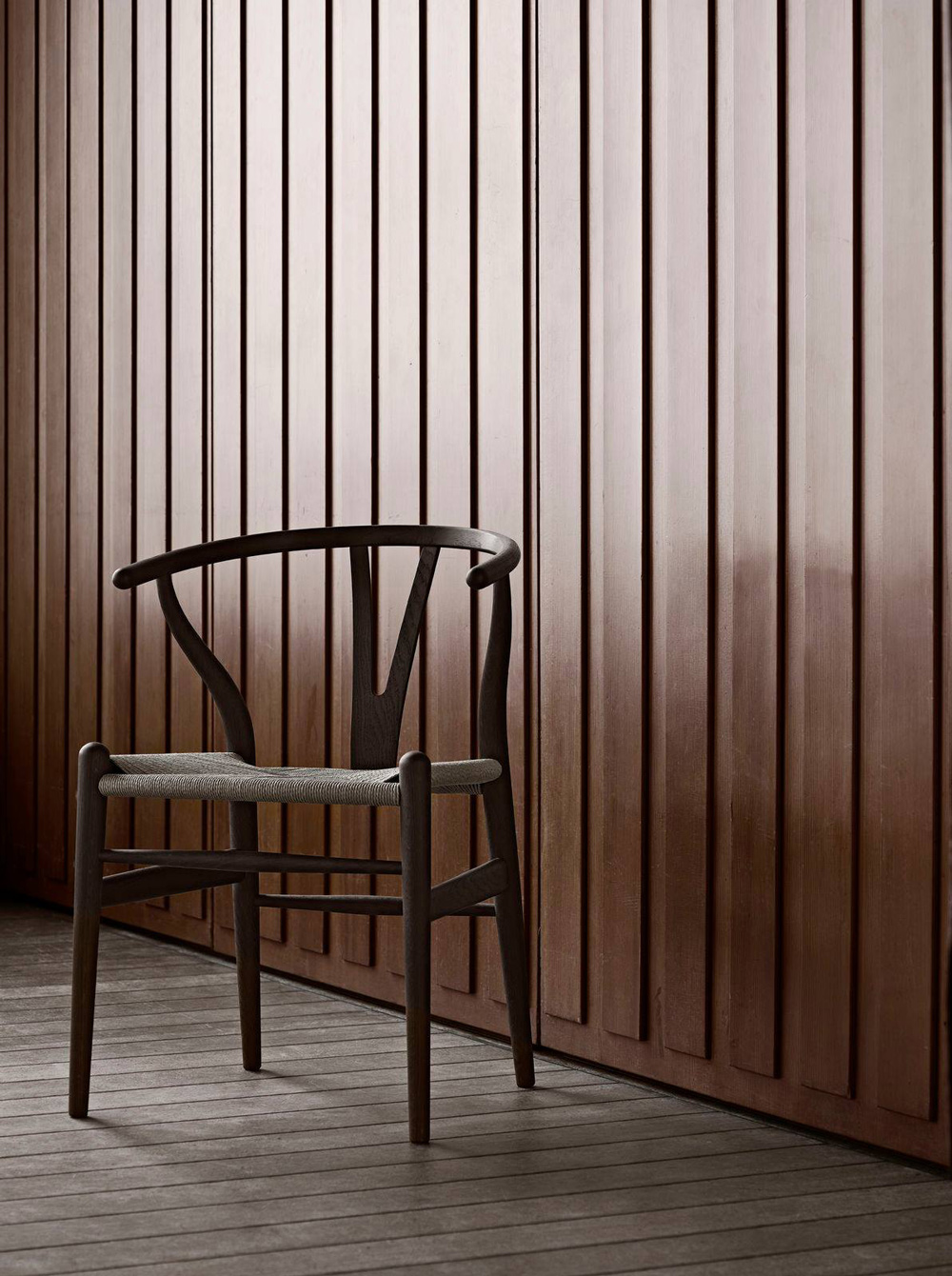 Sculptural Mortar & Pestle by Jessica Källeskog
Designer Jessika Källeskog has given a new twist on a kitchen device used since ancient times. In a way, she wanted to reshape tradition and developed Tondo, a sculptural mortar and pestle made of marble. It is a beautiful piece, functional piece. It is manufactured by Design House Stockholm.
.
Pure Leather and Gold for the Iconic Egg™ and Swan™ Chairs
Republic of Fritz Hansen is celebrating the 60th anniversary of some of Arne Jacobsen's most iconic designs with a new collection, which includes the Egg™ and the Swan™ in Pure leather. The base is plated with 23-karat-gold. Both materials will acquire a patina and an expression with time, and age beautifully. The design team's goal was to emphasize the sophistication and elegance integral to these iconic furniture pieces.
.
SaveSave
SaveSave
Musa by Note Design Studio
Created by Stockholm-based Note Design Studio, Musa is a lamp of organic qualities with an eye-catching design. It has a delicate and elegant shape, and consists of a small hand blown opal glass sphere and a dish that holds and reflects it. It is available as a wall sconce and a table lamp. There is also a portable battery-powered version, too. Musa is maufactured by Vibia.
.
BeoPlay's True Wireless Earphones
Note: This is not 'news' per se as the product was launched in August last year, but it somehow went under my radar (sigh). And since it is awesome, I had to share anyway!
A few months back, B&O Play revealed E8, the brand's first truly wireless earphones. They are made from genuine leather and aluminum, and you can expect top-notch sound quality and comfort, as well as advanced features: Touch sensitive surface on both earpieces, built-in microphone for calls and voice control, intuitive equalizer, and a clever transparency mode, to name a few. The E8 provides you with up to 4 hours of playtime, and the compact case doubles as a charging station on the go. Find out more here.
.
For a similar roundup, click here.
Have a great week!
SaveSaveSaveSave
SaveSaveSaveSave
SaveSave
SaveSave
---