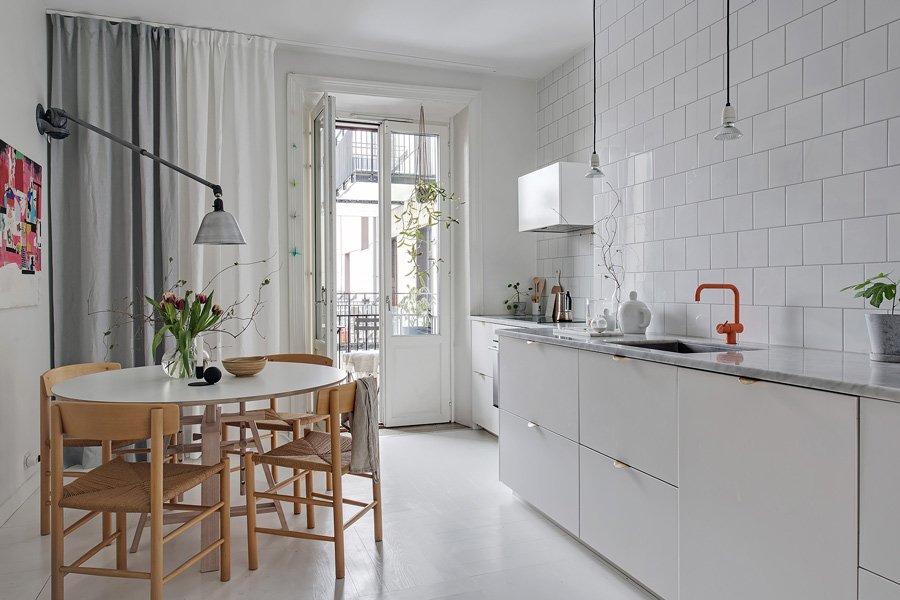 Big news: It's official, the Insiders Club is now open! Find out all about the perks of being a member here. Plus: If you join today, you'll get a special launch rate. Doors are open until June 3rd. Join the club!
This airy family home has a lovely vibe that caught my attention for its beautiful simplicity and cheerful touches of color here and there; Whether it is an orange Vola faucet, a yellow Artek stool, a green pear print, blue tiles or a red ride-on car.
With a 110-square-meter floor plan, it offers enviable room for its residents. The high ceilings, large windows, as well as white walls and ceilings, enhance the spacious look and feel of the place. It has a warm, inviting and cozy appeal, with a relaxed and approachable style.
The place is also filled with design pieces: Hand Wegner's Wishbone chair, a String pendant light by Flos, a Crux blanket by Pia Wallén, a Mantis floor lamp, an LCM chair by Herman Miller, and dining chairs by Borge Mogensen, to name a few.
How cute is that kid's bedroom? It truly looks like a happy place!
Photos: Alvhem
SaveSaveSaveSave
SaveSave
SaveSave
Hey! See that bookmark button just above? This is one of the many exclusive perks of being a member of the Insiders Club! Doors close on June 3, 2020 - Don't miss out!
---