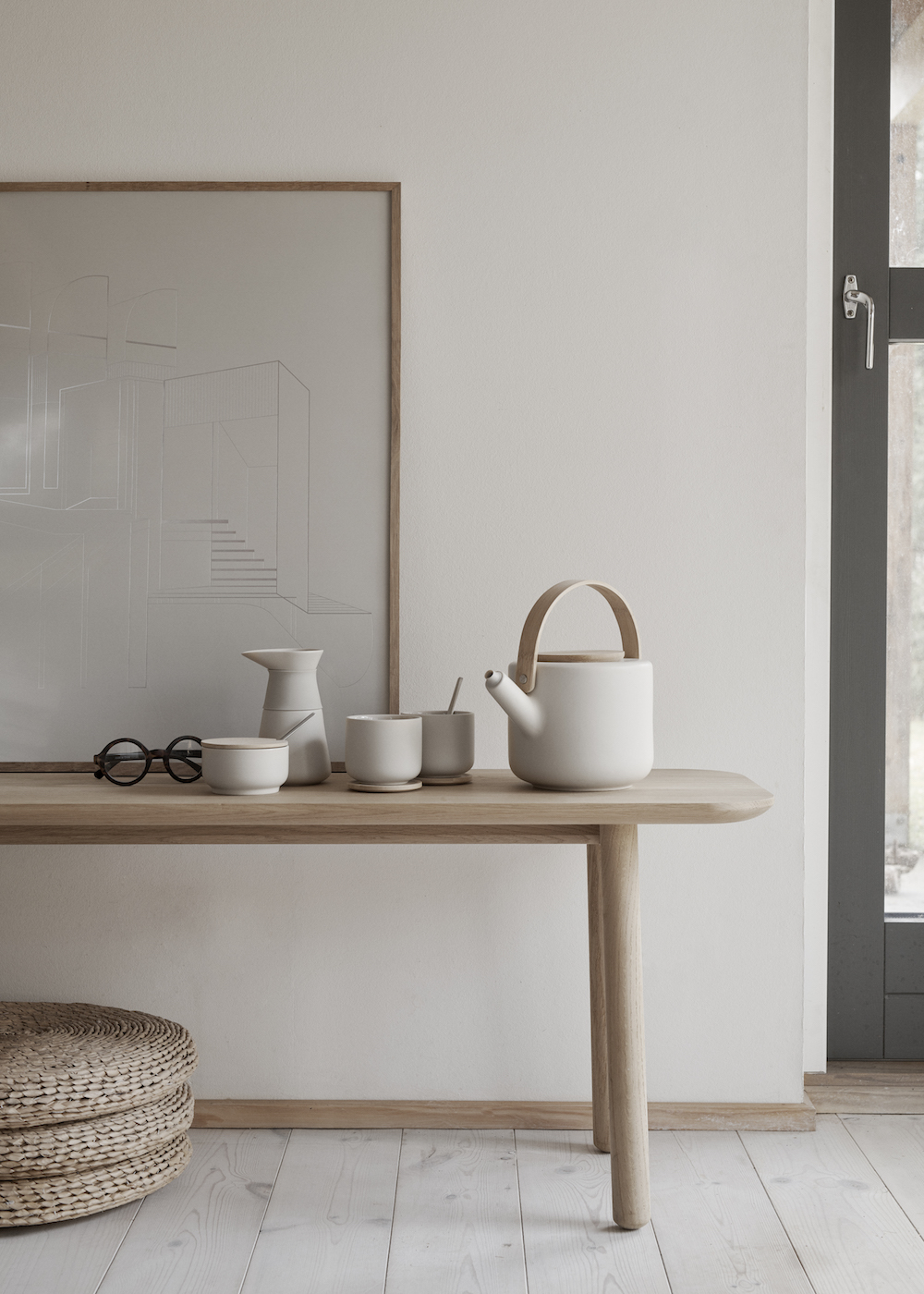 Theo Collection by Stelton
Theo, the popular and award-winning collection designed by Francis Cayouette for Stelton, now comes in a beautiful sandy hue. With its perfect blend of Scandinavian design and Asian culture, the stoneware series is designed to awaken the senses and invites you to slow down and enjoy the moment. Theo includes a sugar bowl, a milk jug, a coffee brewer, a teapot (on my wish list!), mugs, and more. I really like the combination of the light ceramic and the bamboo details.
.
.
Grand Rug by Nordic Knots
Designed in Stockholm and handmade in Badohi, India, the Grand rug by Nordic Knots is made from recycled PET plastic bottles. The soft and plush yarn gives it a silky shine that creates a grand hotel like feeling at home. Good for the environment, nice for your feet and beautiful for the eyes! It is available in Dusty White, Muted Blue, Pale Green and Brick Red, as well as in various sizes.
.
.
Kontur Vase Series by Kähler
Danish company Kähler has revealed a new sculptural vase series to celebrated its 180 years in business. Called Kontu, the collection is by ceramicist Turi Heisselberg Pedersen. You can find them exclusively at Illum Bolighus from October, and at other prominent retailers later in 2020.
.
.
.
The Touch book by Kinfolk x Norm Architects
'The Touch: Spaces Designed for the Senses' is a 288-page book created by Norm Architects and Kinfolk, and published by gestalten. It presents 25 interiors rom around the world that exemplify how "haptic design elements can provide a richer quality of living." Beautiful homes, hotels, museums, and retail stores open their doors and invite readers to explore how elements such as light, nature, materiality, color, and community can deliberately bring us back to our senses and imbue every day with a richer quality. It is available now for pre-order via Kinfolk.com.
.
.
.
The "Grandmother's garden" collection by Silke Bonde
Danish artist Silke Bonde just launched her "Grandmother's garden" series of prints, a new watercolor collection inspired by the place where she developed her great joy for nature. She tried to encapsulate her memories of colors, scents and shapes of the plants from the garden with her new prints.
.
.
.
Ceramic Pendant by Moebe
Scandinavian design studio (well known for these frames), Moebe revealed their latest product, a ceramic pendant lamp that allows you to illuminate directly or to an angle, while changing its expression between cone and cylinder. The body is handmade, therefore, every lamp slightly varies in shape, size, and colour, making every pendant unique. The lamp is unglazed, and has a fine texture and a matte surface. A beautiful and simple design! Click here to find out more.
For more design-related articles, visit our dedicated page here.
---