I am a big fan of Silke Bonde's evocative style and the softness of her watercolours. Minimalist, simple and timeless, her beautiful prints are inspired by nature – Leaves, the sea, a forrest… They are perfect to add a subtle touch of color and graphic element to any interior. I've featured her work on Nordic Design on several occasion – Check out her Underwater, Grow Up, and Looking Closer series.
I wanted to know more about this Copenhagen-based artist & designer I love, and she kindly agreed to answer my questions.
1. Tell us more about yourself. Where/How did it all started?
When I was little I really enjoyed my own company especially when I had something creative to work with. I could sit for hours and work on the same thing. I was the creative one in my class and I enjoyed having that role. While studying entrepreneurship design in Copenhagen six years ago I started blogging. I mostly blogged about my creative projects and paintings at home and suddenly one day someone asked if they could buy some of it. I was surprised and happy, shortly after it all started. I now work from my little studio in Copenhagen and enjoy my bike ride every day through the city.
2. Best thing about being a designer & artist:
Being able to play even though you are a grown up.
3. What inspires you?
Thinking back on my childhood. I spent most of my time in the garden, by the beach or in the forest. I could sit for hours in the garden and study a flower or a leaf. I am very inspired by the Japanese aesthetics, which is expressed in their architecture, design, home décor and way of living.
4. What is your design philosophy?
Cut off the unnecessary. Pay attention to details. Have fun.
5. Any special projects at the moment?
Yes! I just finished my summer project called "Grow Up". "Grow Up" is an exclusive collection existing of twenty-two unique artworks created by combining both water coloring and sewing. The collection is inspired by my trip to Tokyo last fall. You can read all about my inspiration for the new collection on my website: www.silkebonde.com
6. You, in three words:
Calm, creative and tall.
7. What is the best advice you ever received and from whom was it?
It wasn't exactly for me and I am not sure if it's an advice but I believe it is some wise words.
Hemingway: "It is good to have an end to journey toward; but it is the journey that matters, in the end."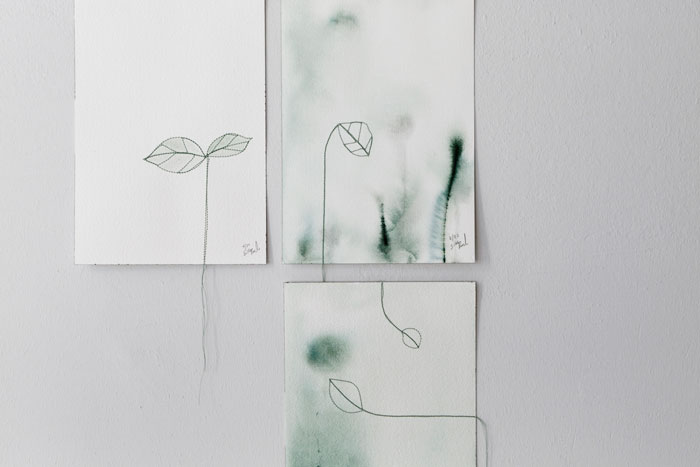 8. Dream subject/assignment/collaboration?
Some brand with classic quality clothing and me creating the pattern.
9. What can't you live without?
Water and sun.
10. If you could invite somebody for dinner, famous, dead or alive, who would it be and why?
I would love to meet my grandparents and hear about their life. They died when I was very little so I never got to know them.
11. Best Scandinavian city and why:
I have to say Copenhagen. I love the canals, all the bikes, the parks and the many creative people.
12. Something on your bucket list:
A Børge Mogensen sofa, an old wooden dinner table and a Chipperfield table lamp.
13. What is your all-time favourite design/art piece(s)?
Our Eames Lounge Chair.
All photos are taken from Silke's website, where you can also purchase her beautiful prints.
---