Idha is a Stockholm-based interior and portrait photographer of Swedish and Italian origin. Her work has been featured several times on Nordic Design – I especially like this fantastic home in Paris as well as the home of Byredo's founder. Some time ago, she also took part in my Stockholm city guide, where she shared her favourite places in Sweden's capital city, and it was a real pleasure to discover her recommendations.
I wanted to know more about this talented photographer that I love, and she kindly agreed to answer my questions.
1. Tell us more about yourself. Where/How did it all started?
A: It all started in my mother's darkroom in our summer house. I remember how fascinated I was, she went out with her camera and later the same day there were dripping prints everywhere, with our portraits.I moved to Italy and went to the photography school Studio Marangoni. Back in Sweden, I began assisting an interior photographer, it was an exciting time with travels, huge responsibilities and a lot off interesting encounters. It was by then I realized that I could actually work as a photographer and I decided to become one, before that it had all felt a bit surreal. Im based in Stockholm since 15 years. I love traveling, shooting on location and work with daylight. Interior and also lifestyle and food, since I'm a foodie.
2. Best thing about being a photographer:
The opportunity to work with exciting and creative people and create different environments and atmospheres together. Yes, more or less constant change.
3. What inspires you?
– Old houses, homes, places untouched by the constant renovation hysteria.
– The best magazine of them all "The World of Interiors"
– Working closely with a stylist, especially my good and phenomenal friend and stylist Camilla Krishnaswamy.
4. Favourite photo shoot to date:
It was for Casa Vogue, the fantastic home and studio of artist Tenka Gammelgaard. In the heart of Copenhagen. Everything is black and white, but in a cozy and warm way. Even Tenka dress entirely in black in the summertime and all white during winter. It was such an incredible location and a wonderful meeting that ended up being a lovely friendship. And a beautiful photo story.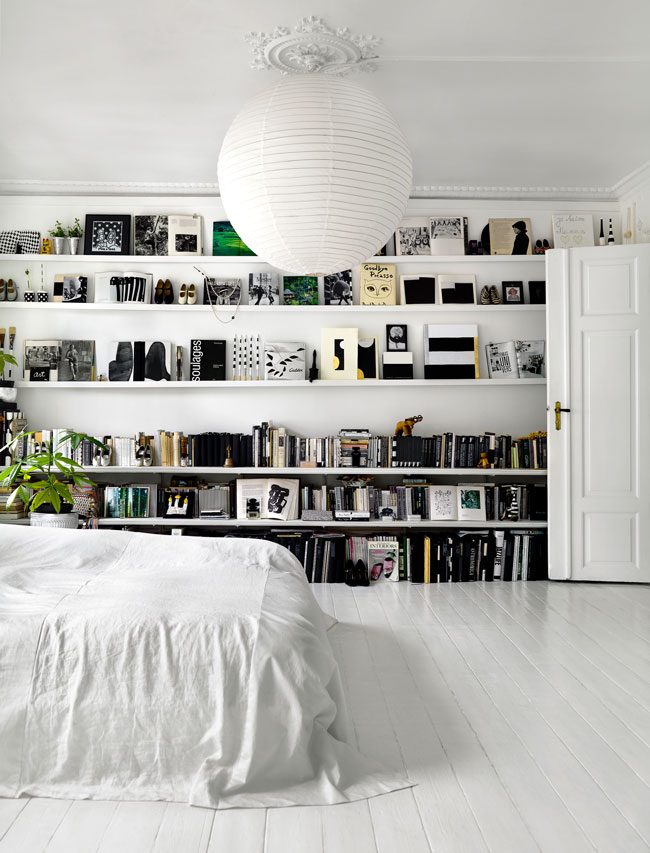 5. Any special projects at the moment?
I'm working on a book with a French company, AB Kasha. I have the opportunity to photograph all their grand flats which they renovated and furnished in Paris. And from almost every window I see the Louvre, Sacre Coeur, The Eiffel Tower, Seine among others sights. I have just totally fallen in love with Paris
6. You, in three words:
Open, romantic, driven towards new unknown territory.
7. What advice would you tell your younger self if you could?
Hurry slowly!
8. Dream subject/assignment/collaboration?
An advertising campaign for Mulberry and to shoot the home of the coolest and most interesting artist couple I know, Bea and Jonas Åkerlund.
9. What can't you live without?
Since one and a half years, I can not imagine my life without my son Paul. Before that something as simple as my coffeemaker.
10. If you could invite somebody for dinner, famous, dead or alive, who would it be and why?
The Swedish children's book author Astrid Lindgren. She was such a grand person not only by being an incredible storyteller. But she also had a great commitment to the situation of refugees, children's rights, against animal cruelty and environmental
protection. I would have taken her to "MAT BAREN" at the Grand Hotel in Stockholm.
11. Best Scandinavian city and why:
Stockholm where I'm based and live since 15 years is such a great city. There is a nice mix of families with children, young super trendy and older people who share the same space, it creates a nice vibe. New restaurants and cafes are constantly opening up. And most of them are really good and up to date with exciting menus and wine lists. Some off my favorites : Mat Baren, Bar Central, Wasahof, Pom & Flora, Racamaca, Bananas
12. Something on your bucket list:
Buy an old house in Italy with my best friend Tideman, we lived in Tuscany together for a while when we were young. Grow old there
together!
13. What is your all-time favourite design piece(s)?
My 30th century Czech cabinet, of the designer Halabala."
See more of Idha's beautiful work here.
For more interviews with talented designers, photographers, stylists and entrepreneurs from Scandinavia and beyond, visit our "Inspiring People" section.
Photos: Idha Lindhag
---