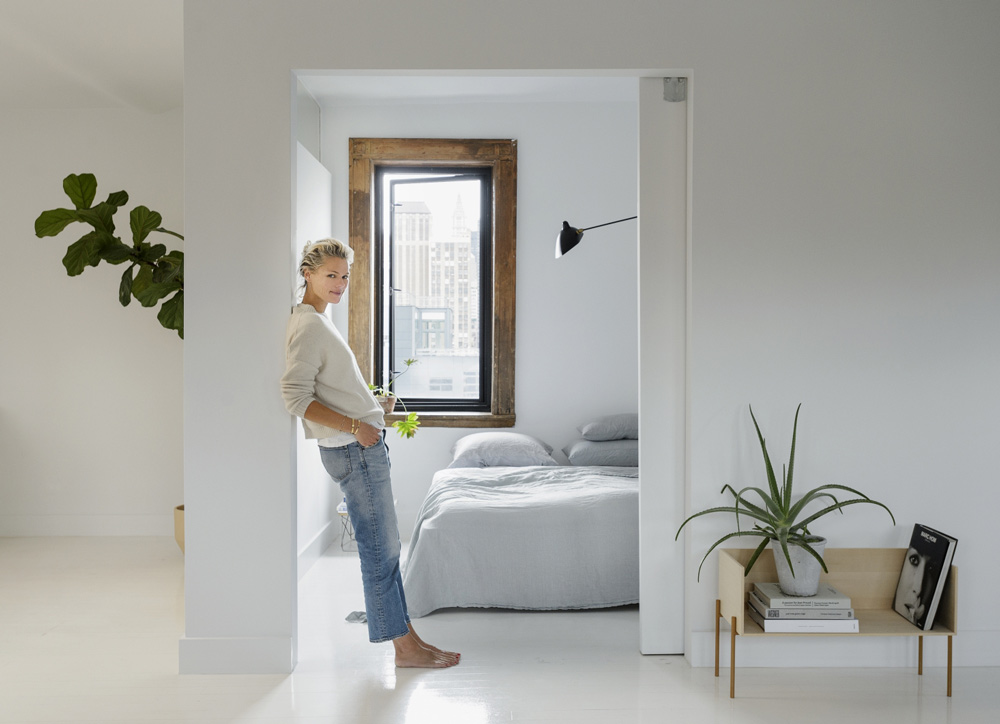 Camilla is a Copenhagen born model living in New York for the last 20 years. Passionate about design, she recently launched Objects by Camilla Vest; She represents Danish design companies and act as a brand ambassador for Skagerak, Skovshoved Møbelfabrik and Brdr. Petersen for the US market.
This is her lovely home in Soho, which she shares with her two kids and Danish husband. The spacious and bright loft doubles as a showroom for the products she sells. The place is carefully curated, with a minimal style – She only keeps furniture and objects that she truly loves.
You'll recognize a Saarinen dining table and Cherner chairs, with a Tube chandelier by Michael Anastassiades. I also spot Lyngby vases, a Snoppy lamp, and candleholders and bowls from the Ilse collection from Georg Jensen. The wire sculpture is by Camilla's sister, interior stylist Pernille Vest.
Many more gorgeous design pieces fill the space, such as PK22 chairs, a OGK Safari Daybed, Kubus candleholder, Vipp pedal bin, and Pepe marble mirror, among others.
"As a model traveling the world shooting in amazing locations, I was always inspired by my surroundings. Being Danish means I have always appreciated classic design and objects that are functional and timeless. I believe that less is more and it's important to invest in unique pieces and create an atmosphere in your home that reflects your personal taste and lifestyle." – Camilla Vest
Read more about Camilla's beautiful home here.
Photos: Matthew Williams for Remodelista
SaveSave
SaveSave
---