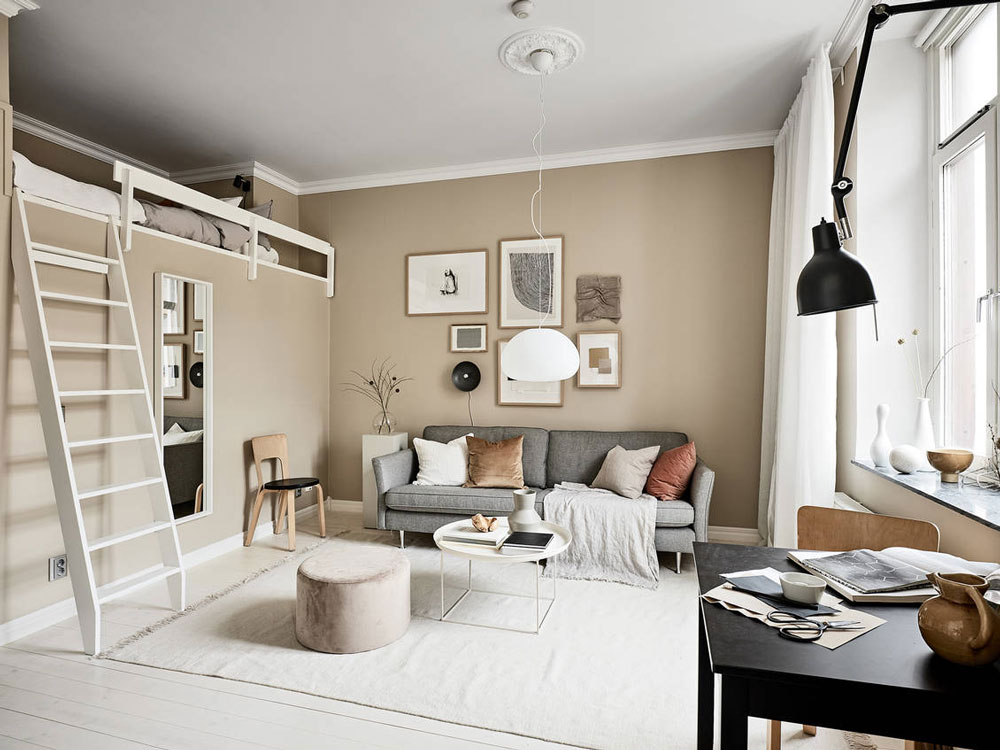 Announcement: Doors to the Insiders Club will open again soon! Get on the waitlist to be notified of our next enrollment period and to be eligible for special launch bonuses. For more info on all the perks of becoming a member, click here. 
As we've seen on several occasions on this site, a lack of square footage doesn't mean you have to sacrifice style. This is something Scandinavians understand oh so well – You can see many tiny homes that feel bright and airy in the dedicated folder in my image gallery.
Every time I come across a stylish and cosy cocoon like this one-room apartment in Gothenburg, I am reminded that petite quarters are often more than enough. Here, we visit a 31 square meters / 334 square foot city flat that we can take inspiration from.
One thing that quickly caught my eye is the gallery wall – A beautiful mix of artwork, with the same wooden frame, and with a wall sconce. The place's earthy tones also make it feel warm and welcoming. Lovely, right?
Small-space living requires to be mindful about the things you own, as there is literally no place for excess or clutter. A few key pieces, preferably multi-purpose furniture, are also a go. A pared-back and simple color palette also creates a sense of calm; a must to avoid your shoebox feeling like a squeeze. For a few additional tips on how to (virtually) maximize your home's footprint, check out this article.
Need help giving your home a Scandinavian makeover? Check out the Nordic Design Studio for e-decor and interior consulting.
Photos: Janne Olander for Stadshem
---