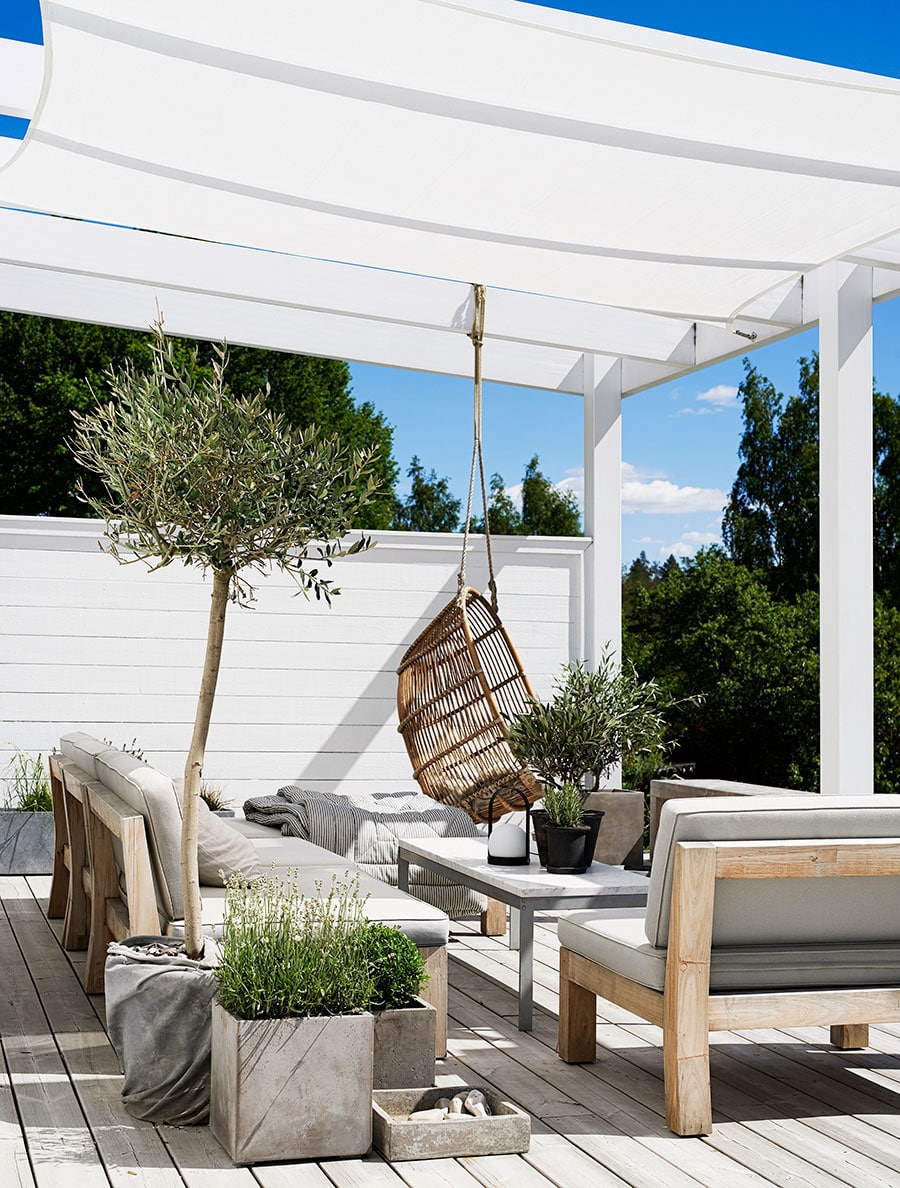 Summer doesn't last forever, so let's make the most of it by transforming the backyard, patio, or balcony into a serene oasis. Extra points if it has a stylish Scandinavian vibe, am I right!?
Here, I've made the ultimate wish list for anyone of you ready to gear up your outdoor space, with subdued colors, classic and modern Nordic design, and some weather-friendly items.
I hope you find it inspiring!
All sources after the jump.
Sources:
1. Original watering can by Stelton
2. True cushion from Ferm Living
3. Messina umbrella by Skagerak
4. Multiolk bird house and feeder from Wildlife Garden
5. Kitchen scissors by Hay
6. Copenhagen Pots by Bergs Potter
7. Virkelyst 3-seater sofa by Says Who for Skagerak
8. Plant Box two-tier by Ferm Living
9. Duo large outdoor rug by Pappelina
10. Bollard oil lamp by Designit Aarhus for Skagerak
11. Palissade outdoor table from Hay
12. Palissade outdoor chair from Hay
13. Galvanized steel shelving system by String Furniture
14. Helios cast-iron fire bowl by Søren Slebo for Skagerak
15. Plank bench by Skagerak
16. Desert chair from Ferm Living
17. PH 3-2 1/2 wall lamp by Poul Henningsen for Louis Poulsen
18. Enamel trays and bowls by Hay
20. Planters by Space Copenhagen for &Tradition
21. Set of 2 brass wall hooks by Moebe
22. Overlap table by TAF Architects for Skagerak
23. Everyday towel from The Organic Company
24. Overlap bench by Skagerak
25. Set of table brush by Iris hantverk
26. Crinkle throw from Hay
27. Dania teak mat by Skagerak
28. Spider Web drying rack by Anders Brøgger for Skagerak
29. Tree House scented candle by Byredo
30. Garden trolley Yacht edition by Röshults
31. By Your Side table by Maximilian Schmahl for Skagerak
32. Barriere outdoor pillow by Skagerak
33. Tiiliskivi gardening apron from Marimekko
34. Riviera Sunbed by Povl Eskildsen for Skagerak

First photos: The home of Pella Hedeby by Kristofer Johnsson
Disclaimer: This article is brought to you in collaboration with Skagerak. All words/product selections are my own. It is a company that I genuinely like and recommend. These partners are essential for the growth (and survival, in all honesty) of Nordic Design, and I thank you for supporting them.
---