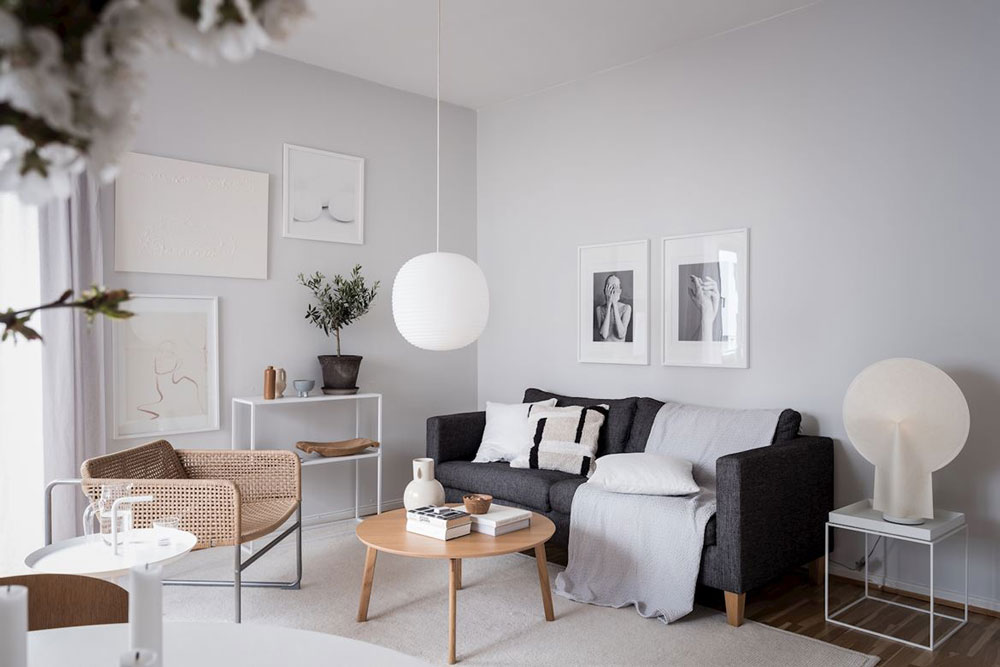 .
Today I am inspired by the beautiful simplicity of this apartment in Gothenburg, Sweden. The light-filled living space and dining area have a clean, fresh and bright look, with a relaxed vibe. The soothing atmosphere is enhanced by the understated color palette of white and greys, with a few wooden accents and decorative elements in earthy tones. I also like that this interior features a mix of designer pieces and more affordable Ikea items. Stylish yet approachable. Lovely!
Scroll down below to see how you can recreate the look at home.
.
P.S. Soon product roundups, 'Get the look' and home styling tips will be reserved for our Insiders Club. Do you like this kind of article? Make sure to join our waitlist to be notified of our upcoming launch.
How to get the look:
Find them here:
1. Paint | 2. Coffee table | 3. Curtains | 4. Sofa | 5. Print | 6. Pendant lamp | 7. Rug* | 8. Sideboard | 9. Side chair | 10. Table lamp* | 11. Tray Table* | 12. Print | 13. Shelf* | 14. Ant chair | 15. Plaid* | 16. Cushion* | 17. Table lamp* | Loop stand table
Photos: Bjurfors
This article contains affiliate links, marked with a *. They help us generate some revenue to fund our business operations, allowing us to be less dependant on branded content or banner ads. We only link to products we truly love and genuinely recommend.
.
---