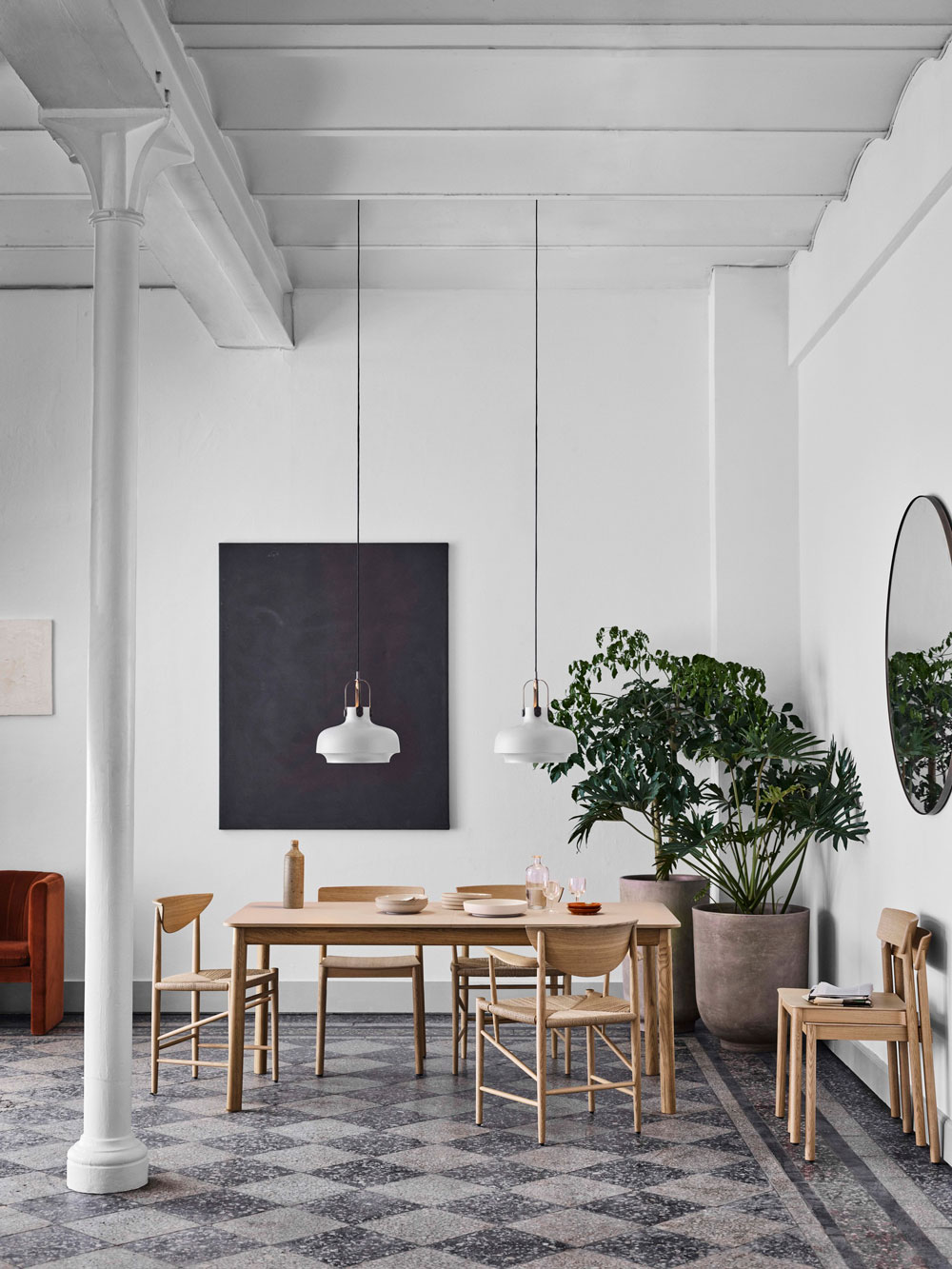 Big news: It's official, the Insiders Club is now open! Find out all about the perks of being a member here. Plus: If you join today, you'll get a special launch rate. Doors are open until June 3rd. Join the club!
With Spring comes new releases in the design world.
Many products were launched lately, and these six beautiful chairs caught my attention. From reinterpreted limited editions to sketches retrieved from the archive and completely new designs, they all celebrate Danish craftsmanship and timeless aesthetic, and they should be on every design fan's radar.
The Red Spanish Chair
Fredericia launched a special edition of Børge Mogensen's most celebrated designs, The Spanish Chair, crafted in a new Deep Red saddle leather. The warm color is rooted in the Danish company's archives and has always been part of Mogensen's repertoire. Originally designed in 1958, the chair has bold lines with a solid oak frame giving a rustic yet refined and characterful look.
Series 7™ velvet edition
Fritz Hansen is now offering its Series 7™ chair in a cotton velvet upholstery by Redaelli Velluti, pairing luxurious Italian fabric and iconic Scandinavian design. Powder-coated steel legs in Brown Bronze compliment the 10 selected colors like misty rose, soft ochre, seal grey, dark plum and forest green, to name a few. It can be used as a noteworthy accent chair or simple, luxurious seating for modern dining. The possibilities are endless.
Arkade Chair by Nanna Ditzel
Danish furniture brand Brdr. Krüger is launching a previously unreleased chair by architect Nanna Ditzel (1923-2005), designed in 1983. The design exemplifies Ditzel's signature of elegant geometries and fondness for soft circular shapes, expressed with recurring arches, hence the name Arkade, the Danish word for Arcade, and a nod to classic architecture. The chair is available with a wood-turned and steam bent solid oak frame, with metal finishes in brass, black oxide, and chrome, as well as with various textile and leather upholsteries.
Drawn Hvidt & Mølgaard 1956
A series of tables, chairs and lamps by modernists Peter Hvidt and Orla Mølgaard Nielsen were retrieved through old sketches and are joining the &Tradition family, and the 1956 Drawn chair is one of them.
It stands out as a definitive piece of Danish design. Relying upon traditional craftsmanship techniques and built out of organic materials, it brings a sense of wholesome honesty to any space. Available in oak or walnut, it comes in two versions: a wider model with armrests, or one without. The chair is made from turned and milled solid wood with a form-pressed backrest. The seat is hand-woven from more than 100 meters of natural paper cord.
CH24 Birthday Edition 2020
The timeless Wishbone chair by Hans J. Wegner (1914-2007), produced by Carl Hansen & Son, was reimagined by Ilse Crawford with a limited edition series to celebrate the late designer's birthday on April 2. For the occasion, the chair's elegant frame is painted in a beautiful glossy navy blue finish.
Reprise Chair by Norm Architects
Copenhagen-based multidisciplinary design studio Norm Architects collaborated with L. Ercolani, a new sub-brand of UK furniture maker Ercol, and created the stunning Reprise chair. It is a classic and elegant piece that is available in whitened, natural or painted ash or walnut, with a webbed, upholstered or leather seat.
"The UK furniture maker represents a heritage and philosophy that we understand intuitively", explains Norm Architects. "We were able to channel this native familiarity into our collaboration. We share a humble and democratic approach to craftsmanship and the use of honest materials."
First photo: &Tradition
Hey! See that bookmark button just above? This is one of the many exclusive perks of being a member of the Insiders Club! Doors close on June 3, 2020 - Don't miss out!
---