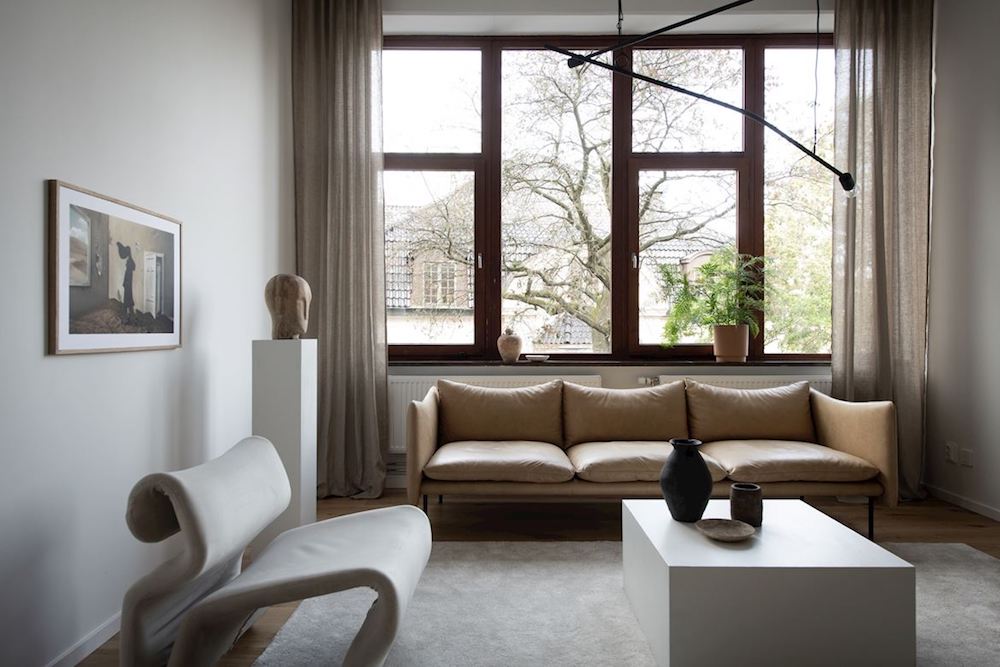 I've got an inspiring one-bedroom apartment in Sweden to show you today!
It caught my attention for its beautiful and warm color palette, which give a serene feel to the place. It is also a perfect complement to the floors and wooden framed windows.
I am also fond of the curated collection of furniture and accessories – I spot a Tiki sofa, an Etcetera chair, a Snoopy table lamp and Pavilion dining chairs. Hay makes a similar pendant with a laminated oak veneer. The rug in the kitchen looks like it could be from Design House Stockholm, while the one in the living room seems to be by Nordic Knots. For similar sculptures, check our Swede Kristiina Haataja. For prints, have a look at The Poster Club.
Do you wish your home add such refined flair? Scroll down for my quick tips!
Décor tips
Here are 5 tips to make your home look more elegant:
.
1. Give your interior a considered and curated appeal with sculptural furniture and lighting.
2. Stick to a restrained color palette, for a cohesive and unified look.
3. Use handpicked art to create a focal point in each room.
4. Keep your space clutter free.
5. Focus on tactile materials and rich textures to make any space feel instantly luxe.
For more beautiful Scandinavian homes, have a look at the inspiration gallery.
Psst: Don't want to miss a thing? You can now subscribe to receive new article notifications via email! Opt-in here.
Styling: Elli Roshendal – Nouvel Interiör & Therese Eriksson
Photos: Maria Sahlander for Bjufors, via The Design Chaser
Got a home decor inspiration board? Pin this for later:
---