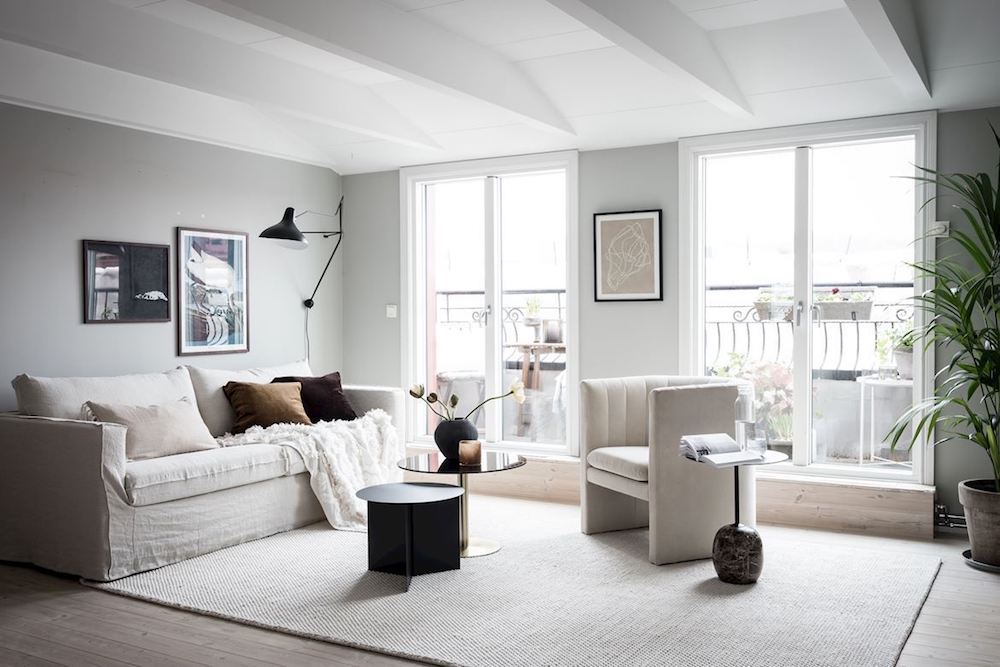 There is so much to love about this place. With its pared-back color palette and aesthetic, it has that cool, calm and collected vibe that really makes you want to kick off your shoes. Comfy and inviting, yet elegant, it is a stylish place to unwind. I appreciate the harmonious decorating style, the seamless layering and careful editing. You'll see a Loafer armchair and a Lato side table* by &Tradition, a black Slit table* from HAY, a Flash table* by Tom Dixon, and a Mantis wall lamp*. If you have an IKEA sofa, you could get a linen slipcover for a similar look. Finally, Wall of Art offers a nice selection of prints like the ones shown here.
Why it works:
Let's deconstruct this interior, following some key styling principles:
Neutral base: White ceilings, grey walls and light pine floor boards provide a great starting point for a clean and classic style.
Common thread: Notice that all most furnishings are white or cream-colored, making it easy to create a cohesive look.
Accents & Contrast: A few dark accents prevent the look from falling flat and enhance the composition. Brown-toned details complement the palette beautifully.
Positioning: The space is well-curated and uncluttered. Everything seems to be at its right place.
Reflective surfaces: Brass accents as well as glass help diffuse natural light while adding visual interest.
Textures: A linen slipcover, velvet cushions, a tufted rug… Layering textile is a great way to add textures, as shown here.
Botanicals: A large Howea Forsteriana plant and poppies instantly breathe life into the place.
Art: An eclectic mix of art ornate these walls – A must, because a home isn't complete without art!
Plus: If you've read yesterday's post on how to style around a couch like a pro, you'll notice that the same tips were applied here too!
In the bedroom:
While the living area feels fresh and bright, the bedroom was meant to look more moody – Like a serene cocoon. Try the following products for a similar style at home:
Print | Velvet cushion* | Throw* | Velvet bedspread* | Table lamp | Linen bed set*
For more beautiful Scandinavian homes, browse the image gallery.
If you'd like to receive some of our best design news straight to your inbox, join the ND newsletter!
Styling: Bybon
Photos: Alen Cordic for Bjurfors
This article contains affiliate links, marked with a *. They help us generate some revenue to fund our business operations, allowing us to be less dependant on branded content or banner ads. We only link to products we truly love and genuinely recommend.
Got a décor inspiration board? Pin this for later:
---