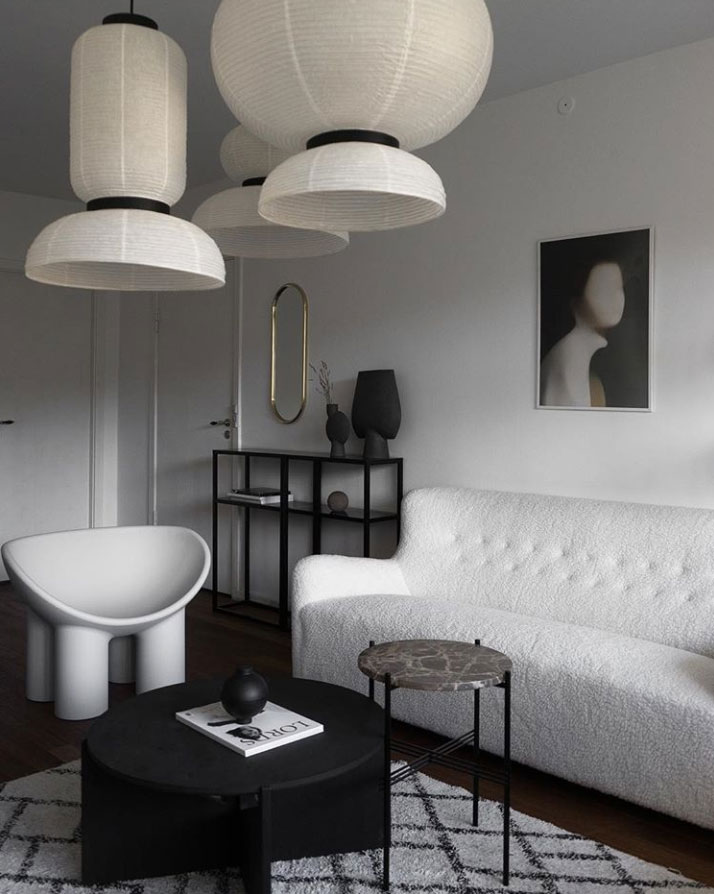 Mikey Estrada is a photographer and stylist living in Copenhagen. He describes himself as a furniture collector and, looking at these pictures of his apartment, it is clear he loves good design pieces – His home is filled with them!
Handvärk, Flos, &Tradition, Gubi, Hay, Menu, 101Cph, Carl Hansen and Son, Nuura, Frama, Louise Roe… Mikey has a pretty enviable collection already. Oh, did I mention he is (only) 22 years old? My flat didn't quite look like this back in my student days…
I do spot a few Ikea products, like a desk made with the Lerberg trestle, a Lixhult cabinet, as well as a Vittsjö shelf unit.
I really like the refined, moody and tranquil atmosphere of his place. And isn't that textured paint (as seen in a few pictures here, like the 1st one below) gorgeous? It could very well be by new company St. Leo, which makes eco-friendly plaster paint made from dolomite mineral powder, with a delicate granular structure. Beautiful!
This inspiring interior is the perfect way to end the week. Enjoy!
Make sure to follow Mickey on Instagram.
For more inspiring interiors, check out my image gallery.
Photos: Mikey Estrada, with thanks
P.S. I will launch my latest collection of original paintings very soon! If you'd like to find out more, get on my waitlist and I'll send you a sneak peek soon.
---