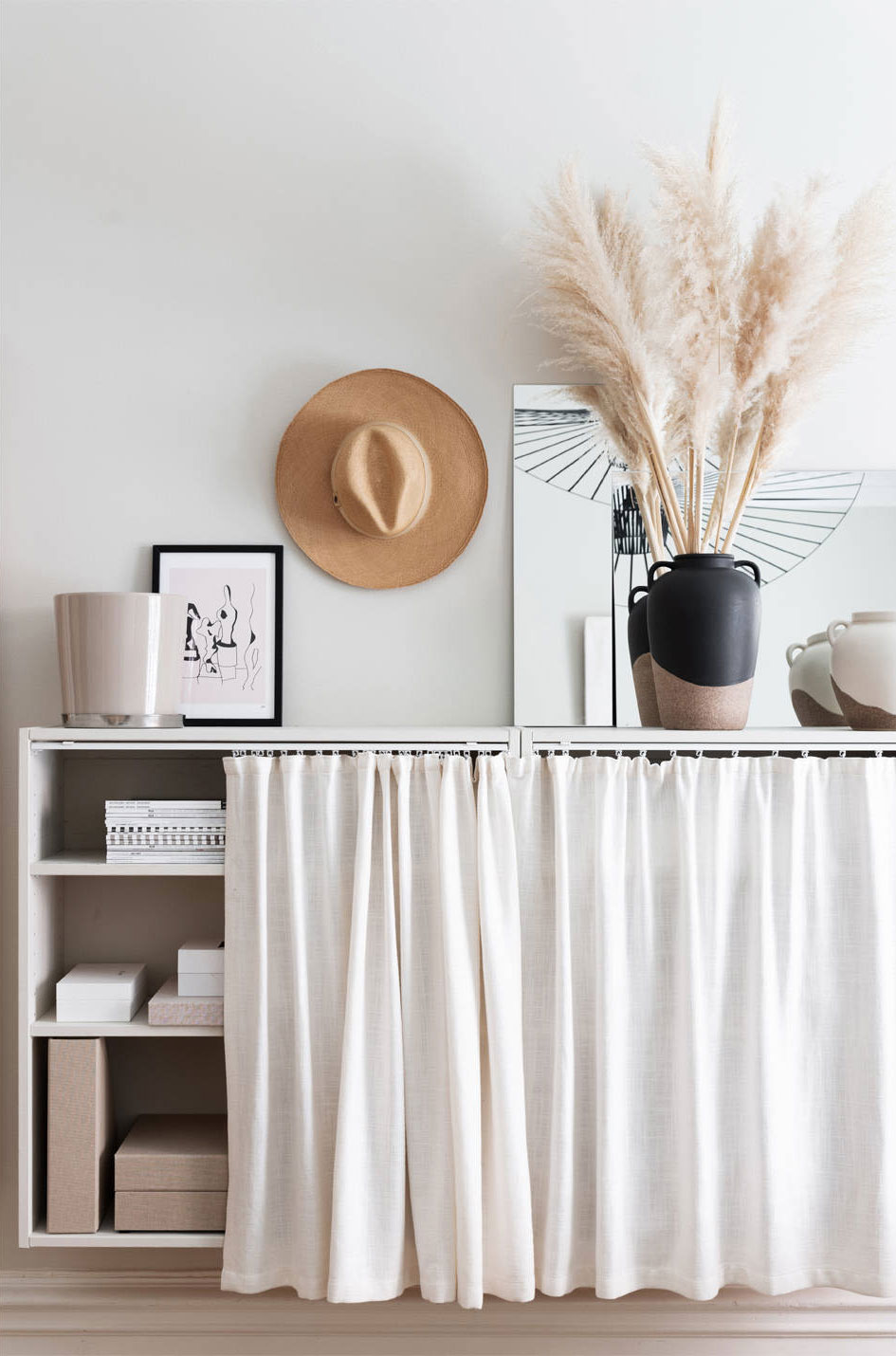 Today I am showing you a 34 square meter (366 square feet) apartment downtown Stockholm, Sweden. It is located in a stunning building from the late 19th century, used as a showroom for ornemental stucco master Axel Notini.
The interior is refined yet understated, and the look is feminine with soft and delicate hues.
Let's take a look at a few things that make this space stylish and on-trend:
Shearling on furniture is all the rage right now, and those two armchairs are gorgeous;
Pampas grass – Seen in almost every Scandinavian homes featured on this website last year, and the interest isn't fading;
A hint of cane wicker;
Minimal, modernist-inspired drawings and sketches;
A walnut kitchen that could surely have been included in my recent article about wooden cabinets done right;
A mirrored backsplash – Likely unpractical, but great to reflect light, make a space seem bigger and for a high-end look;
A deep, slope arm slipcovered sofa, for a cozy but elegant style;
Lots of curves – Furniture, accessories, etc.
What else do you spot in here that could be added to the list?
DIY Idea
Skirted cabinets used to be something reserved for cottages or country kitchens, but not anymore. Indeed, they've been spotted increasingly in luxurious residence, and it surely isn't a coincidence that this chic little apartment features something similar. Noticed the bookcases, with their fabric curtains? While I am still not 100% sold on the concept, I can see the appeal: The content is easily accessible while hiding the visual mess (because let's be honest, we are not all designers or bloggers with perfectly styled shelves), while adding a focal point, texture and warmth. It is also a great option when space is limited, when opened doors would be in the way.
Maybe the one shown here was store-bought, but it gave me an idea for a DIY project! All you need is a bookcase like IKEA's popular Billy, a single track curtain rail with gliders and hooks, as well as a piece of fabric or ready-made curtains in linen (for that elegant look), and you've got a custom storage solution. Easy peasy!
What a grand entrance, right? So beautiful!
For more gorgeous small homes, have a look at the dedicated section in my inspiration gallery.
Photos: Alexander White
---