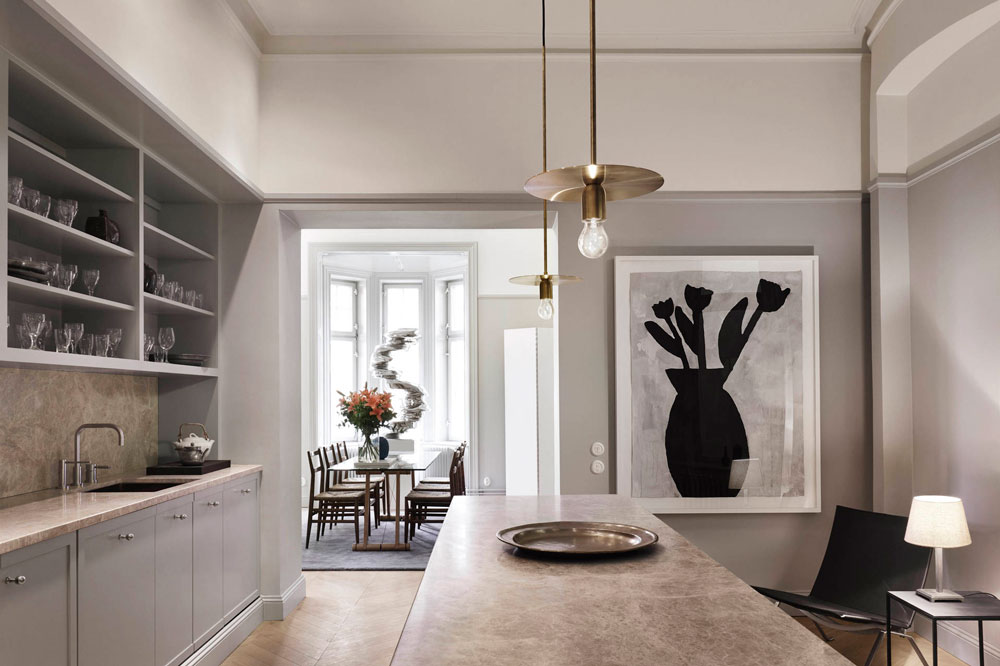 Today I'm taking you on a tour of a luxurious apartment located in Östermalm, a posh residential neighborhood of Stockholm. It has a refined interior offering lots of inspiration.
I really like the oak parquet floor with the grey walls. The soft color palette througout and rich textures add to the serene atmosphere. The kitchen is definitely striking.
The home has a sleek, elegant and modern look – Many elements make it very "actual" in terms of what is trending/popular in Nordic homes: 1) a curved sofa, 2) velvet upholstery and cushions, 3) chrome accents, 4) a glass-top dining table, 5) viscose rugs and 6) kitchen cabinets that match the wall color.
Although a tad too classic for me, I do like the décor and wouldn't mind taking it as is – Except possibly the art in the bedroom; I'd constantly feel somebody is staring at me at night… I am also not convinced (and will never be) by the sink curtain skirt in the bathroom… But hey, I guess if I'd have the budget to buy this place (listed at about $2 million USD), I'd probably also have some spare change to make a few modifications before moving in, right?
Enjoy the tour!
Photos: Alexander White
SaveSave
SaveSave
SaveSave
SaveSave
SaveSave
SaveSave
---