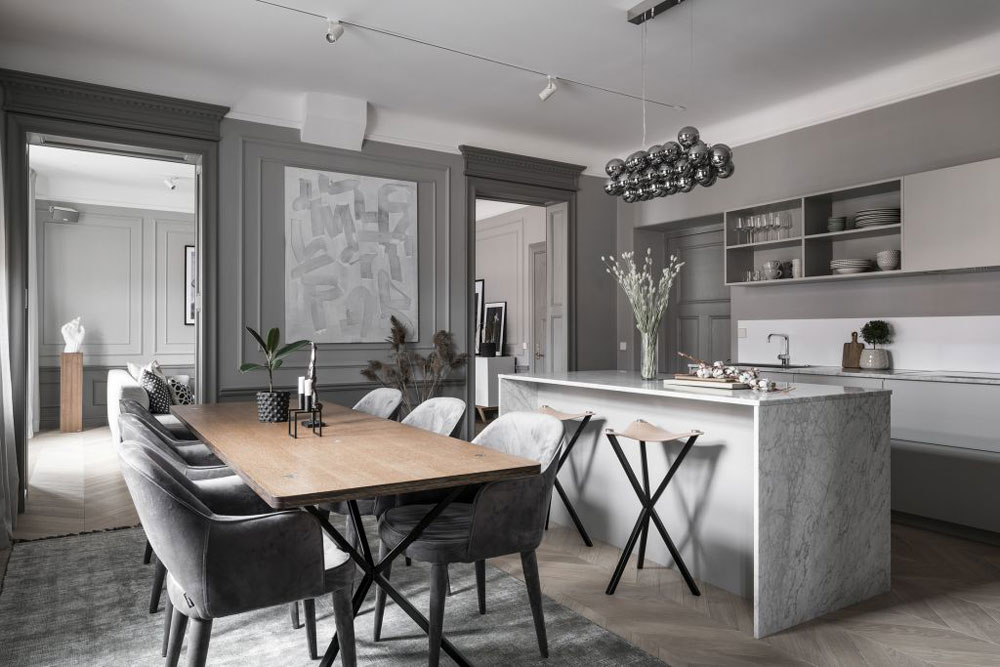 Oh hello, gorgeous home! Where were you when I looked for inspiration when choosing my home's color scheme? I am really into this moody, monochrome palette, warmed up by brown tones. So chic!
Right after seeing these pictures, I did a bit of research to find similar combinations of greys for a two-tone look, with a darker hue applied to doors and trims as seen in this beautiful apartment – You can find a few options below.
But first, let's start the tour of this inspiring place that oozes elegance.
Originally designed by Swedish architects Elding Oscarson, this apartment in Stockholm had a more industrial style than what the current owners wanted.
So they enlisted the help of Styling Bolaget to create a serene and refined residence.
Period-inspired elements like detailed baseboards, window casings, wall panels, and moldings, were seamlessly incorporated -as if they were always there- to add impact, interest, and character.
Together with the beautiful chevron parquet floors, they enhance the luxurious, turn-of-the-century look.
In contrast to the classic interior, the kitchen is quite modern with its sleek lines. The choice of grey cabinets with marble countertops is a timeless combination, and it blends in beautifully with the rest of the space.
The careful selection of contemporary furniture and accessories in this home creates a perfectly balanced mix of old and new.
I spot products by &Tradition, Asplund, Per Söderberg, by Crea, and Flos, among others, as well as a few great pieces of art.
For a similar two-tone look, here are grey paint color duos I recommend:
Eider White + Dorian Gray from Sherwin Williams
Ammonite + Purebeck Stone from Farrow & Ball
Gray Cloud + Stonington Gray from Benjamin Moore
If you're curious, you can see what this home looked like before the renovation here.
To find out how to add a touch of luxe to your home without breaking the bank, here are a few tips.
First photo: Marcus Stork
---