Ikea and Sonos have introduced the latest addition to their Symfonisk line, a speaker that doubles as artwork.
The Sonos IKEA Symfonisk picture frame WiFi speaker was created to seamlessly blend into your home. With its flat silhouette and slim edges, it has a streamlined, space-saving design.
The front art can be swapped out for other styles, and options will vary by market.
"I envision the speaker blending in, on a picture wall, together with other picture frames. That was the key point of the design: we wanted the product to be handled much like a traditional picture frame, both in the way you hang it and how it fits with the other frames on a wall." – Stjepan Begic / Product Developer, IKEA of Sweden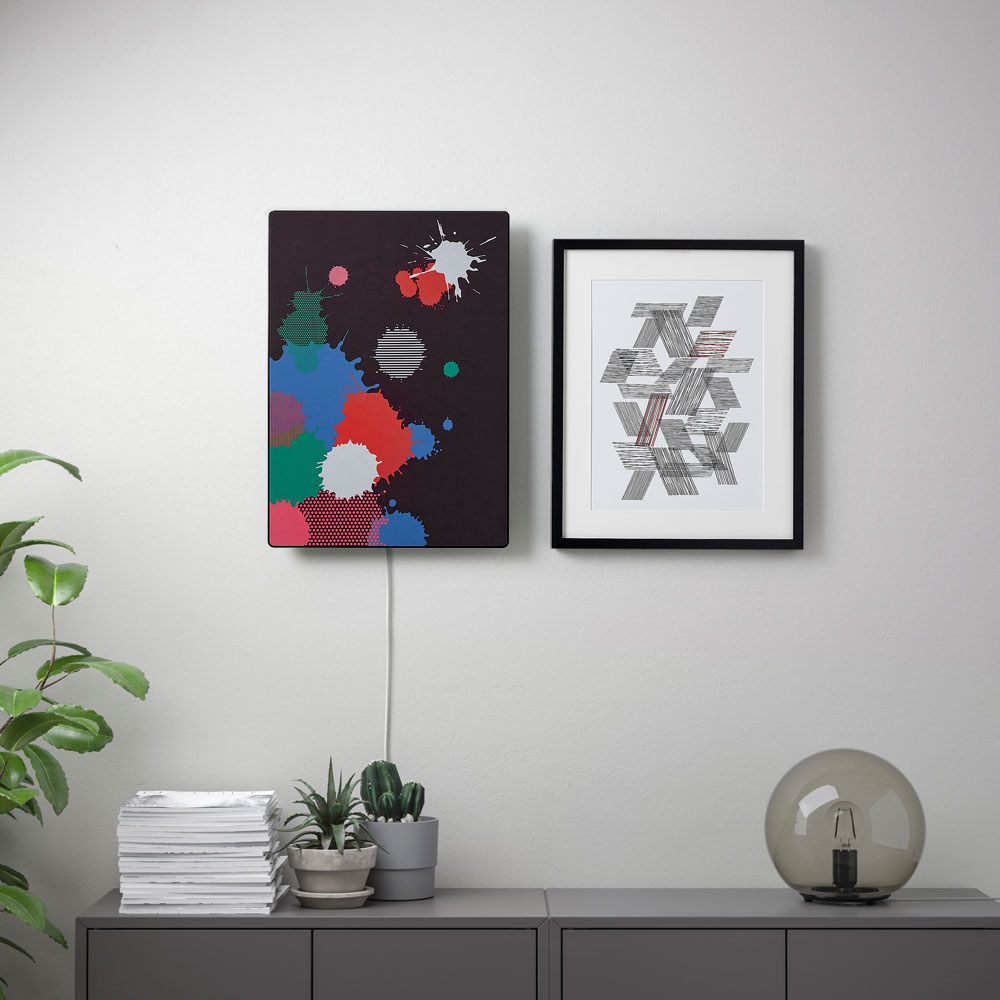 It comes with a magnetic hook so you can hang it horizontally or vertically. Cord management is built into the frame's design. Removable rubber feet will be included, so the art speaker can also be placed on the floor.
According to the press release, Sonos promise "smooth, room-filling sound", using the company's app. AirPlay 2 support is also included.
Bluetooth is not supported at the moment, but the speaker easily connects to your home WiFi.
It will be possible to stereo pair two Symfonisk picture frame speakers together, as well as with other Sonos speakers in mono.
"There are areas in the home where a speaker doesn't fit whether that's because of a lack of space, power, or because "technology isn't the focus, like in bedrooms", explained Sara Morris, principal product manager at Sonos, in a recent interview with Techradar. "By building speakers into home furnishings we can overcome both of these challenges and let people decorate their home with both the objects and the sound," she said.
The speaker will be available for purchase starting on July 15th at $199.
Want my two cents? I think the concept is absolutely great, just like the Frame TV. Unfortunately, the artwork is a bit of a miss… I do hope that a greater variety of designs will be available in the near future.
Maybe companies who offer slipcovers for Ikea sofas, like Bemz or Comfort Works, will add speaker fronts to their assortment, who knows? But one thing is sure though: I'd be the first in line to get them.
And you, what do you think of this new product? Tell me in the comments below!
Photos: Courtesy of IKEA & Sonos
---