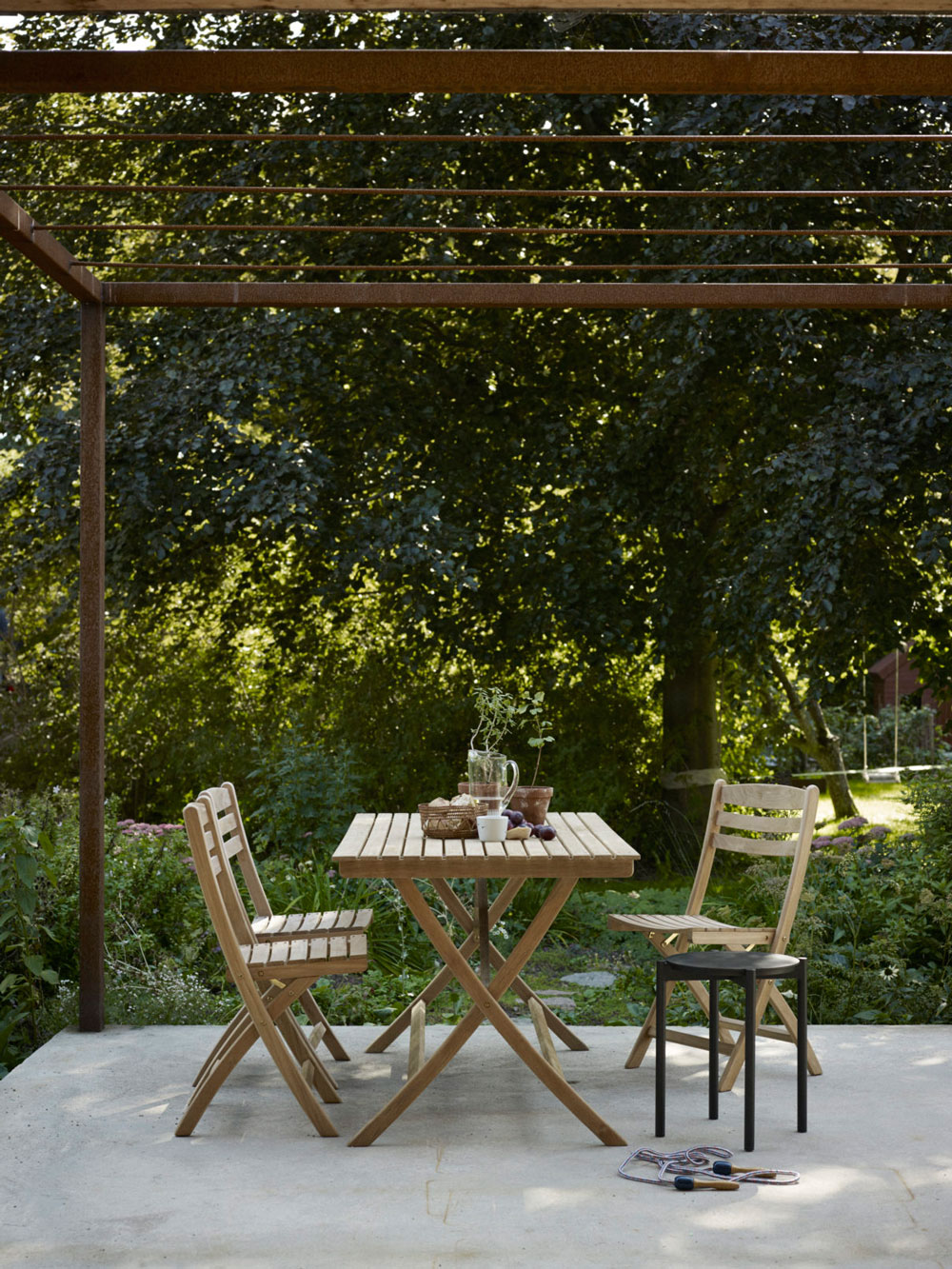 When moving to our new house a few years ago, the previous owners left us an old set of garden furniture, which I was pretty pleased about. Made of solid and heavy teak, the chairs and table are beautifully crafted pieces with a timeless beauty. However, they looked rather neglected…
While this type wood is very durable and resistant, it is important to care for it to preserve its color or to clean it occasionally at the very least. I was recently doing some research for maintenance tips, and I came across a nice little article shared by Danish company Skagerak, who has a very nice outdoor furniture collection. As I am probably not the only one who started to prep the balcony, terrasse and/or porch for the warm season, I thought some of you might also enjoy reading it, too.
So I am sharing their guide – It is simple, useful, to the point, and well-worth saving for future years if you want to extend the lifespan of your teak garden set.
Skagerak's guide on how to care for outdoor and garden teak furniture
.
"Teak is a dense and oily wood that is ideal for outdoor use as it requires little care or maintenance. The natural oils protects the wood from pests and water absorption, keeping it from rotting. Our designs are made to last for generations, but proper usage and maintenance is vital for getting the most out of the valuable resources we have. Read through our care and maintenance guide to find out how to make your investment last for generations.
Please note that teak will turn from a golden-brown colour when it's new to a silvery-grey when it has been exposed to sunlight and rain. This colour change does not affect the durability of the furniture and does not mean that the wood is bad quality – it usually means the opposite. You can add oil treatment to preserve the golden colour for longer. If you prefer your furniture to go silvery-grey, no oil treatment is needed.
Regardless of which look you wish to go for, it is still important to clean your garden furniture at least once a year. This will prevent algae growth which is inevitable in warm and moist environments.
Tip: When washing your teak furniture, start from the bottom and work your way up.
How to clean your outdoor furniture:
Start by rinsing the furniture in soapy water and let it soak in for a few minutes before scrubbing it down.
Use a cloth or soft-bristled brush to protect the wood and scrub in the direction of the wood grain. Always start from the bottom and work your way up to avoid streaks. Start lightly and then assess whether further cleaning is necessary.
For a deeper cleanse, we recommend using this cleaner. This will also remove algae, make sure to scrub down the entire furniture – not only the green algae patches.
Rinse the furniture with a garden hose. Make sure to rinse off all of the soap residue as this may stain or cause algae growth.
.
Tip: Avoid using a pressure washer as this will harm the wood.
.
.
Guide to applying an oil treatment:
When placing untreated wood outside it will patinate over time and become silver-grey in the end. If you wish to preserve or intensify the original golden-brown colour, use Skagerak's natural oil on a regular basis. The oil is designed to protect and strengthen the wood. As the natural oil saturates and darkens the surface a little, it brings out the natural beauty of the wood and leaves it well-nourished, resistant to water, dirt and grease. Teak oils are available in a range of different colours. Here's how to add the oil correctly:
.
Clean the surface well before starting the oil treatment. Make sure to leave the wood to dry for at least 24 hours after cleaning. Avoid direct sunlight and high temperatures. It should be no colder than 13°C though.
Sand down any rough fibers in the wood with sandpaper before applying the oil.
Stir the oil before and while using it.
Apply an even layer of oil with a brush or a lint-free cotton cloth, remember to start from the bottom to avoid streaks.
Wipe off any excess oil with clean cotton cloths after no more than 20 minutes. Make sure to dispose the oily cloths responsibly as they can be a fire hazard.
If the surface does not appear saturated with oil, repeat step 4 and 5 a couple of times.
It normally takes 48 hours for the oil to harden. The wood should not be exposed to water in this period.
We recommend repeating this process 1-2 times a year. Remember to always clean the surface before.
.
.
Tip: Do not use the same soaps and oils on your indoor furniture due to strong algae removal properties in the outdoor products."
.
A big thanks to Skagerak for this guide!
Text & Photos: Skagerak
Disclaimer: This post is NOT sponsored by Skagerak – I genuinely thought this was nice information to share with you.
Got a garden or DIY inspiration board? Pin this for later:
---