Photo: Tyler Nevitt for Objects NYC
Danish-born and New York-based Camilla Vest founded Objects NYC to represent Danish design in North America. I took an interest in her work, as we share a passion for craftsmanship and simple, functional design, as well as the belief that less is more, and we are both dedicated to showing the beauty of Nordic living in this part of the world. You can read an interview I did with her a few weeks ago here.
I caught up with Camilla who was gearing up for the holiday season in Objects' New York showroom to talk through some of her Skagerak favorites – All great gift ideas with a timeless appeal.
"I have always been very drawn to the Cutter bench and the Cutter series as a whole. Inspired by the Bauhaus movement, the design is sleek whilst the bench itself is still sturdy. It's a very versatile piece that I've moved around several times – I loved having it by our dining table but lately I've moved it to the entryway and added the Cutter boxes for extra storage capacity now that we are getting all the winter apparel out".
Cutter bench, oak ($999) and Cutter boxes, oak ($229) both from Skagerak
"The Sild tray is both beautiful and practical. It is a chopping board but I actually use it more as a serving board due to the pretty patterns in the teak wood – its really the perfect gift!"
Sild tray ($199) and Edge mugs ($29) both from Skagerak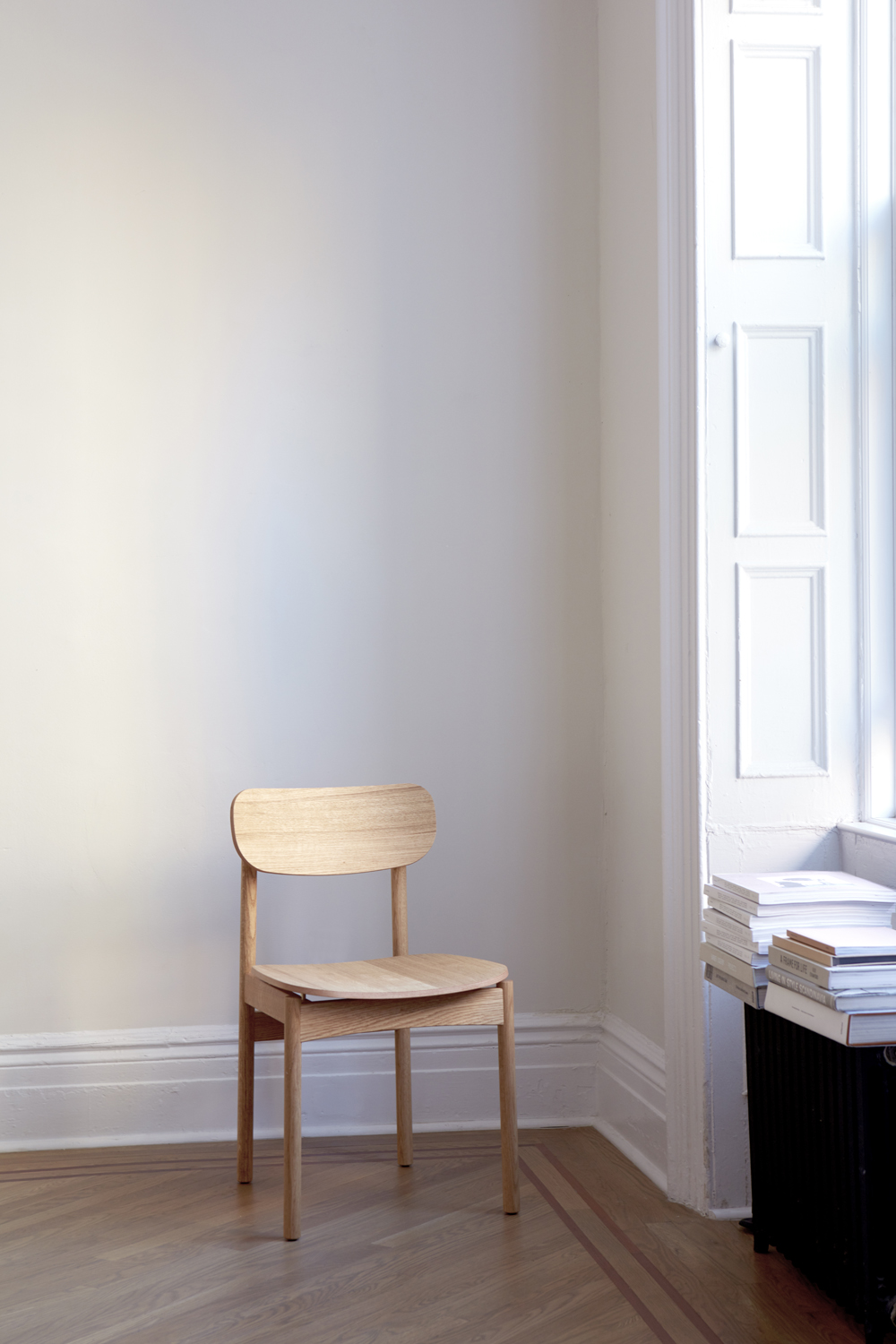 "The Vester chair is a new design by Chris Halstrøm which was originally made for a historical hotel in Denmark (Svinkløv Badehotel). I love the combination of the oiled oak and the brass details – the chair also pairs really nicely with my favorite Aldus table from Skagerak".
Vester Chair ($959) from Skagerak
"The Dania cutting boards always awake a Fall and Holiday feel in me. It's all the good memories of preparing meals for Thanksgiving or baking Christmas cookies with my kids. The boards are so durable and they come in 5 different sizes".
Dania Cutting board 50×27($145) from Skagerak
"The Georg Collection's newest family member is the Georg Desk which has been wonderful during the last months where many of us have had to work from home. The desk is also available in a console option that leans against the wall – a great design for smaller spaces. I've kept my notes and catalogs in place using the Dania letter Tray which is a real lifesaver in terms of ensuring a tidy workspace".
Georg Desk ($1249) and Dania Letter Tray ($209) all from Skagerak
"I feel like I can never get enough benches, especially ones that are comfortable yet still easy to move around. The Georg bench is well known in the oak version, and I'm really excited about our new walnut addition that recently launched in North America. I love both the tone of the wood but also the color and texture of the cushion. The Danish – Japanese design kinship is so evident in this bench and I feel it looks good anywhere in my home".
Georg Bench, walnut ($1495) from Skagerak. Exclusively available in the US/Canada through DWR.com
"The Fionia stool is a real classic that works equally well as a stool or side table. I've always really liked the clean lines in the design and I love to play around with it for styling like I've done here – a clean, simple vibe but with a touch of holiday through the Rosehips branches in a simple vintage glass vase that was a gift from my mother. Its good to note that the stool also folds completely flat which is very useful for smaller places and occasional use!"
Fionia stool, oak (also available in stained oak & teak) $345 from Skagerak
---
To shop these fall favorites and the rest of the Skagerak collection, find your closest retailer here.
Photographer: Tyler Nevitt for Objects NYC
Disclaimer: This article is brought to you in collaboration with Objects NYC. This is a company that I genuinely like and recommend. Having such partners is essential for the growth (and survival, in all honesty) of Nordic Design, and I thank you for supporting them.
---