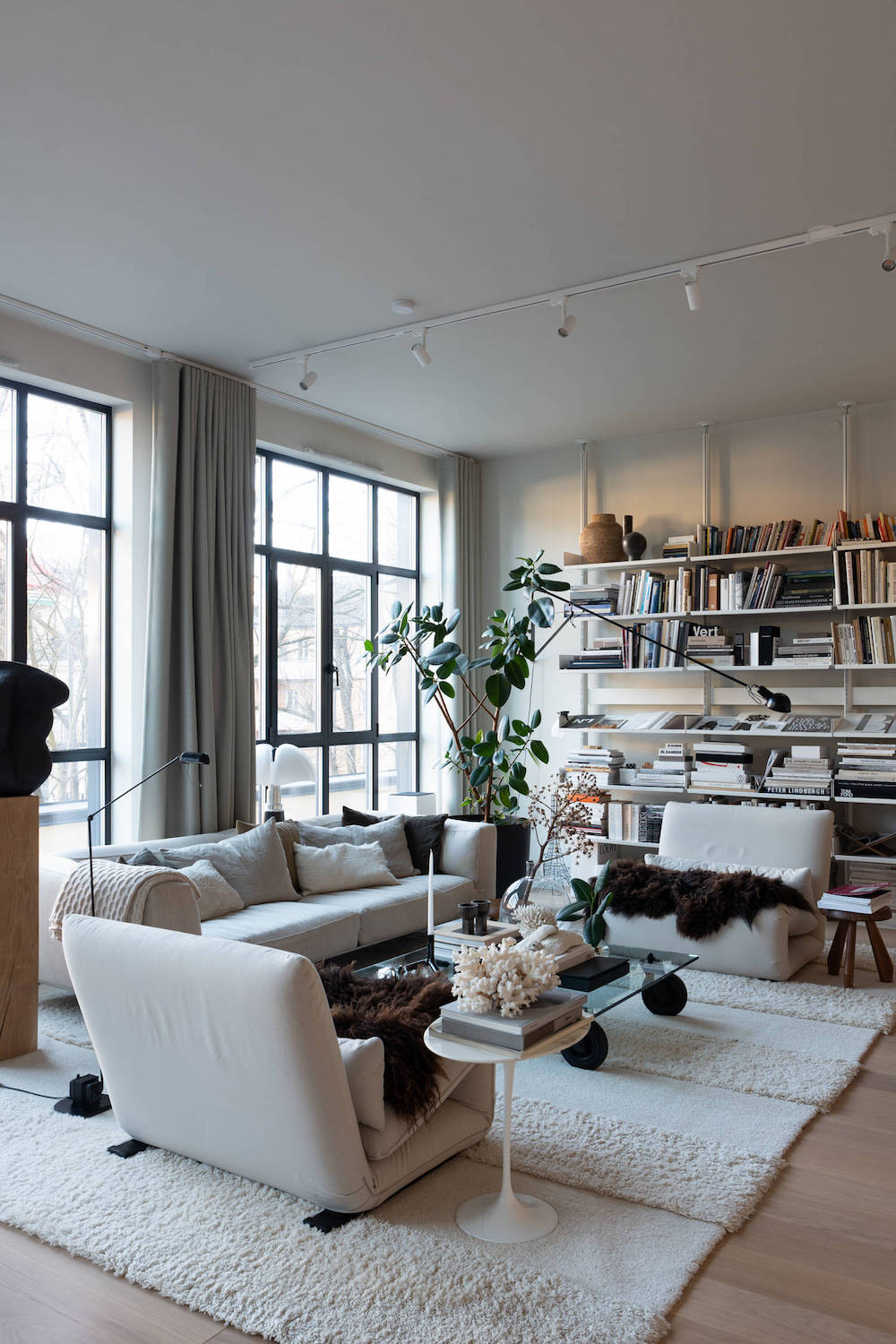 I've said it before, and I'll say it again: To me, Lotta Agaton's style is the epitome of cool Scandi-chic.
The Swedish designer never ceases to amaze me, with interiors that are always elegant and curated yet cozy, and inviting.
We've had a chance to peek inside her Stockholm apartment recently, and it didn't disappoint. Her home is filled with designer furniture, lighting fixtures and accessories – Quite an enviable collection!
It inspired me to refresh my wish list and since I know you all love a good 'Get The Look', I thought, what better interior to deconstruct and learn from than a Scandinavian star designer's own abode? You're welcome.
Inspiration & Palette:
Get the look:
Sources:
1. Pipistrello table lamp, Martinelli Luce
2. Tavolo con Ruote coffee table, Fontana Arte
3. 265 wall lamp, Flos
4. Tulip side table, Knoll
5. Shaggy rug, Anno*
6. Icelandic sheepskin in brown
7. Jonas sofa, Design Within Reach*
8. Gatto table lamp, Flos
9. Linen pillow, Casa Gitane
10. Daphine terra floor lamp, Lumina
11. Pallo glass vase, Skrufs Glasbruk
12. Tabouret Meribel and Tabouret Berger stools, Cassina
13. Abstract painting*
14. Shearling pillow
15. Convertible sofa bed*
16. Cestita table lamp, Santa & Cole
17. Oak plinth*
18. Sculpture by Bo Arenander
19. w151s2 pendant, Wastberg
20. UF3-Q Akari light sculpture, Vitra
21. Leggera dining chair, Cassina
22. Leonardo table, Zanotta
23. Collect planter, &Tradition
24. Faux coral decoration*
25. Bellhop portable table lamp, Flos
26. Koppa tool box, Veso Design
27. Toaster, Dualit
28. Artwork, Åsa Stenerhag
29. Counter stools, Mater*
30. Pottery by Vincent van Duysen
31. Pepper and salt mills, Peugeot
32. Artwork, Åsa Stenerhag
33. Daphine table lamp, Lumina
34. Roly Poly armchair, Driade
35. Bed linen, Linen me
36. Nuru waffle bedspread, Casa Gitane
37. Chunky breaded jute rug, Ben Soleimani
38. Atollo table lamp, Oluce
39. Floor mirror, Menu*
40. Pascal floor lamp, Oluce
41. Boucle shearling sheepskin pillow, Australian Made
42. Linen lumbar pillow, The Citizenry
43. Bauhaus beige art print, Julia Hallström Hjort*
44. Bellhop portable table lamp, Flos
45. Blackout velvet blinds, &Drape*
46. Brush, Iris Hantverk
47. Isola bath towels in greige, Brooke & Lou*
48. Androgyne side table, Menu
The plant in her living room is a Ficus Elastica.
The shelving system looks like it is from Swedish brand Vitsoe (the compressed model). Ikea's ELVARLI might be a good, affordable alternative.
*Not the same, but a nice alternative.
Styling notes:
What is the main takeaway, asides that Agaton has expensive tastes and a love for Italian-designed lighting fixtures? The palette is very consistent – Both in terms of materials and colors. By narrowing down the options, it is easy to make decisions and simplifies shopping, while reducing considerably the odds of making a mistake. And it is easy to introduce a pop of color with such simple, earthy tones, ensuring longevity.
Do you love the high-end look but have a tight budget? A few months ago, I've attempted at recreating Agaton's living room using only Ikea products – Check it out!
If you like this look, the home of Pella Hedeby will be right up your alley.
---
If you've enjoyed this Get The Look article, do not hesitate to let me know by sending an email to [email protected] or by posting in the community!
If you'd like me to help you find an alternative product and/or a retailer near you, leave me a comment below and I'll happily get back to you!
Photos: Erik Lefvander
---