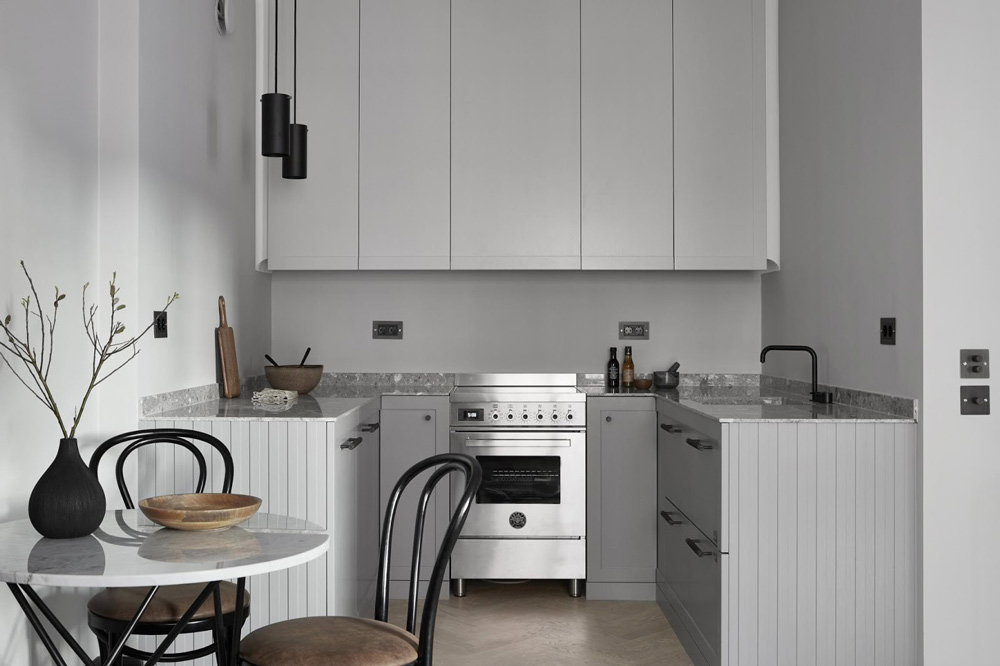 I'm currently planning my home renovation projects for this summer, and our kitchen is at the top of the list. It is exciting and daunting all at once, with me constantly going from one style to another, weighting the pros and cons, debating the timelessness of each option, finding clever storage solutions, and so on. My inspiration board is filled to the brim, and these four designs were recently added to the lot, each for different reasons.
Shades of grey
Here is a lovely little kitchen that shows you don't need a lot of space to be functional and chic. It has a layered, monochrome look consisting of several shades of grey, from the wall color and cabinets to the stone countertop, the oiled parquet floor, and the cooking range's stainless steel. A few black and wooden details prevent the look from falling flat. A tone-on-tone effect perfectly executed. Classic and elegant!
Photos: Fantastic Frank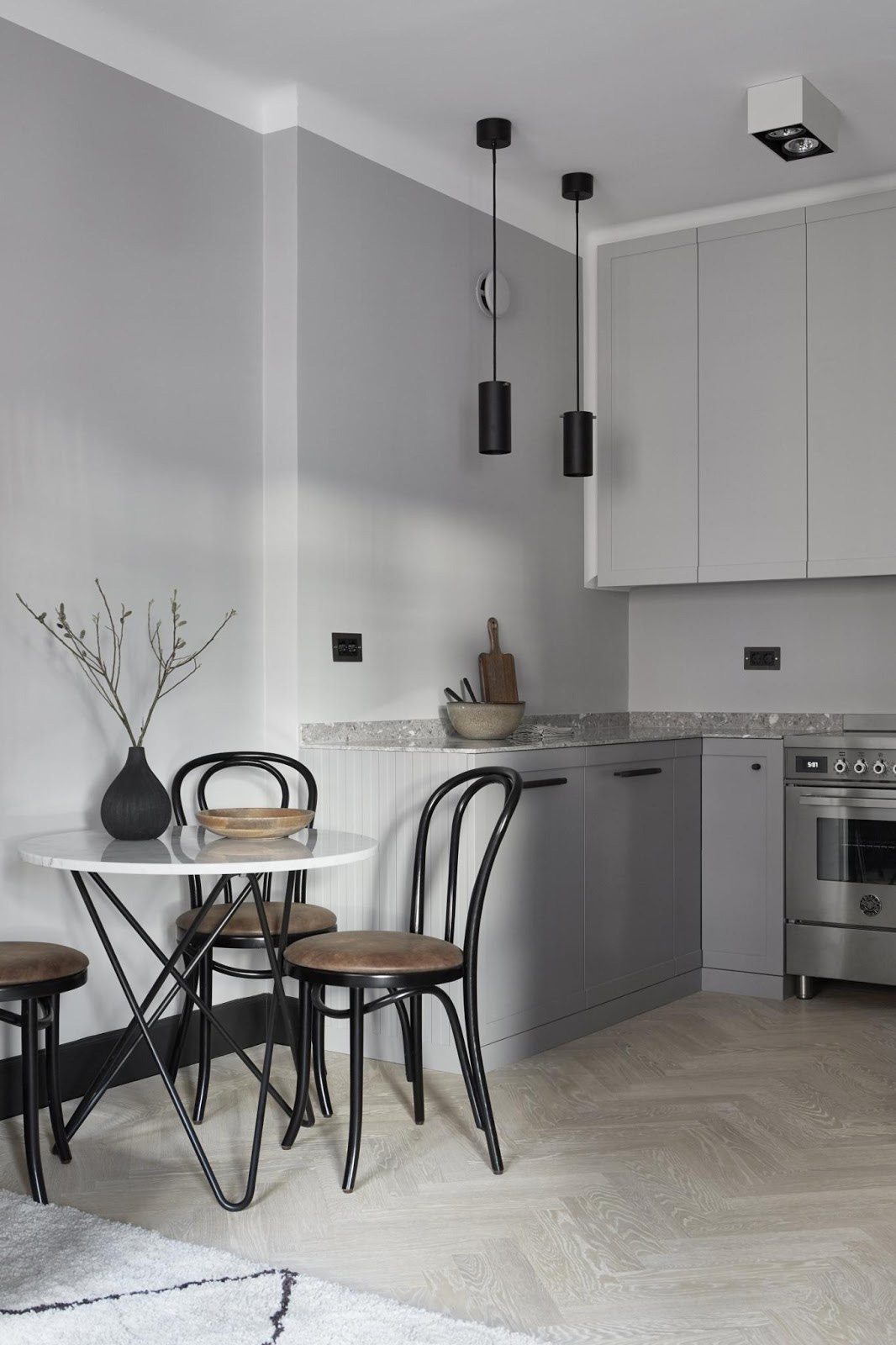 When Scandi meets contemporary rustic
This is the latest work of Studio Lotta Agaton for Marbodal, a kitchen manufacturer from Sweden. Black cabinets have been a raging trend in interior design in the last few years, and I am one of the fans. I like this one particularly for its modern shaker style, the light countertop, the textured walls, and the extra long wooden peg rack. This is a concept that might not work in reality for all pots and pans (at least for me), but for a few accessories, it is totally workable. It is a great solution for those in need of a little extra space or organization, or for those looking to feature their beautiful kitchen tools and brushes, bundles of drying herbs, a seagrass basket, etc.
Photos: Pia Ulin
.
Modern and minimal
This kitchen by Susanna Cots has sleek, straight lines and a minimal style, warmed up with oak details – a gorgeous floor, the overhang of the countertop and cutting boards. Serenity emanates from this place, thanks to an uncluttered look and a palette of natural tones.
Photos: Mauricio Fuertes
The comeback kid
Full oak wood cabinetry is making a comeback! Hugely popular from the 70's through the 90's, we've seen them in abundance with a dark, yellowish stain with a raised panel… and they've since made it to the list of all interior designers' pet peeves. While North Americans might still cringe at the idea of such trend making a come back, Scandinavians might not be so surprised and actually wonder why it is such a terrible thing. That's because they've been doing it right, like with so many things – See some stunning examples of a here, here and here.
Unpainted, unfinished wooden cabinets add warmth, dimension and texture. It is versatile enough to look great in a clean and minimal home, as well as in a rustic interior. In the example shown here, the marble and brass provide a classic yet contemporary touch. I'm digging it!
Photos: Historiska Hem
For more kitchen designs, check out my Inspiration Gallery!
SaveSave
SaveSave
SaveSave
---