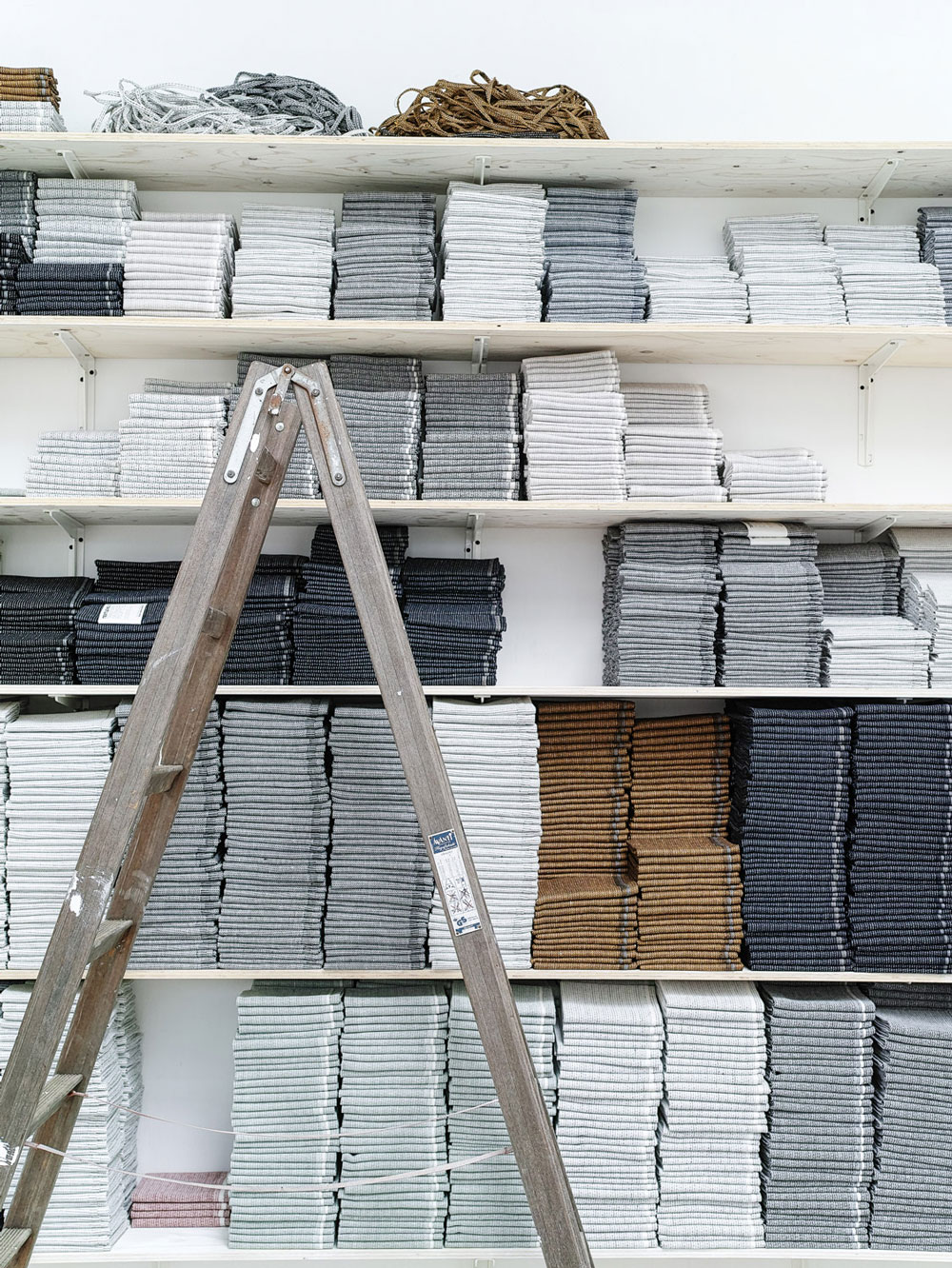 Karin Carlander is a Danish contemporary weaver who contributes to revitalizing an age-old craft. Like a true artisan, she takes great pride in her work. She is committed to honouring "slow design", and her textiles are designed to last both aesthetically and functionally.
Tea towels, cushion covers, tote bags and napkins in natural linen, as well as rugs made of hand-dyed Norwegian wool, in neutral and timeless colors.
All her products are carefully hand-woven on traditional looms with 100% European produced linen spun from flax naturally grown, with a high level of skills and savoir-faire. They are hallmarks of quality, beauty and outstanding craftsmanship. In North America, you'll find them at TheFjordStore.com.
I wanted to know more about her philosophy and her process, and I am sure you'll enjoy reading Karin's words of wisdom about sustainability. Here, she agreed to answer a few of my question.
Photo: Maya Matsuura
Photo: Jeff Hargrove
Q: What inspired you to start your brand/company?
A: I launched TEXTILE No. in summer 2013 as my own brand and design. My goal was to bring my hand-woven designs into a contemporary context and create a transparent brand with a as few intermediaries as possible between the artistic process and the end-user.
I have worked as a weaver and exhibited one-offs for many years and have developed a grasp of my loom and my craft that I want to share with others. There is an appealing sense of achievement in constructing and creating an object from scratch. Anyone who masters a craft holds tacit knowledge that is conveyed through one's hands and by example.
Photo: Ole Akhoej
Photo: Ole Akhoej
Q: Your aim is to reinterpret Nordic crafts. Can you give us more details about your process?
A: Nature gives me so many wonderful experiences. It is my one of my main sources of inspiration. I love spending time in nature: walking in the wood, sailing on the sea, swimming in the water… flying like the birds, if only I could. Walking in nature on my own, observing and reflecting without being disturbed is something that I enjoy a lot. I usually say that my most important hour of work every day is my early morning walk with my dog. Nature is so beautiful in the morning, the light is cool and crisp, and the sounds are intense and fresh. Animals, plants, sky and sea appear to embrace each new day as if it were the first. With renewed activity and vigour every morning, all year round.
Nature never stands still, frozen into the same pattern, it is always in motion. I love observing the moods that the moment hands us. The reeds in the water, swaying gently with every little puff of wind, taking on a new character, as they reflect the light, their motion transforming the water surface and bringing up new shadows. Or the freshly fallen snow that adds contrast and character, its white accent clashing with the dark brown tree trunks and the black lake just before it freezes over. Or the waves of the sea, constantly reflecting the light as they wash eternally over the pebbled shore.
I look at the wheat-coloured reeds against the blue water on a winter day and find inspiration in the beautiful colour combinations, so subtle and perfect. I marvel at the tiny, yet indomitable anemones that push up through the woodland floor, spreading a carpet of white petals and light as the days grow longer, and the light grows stronger.
Nature is alive in a inspiring and dynamic interplay of tangible physical form and the dance of the sunlight, its immaterial and fleeting nature constantly reshaping form. I try to capture the moment in a mood that I take home and seek to recreate in my textiles. Not as a fixed form but rather as a reflection on light and a moment in time. I aim to create textiles that take some time to decode. Inspired by nature and the precious moment with its dance of light and impressions that pique our senses.
Photo: Rigetta Klint
Photo: Jeff Hargrove
Q: Why is "slow-design" of growing importance today?
A: Many of the old crafts are disappearing today, and that makes us poorer, I think. Craft-based objects are created at a pace that leaves room for reflection, and that gives us a deeper understanding of and respect for how the objects we live with are made.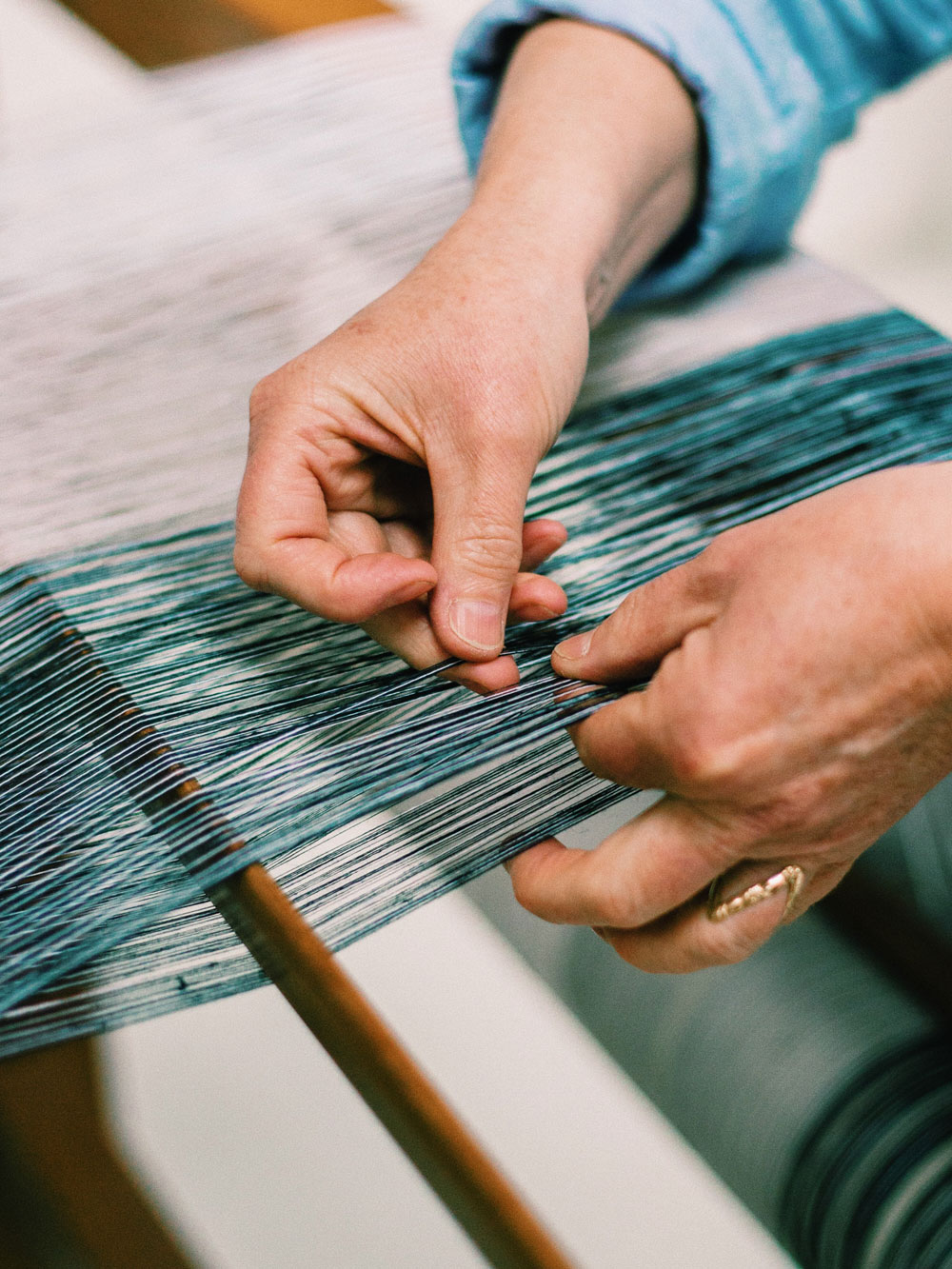 Photo: via Karin Carlander
Photo: Ole Akhoej
Q: I liked a quote on your site: "…objects we handle in connection with everyday chores and activities should hold artistic value." – Can you elaborate on that?
A: The first textile I created for TEXTILE No. was a tea towel, an everyday tool and the backbone of our use of textiles in the home. I work with functional textiles, because I think that the objects we handle in connection with everyday chores and activities should hold artistic value. I hope to make you wonder and smile when you discover that there is a little hidden pattern in the fabric when you hold your tea towel up against the light to dry your coffee cup. Or that the table napkin that is folded up in your bread basket has a different colour intensity than it did when you took it out of the drawer. Or that a new pattern emerges in your bath towel because the sun falls through your window right now, and the textile plays with the light – and with you.
Photo: Rigetta Klint
Photo: Rigetta Klint
Q: Where can people find out more about you?
A: Visit my website: http://www.karincarlander.dk – You can send me a mail at [email protected] for retailers near you. You can also follow me on Instagram.
If you are interested, you can read more about linen and its environmental benefits, abilities and use here.
Karin Carlander's products are available in North America through TheFjordStore.com.
First photo: Jeff Hargrove for Karin Carlander
---