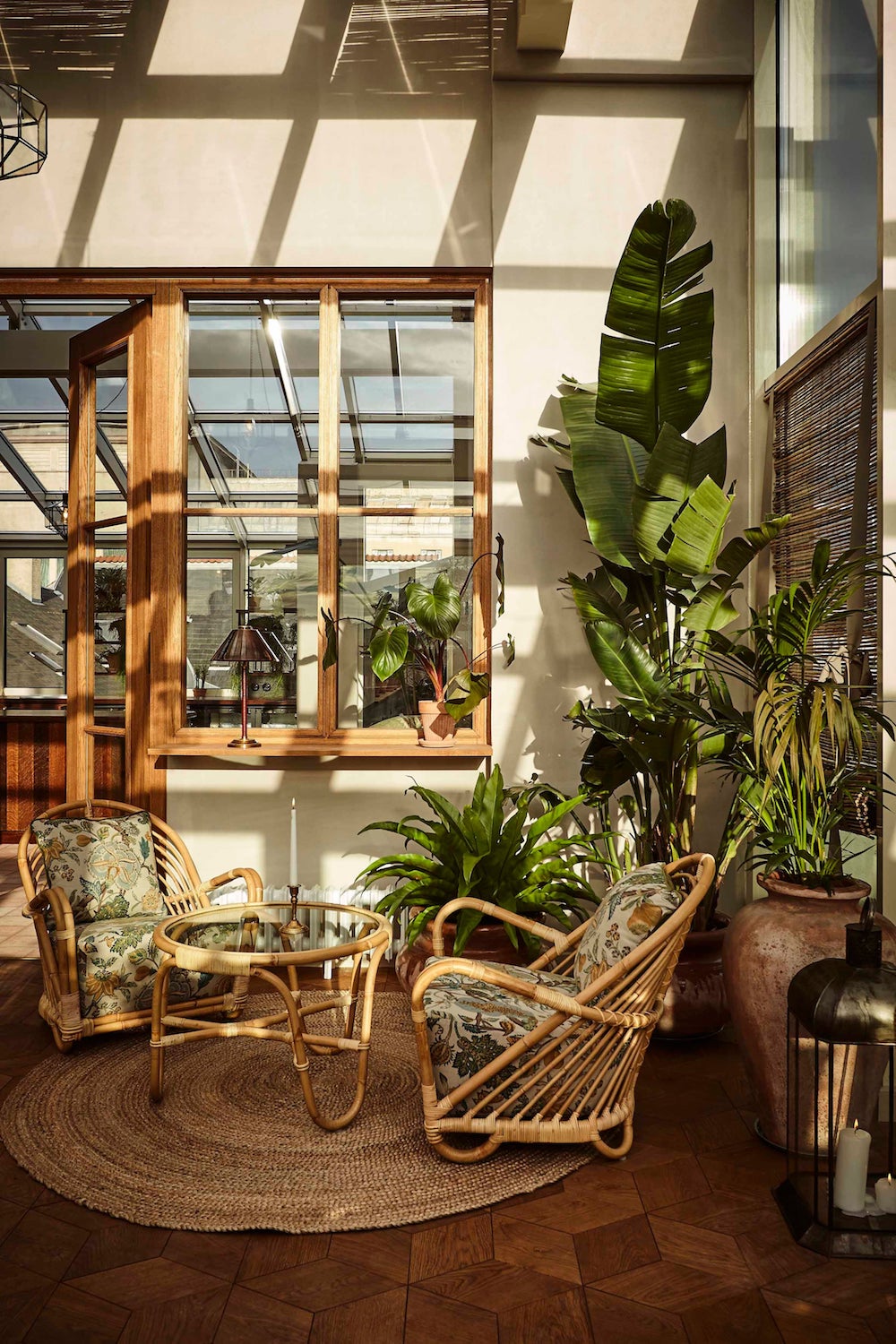 Located in an Art Nouveau building dating back to 1869 near the picturesque Nyhavn Canal and the Royal Danish Theatre in Copenhagen, you'll find luxury boutique Hotel Sanders.
The interior is by London-based design studio Lind + Almond (formerly Soho House Group), and it is inspired by travels and theatre.
The style fuses classic mid-modern Danish features with English eccentricities and Asian influences. Think wood-burning fireplace, filled freestanding bookcases, leather safari chairs, rattan and woven cane furniture, velvet upholstery, Murano glass chandeliers, jute wallpaper, aged timber, golden undertones, and lots of greenery. Many pieces are bespoke creations by Lind + Almond.
Exclusive artwork by emerging British artists can be found throughout the hotel.
The place is elegant, with a retro look that is also quite contemporary.
Small and intimate, the hotel is said to offer a warm, bespoke experience for guests. Facilities include the Sanders Kitchen, the TATA cocktail bar, the Living Room, an inner courtyard, as well as a rooftop conservatory. Breakfast is included in the rate, and guests can use the hotel bikes to cruise around the city.
"Entering Sanders is like stepping into a theatre. The scenography, the carefully curated interior of the hotel and the generous hospitality of our staff members will exceed expectations, and the guests will always take center stage." – Alexander Kølpin, Owner
.
.
Hotel Sanders is a fabulous option if you are looking for a laid-back yet chic stay in the heart of Copenhagen.
.
Visit:
Hotel Sanders
Tordenskjoldsgade 15
1055 København K
+ 45 70 20 28 18
.
Photos: Hotel Sanders
.
Note: This article was first featured in 2017, but it was significantly updated and republished.
.
---