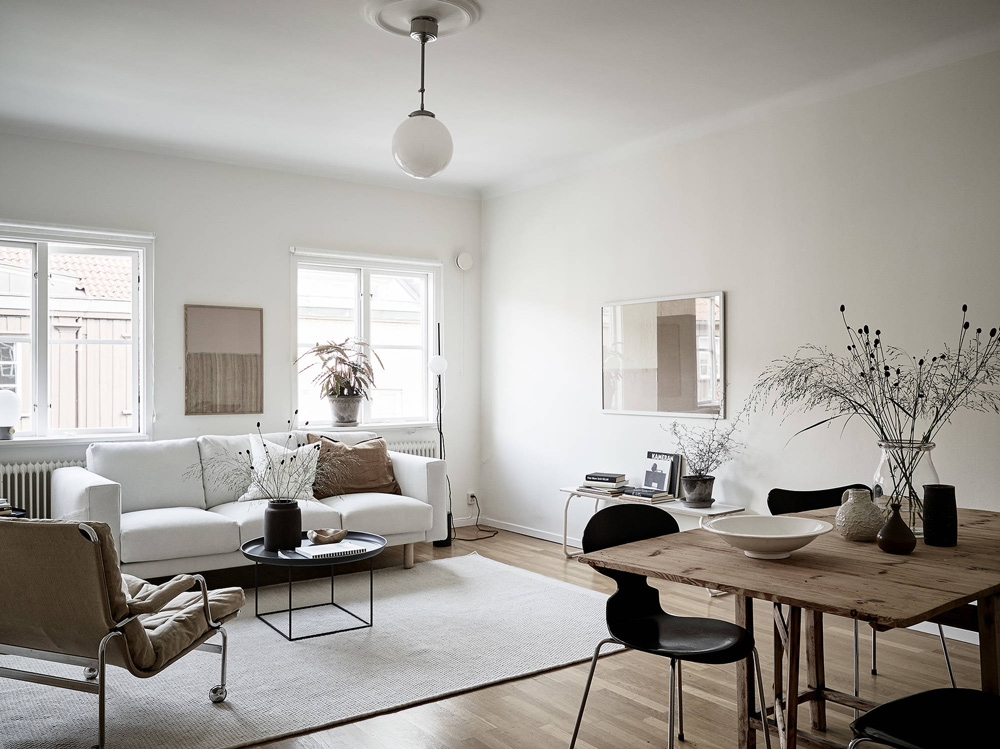 "Tone-on-tone" is a decorative technique that consists of using different color saturation of only a few colors throughout the space. But the main challenge of using a restrained palette is to prevent the look from falling flat…
This lovely apartment in Sweden provides great inspiration – It is stylish but not too precious and understated. With its pared-back look and quintessential hygge appeal, this place has a soft, inviting, and serene atmosphere, with a minimal touch – It is beautiful!
Here, I am sharing with you 7 quick tips to help you create a Scandinavian home decor that strikes the perfect balance between comfort and style.
1. For a successful tone-on-tone look, you need light. Find ways to maximize natural light in your home by using sheer curtains, painting your walls in a warm white, or strategically placing mirrors around the room. Have at least three different lighting sources in a room -overhead, task, and accent lights- to add extra layers to the space's illumination.
2. Play with neutral, earthy shades that can be found in nature. This will be the easiest palette to go for, pretty much fail-proof. Think whites, creams, browns, greys… A touch of black will had a good dose of contrast and anchor the look, but that is something you can also achieve with different textures – See below, #3.
3. Break up the monotony of a restrained palette by layering textures like a sheepskin throw, washed linen, and knitted blankets, for instance, all in similar tones. Visual textures are great, too: play with finishes like glossy or matte, flat and flat or irregular and rough, solid or patterned, etc.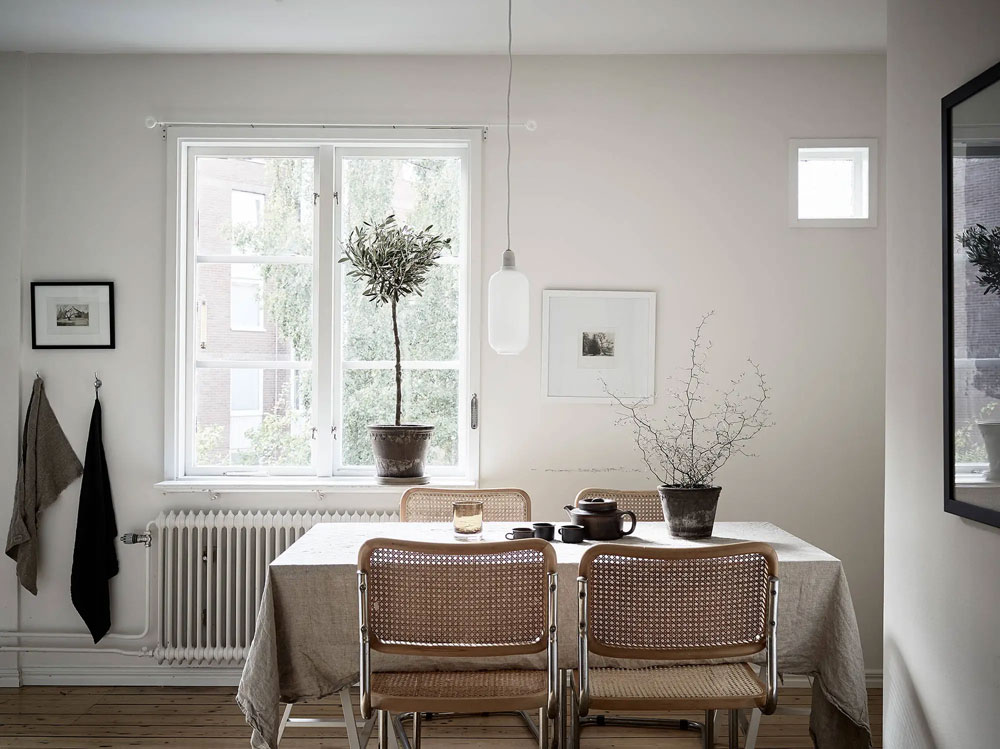 4. Opt for natural materials such as wood, leather, stone, cotton, linen, and wool to add interest and instant coziness. Too much of one will make the look bland, so balance and variety are key.
5. Ditch the clutter – A tone-on-tone palette creates a serene, soothing atmosphere. The last thing you want is a bunch of household eyesores and knick-knacks layering around… Too much 'stuff' is a major obstacle to any well-put-together look. So channel your inner Marie Kondo, and only keep things that serve a purpose or bring you joy.
6. Make the space look lived-in, inviting, and personal. You can do so by decorating with plants and flowers, art, travel souvenirs, mementos, vintage finds, etc., and by adding cushions, throws, and other items that invite you to relax and get cozy. Don't shy away from creased bedding and tablecloth, handmade items, and other naturally imperfect items – These are what make your home truly beautiful.
7. Keep it simple. Skip trends and be mindful of the pieces you own. Create a space that works for you and your lifestyle. Choose quality products and materials that age gracefully.
---
Pin this for later:
Styling: Grey Deco
Photos: Jonas Berg, via Stadshem
---