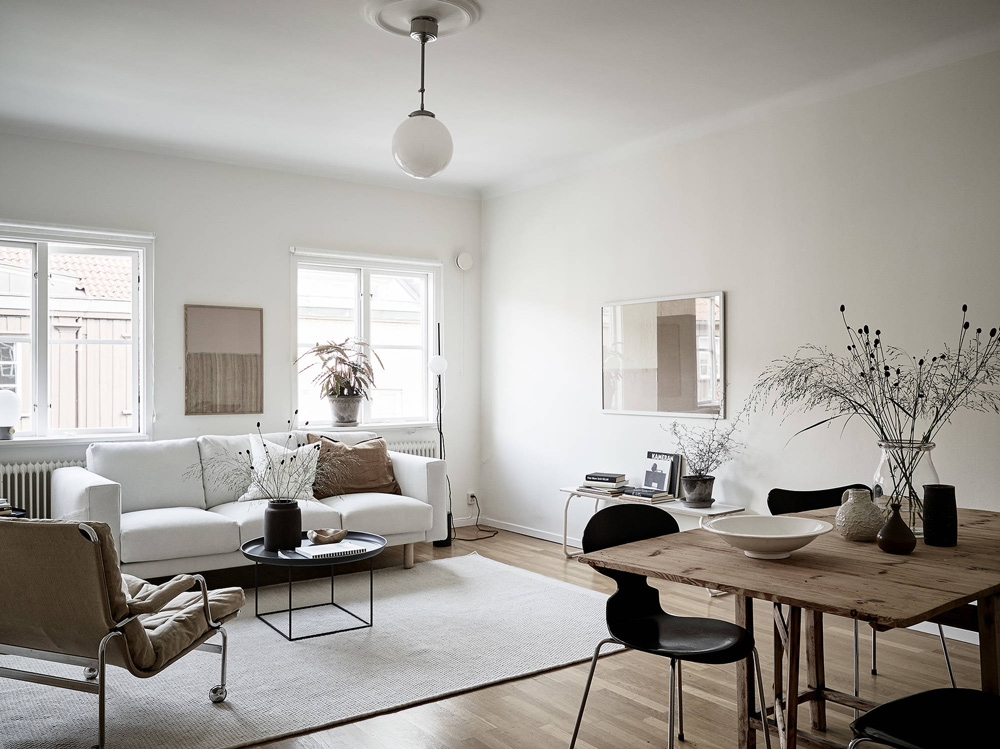 With winter around the corner, it is time to create a cozy space to get through the colder and darker days ahead. As I was browsing around for some inspiration, I came across this perfectly styled, tone on tone apartment in Sweden. With its pared-back look and quintessential hygge appeal, this place has a soft, inviting and serene atmosphere, with a minimal touch – It is beautiful!
I'm taking a page out of the Scandinavian design handbook, and sharing with you 7 tips to help you recreate this look and strike a balance between comfort and chic factor:
1. It's all about light. Find ways to maximize the natural light, whether it is by using sheer curtains, painting your walls a warm white, or placing mirrors strategically around the room.
2. Play with neutral, earthy shades that can be found in nature.
3. Break up the monotony by layering textures like sheepskin throw, washed linen, knitted blankets, etc. all in similar tones.
4. Opt for natural materials such as wood, leather, stone, cotton and wool to add interest and instant coziness.
5. Ditch the clutter – Only keep things that serve a purpose or bring you joy.
6. Make the space look lived-in, inviting and personal by decorating with plants and flowers, art, travel souvenirs, mementos, vintage finds, etc. Embrace the creased bedding and tablecloth.
7. Keep it simple. Be mindful of the pieces you own, and create a space that works for you and your lifestyle.
Styling: Grey Deco
Photos: Jonas Berg, via Stadshem
This story was originally published on September 20, 2017. It has since been updated and republished by Catherine Lazure-Guinard.
Pin this for later:
SaveSave
SaveSave
SaveSave
SaveSave
---