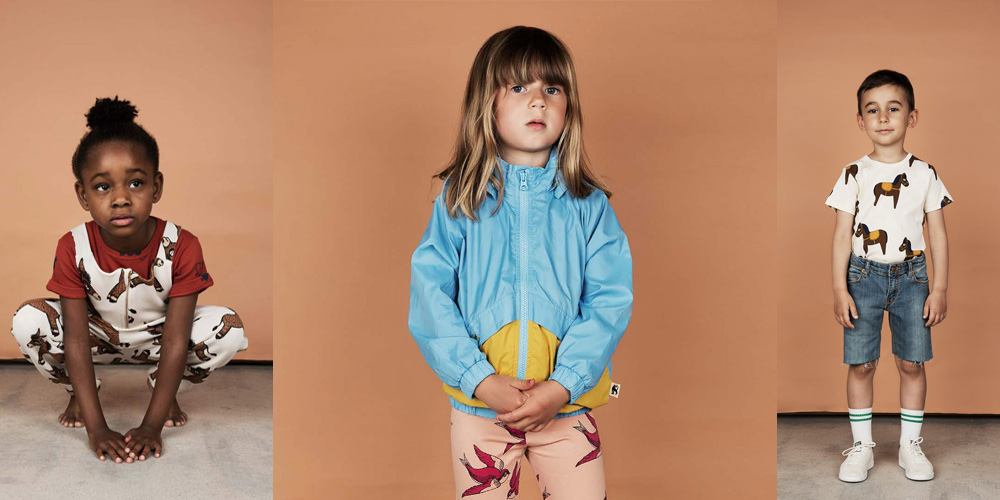 I have a thing for Scandinavian kids clothing brands (surprise, surprise). They have that je ne sais quoi that takes your kids' style up a notch, with their awesome designs, soft and comfy fabrics, sustainable materials… While I don't have the budget to create a closet filled with designer pieces for my son, I do admit splurging on a few occasions on timeless, high quality pieces that are easy to wear, again and again. I've rounded up some of my favorite Nordic brands for kids wear that I think you'll love, and your little ones, too!
Soft Gallery
Soft Gallery was established in Copenhagen in 2007 by the creative duo Barbara Hvidt and Tine Holt Møller. Together they create poetic luxury children's clothing where artists from all over the world bring life to soft canvas. Every season Soft Gallery collaborates with both local and international artists. They convert the season's theme into prints and hand embroideries, giving each individual collection an organic flow of new beautiful impulses and variations. Soft Gallery strives to bring the art to the eye level of kids and to pass on wonderful and inspiring stories. The clothes are luxurious and contemporary with an added artistic twist. Soft Gallery places great emphasis on high quality materials and comfortable silhouettes. The designs are honest, timeless and personal.
.
.
Iglo+Indi
iglo+indi was founded in Iceland in 2008 by fashion designer Helga Ólafsdóttir. With strong Nordic roots iglo+indi is all about crisp colors, unique prints and playfulness. Their handmade illustrations and carefully selected colors are developped so kids can mix and match their outfits without limitations. All clothing are made of super soft (I can vouch for that) organic fabrics. "I love designing kids wear. Every child I meet is an inspiration. I admire their honesty, purity, humor and their natural joy of life." – Helga Ólafsdóttir
MarMar Copenhagen
MarMar Copenhagen designs cool and stylish kids wear characterized by contrasts: "Country-chic and urban coolness, old and new, luxurious and functional." Most of the clothes are made of OEKO-TEX certified textiles, and are being produced as close to Europe as possible, in order to minimize transportation and reduce impact on the environment. The brand was founded in 2007 by Marlene Anine Holmboe. She has a degree from The Royal Danish Academy of Fine Arts, Schools of Architecture, Design and Conservation, and has worked for numerous well-known Danish kids wear brands prior to starting her own label.
.
.
Pierrot La Lune
Danish Pierrot la Lune was established in 2013 by designer Emilie Ventujol as the realization of a lifelong dream of creating timeless and sophisticated yet playful and informal childrenswear. The Pierrot la Lune look has a touch of nostalgia; a dreamy and magical aesthetic referring to old movies and faded photos from a childhood in southern Europe in the 50s and 60s. The cuts are simple and wearable, the colours are subdued, and the classic stripes and beautiful floral prints bare resemblance of faded wallpapers or quilts from grandma's attic. Excellent craftsmanship, sustainable business principles and attention to detail are key values in the design process.
Emilie Ventujol's grandfather was one of the biggest names in Danish design history, the furniture architect Børge Mogensen (1914-1972), which surely contributed to her design philosophy and aesthetic development.
.
.
Mini Rodini
Mini Rodini is a Swedish children's wear brand that was founded in 2006 by illustrator Cassandra Rhodin as a tribute to all children, their imagination and sense that everything is possible. Mini Rodini takes children seriously with playfulness, meaning it is important that children too have clothes that match their own personality, mood and creativity.
Mini Rodini's vision has always been to make it both easy and exciting for parents to buy better products for their kids in regards to the design as well as environmental and ethical aspects of the production. And while the playful and humorous aesthetics may speak directly to the children, the quality of the products is equally important. A Mini Rodini garment is not only fun to wear or just look at, but is also produced in a way that is kinder to the environment and the people behind it.
.
.
SNORK Copenhagen
SNORK Copenhagen is a Danish company which designs and produces children's nightwear made with pure and soft organic materials in a range of lovely colours. SNORK was established in the end of 2015 by Lisa Cusack and has already become a popular brand for kids and tweens. I like that the brand designs quality clothing made with honest materials that can be used over and over again, and products that do not go out of fashion every season.
"Our big passion is to create long-lasting yet stylish basic clothes which appeal to kids as well as their parents. SNORK design is calm and minimalistic and expresses a Scandinavian spirit of living. SNORK nightwear is ultra-soft, comfortable to wear and enables our children to have the best possible conditions for a beautiful sleep. The aesthetic look of our nightwear also invites you to use the basic wear for a cosy and slow day at home."
Photo at the top: Mini Rodini
SaveSave
SaveSave
SaveSave
SaveSave
SaveSave
SaveSave
SaveSave
SaveSave
SaveSave
SaveSave
SaveSave
---