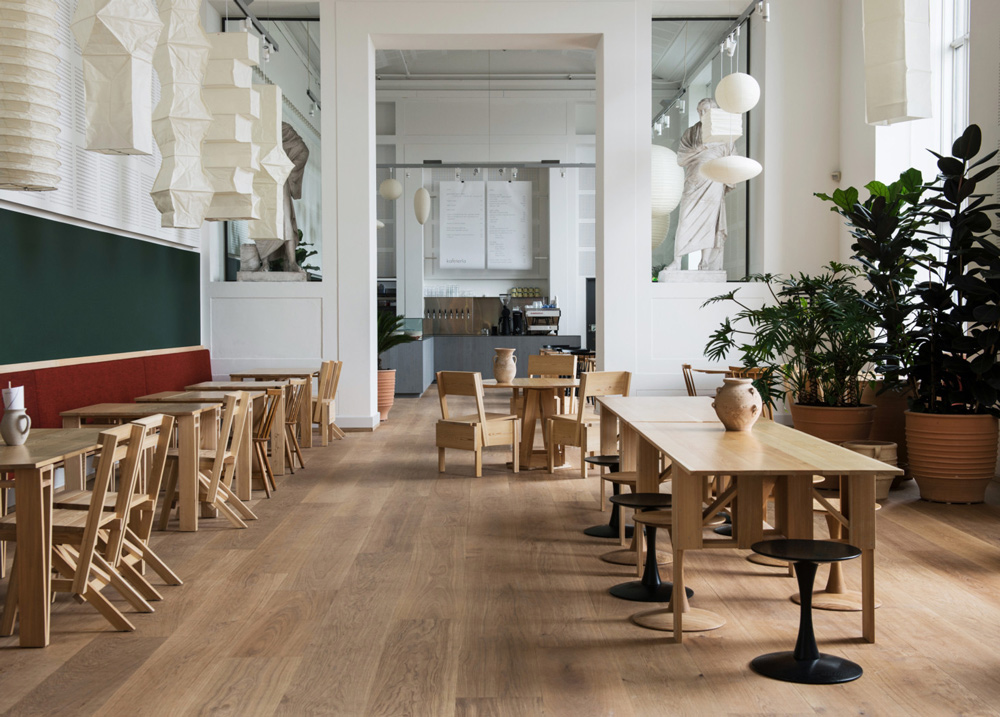 Announcement: Doors to the Insiders Club will open again soon! Get on the waitlist to be notified of our next enrollment period and to be eligible for special launch bonuses. For more info on all the perks of becoming a member, click here. 
Rising star chef Frederik Bille Brahe, also behind Atelier September and Apollo Bar & Kantine in Copenhagen, has opened a new place the heart of the Danish capital city: Kafeteria, a stylish eatery at the National Gallery of Denmark, the Statens Museum for Kunst.
With the help of Vietnamese-Danish artist Danh Vo, he created a beautiful interior that complements well the striking architecture of the building; a space he described as "an everyday art piece". Statues from the Royal Cast Collection ponctuate the space, mingling perfectly with the gorgeous Dinesen's wide plank flooring, numerous plants in large terracotta pots, and Noguchi's sculptural lamps. I really like the stylish palette of green, red and wood, as well as the choice of furniture (which we don't see very often): Chairs by Poul M. Volther and Artek, dining tables by Enzo Mari, and Kvadrat-upholstered benches by Nanna Ditzel. The dishes are from Bille Brahe's own collection for Hay.
"Working with Frederik Bille Brahe and Danh Vo, we want to set new standards for what a museum café and food experience can be," says Mikkel Bogh, director of Statens Museum for Kunst. "Kafeteria is envisioned as a place where museum visitors – and all those who simply pop in for a meal or a cup of coffee – get an experience that is infused by the spirit, the history and the collections found in this place."
See it in person:
Kafeteria
Statens Museum for Kunst
Sølvgade 48-50
DK-1307 København K
Phone: +45 3374 8494
Photos: Elizabeth Heltoft Arnby
SaveSave
SaveSave
SaveSave
---