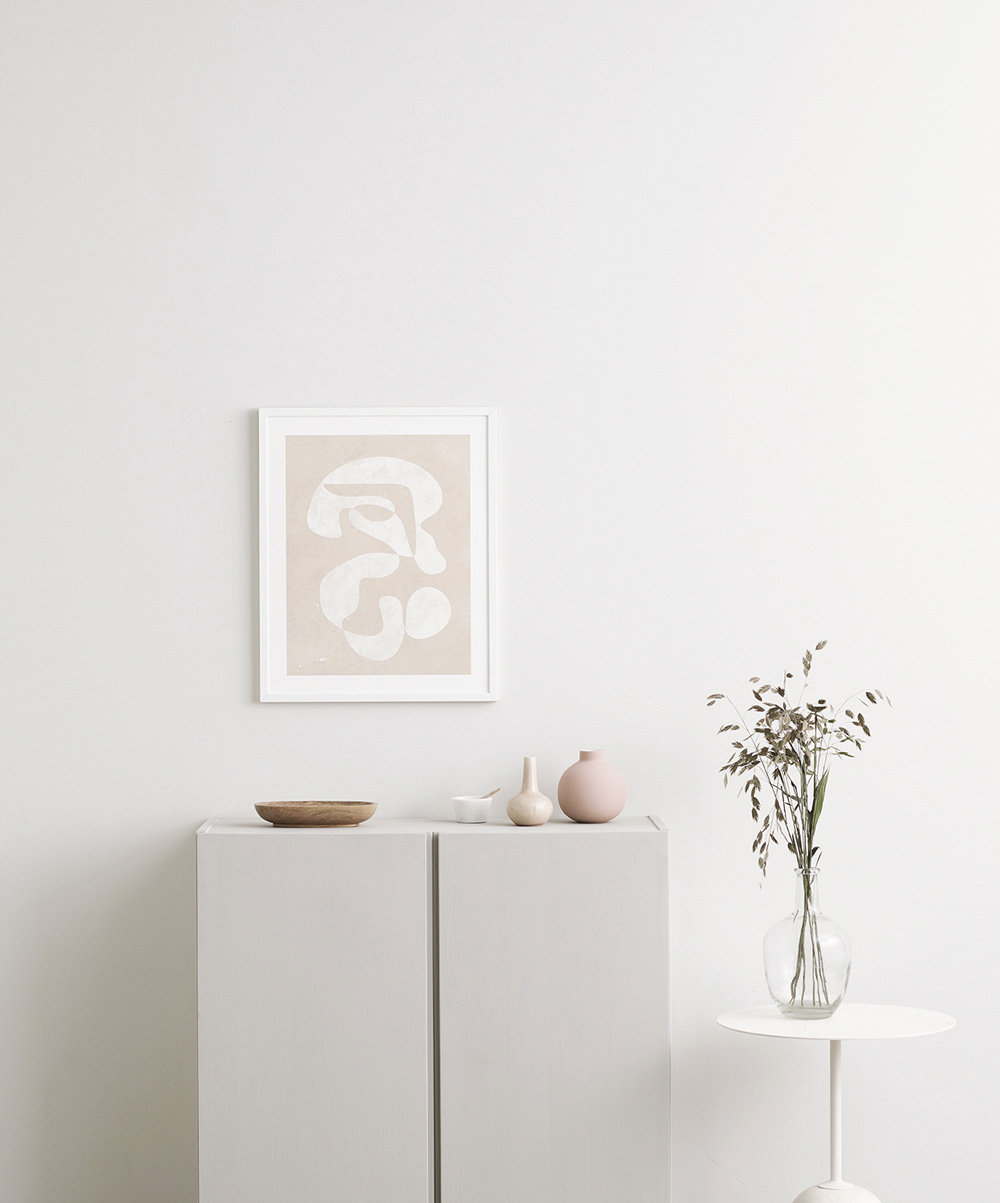 I recently discovered Rebecca Hein Hoffmann's beautiful work, and I was instantly intrigued.
She is the creative mind behind Hein Studio, a design interior brand situated in the Copenhagen area, with a focus on creating Nordic design "made to last and to beautify everyday living". Highly inspired by art, diversity, architecture, and beauty, Rebecca makes limited edition prints playing with materials, colors, and organic, minimalistic shapes.
I wanted to know more about her, and she kindly agreed to answer my questions.
Were you always interested in art?
I always knew that I wanted to create and I have been making art and designs since I was very little. It always came naturally to me, I simply can not stop. I did fashion and creative direction for years. After our third child was born, it became more clear to me how important your home is and what you surround you with. At that point fashion was not an option for me anymore, it was like I have moved on. My heart has always been in creating something that could last more than one season, then art and objects seemed like the obvious choice.
Did you study art? How did/do you develop your talent?
Years of practice. Most people think its easy since my line looks so simple, so I always find it very amusing when someone tries to copy. I am an educated Designer, and I took drawing classes for years. I think for most artists it is something they were born with.
The Best thing about being an artist / why do you love what you do?
I love when I see my work in someones home, and to hear how happy they are to look at it every day. So for me, it's really an honor to have an impact on peoples lives and homes.
Where do you find inspiration?
Basically, all that surrounds me, but my best work I always draw when I am at the beach house, I guess the water and nature at the west coast clear my mind for all unnecessary. I grew up near the ocean and forest, so most of my art and designs are inspired by nature, nature is always changing, and so is my work.
Can you tell me more about the process of making your work?
I keep a sketchbook in my bag, and next to my bed. I get ideas all the time, so I need to sketch them down. I have done a lot of different art, like papercuts, drawings, paintings, linoleum print. They all have different processes. The thing they all have in common is that I make a small sketch first.
How would you describe your style?
Organic and minimalistic with an aesthetic touch of old beauty.
How would you define beauty?
Beauty is often combined with youth. That's the great thing about art, it stays beautiful for decades.
Dream subject/assignment/collaboration?
I am really fascinated by Ilse Crawford, and how she works with spaces. It would be an honor to work with her on one of her projects.
Are there artists that you look up to, that are influencing you?
Yes, there are many, at the moment I really love the work of Jean Arp, Isamu Noguchi, and Brancusi.
What is your favorite place to see art in Scandinavia, and why?
I have always loved the Lousiana Museum of modern art, still one of my favorites. They have a beautiful park with sculptures overlooking the sea.
What advice would you give to a young artist following in your steps?
Be true to your self and don't be afraid to trust your instinct.
See Rebecca Hein Hoffmann's work here!
Photos: via The Poster Club, with thanks
---