I am currently working on a series of lighting guides, with an extensive list of designer-approved lamps to create a Scandinavian-inspired home. You've seen a part of it, with the recently shared article featuring the best black table lamps, and a popular discussion thread in the Facebook group on the topic made want to dive even deeper into the art of light – So here, I am sharing a few tips, advice and considerations for when choosing a table lamp to illuminate your home like a pro!
---
1. The golden rule: Have 3 to 5 different light sources per room.
2. A good lighting design plan uses a mix of task, accent and ambient lamps. It is essential to layer different types of light –recessed, sconces, pendants, table lamps, and floor lamps- to add contrast, texture, depth and shadows. Different lamps that will vary in intensity and accommodate the space requirements and purpose, and will also create a variety of lighting effects and moods.
3. North-facing rooms require more lamps because they receive lower levels of natural light.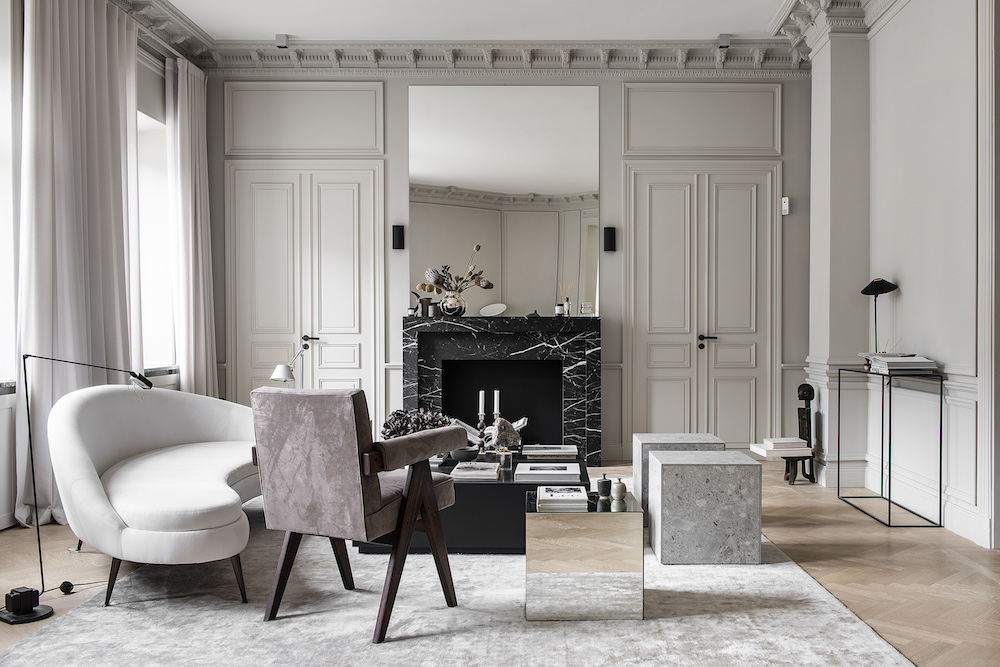 4. A beautiful, sculptural lamp can act as an art piece that adds drama and a focal point.
5. Table lamps are perfect for both task and ambient light. Make sure the one you pick suits the desired activity.
6. If you want to create a soft, diffused light and/or light up a large area of the room, choose a lamp that has a wide beam angle (i.e. the angle at which the light is distributed), but if the goal is to highlight an object or a feature, a spot angle could be the right choice.
7. You should consider the scale of the lamp for the piece of furniture that it will sit on. The proportions need to be right.
8. To avoid being blinded by the light bulb glare, the bottom of the shade should be at eye level when sitting next to a table lamp. The height of both the lamp and table together should not be more than about 64 inches high (163 cm), unless you go a lamp made of opal glass, paper, or other material that will diffuse the light softly.
9. If your lamp has a drum shade, make sure the combined height of the table and lamp is no less than 54 inches (137 cm), otherwise, you risk being dazzled by the bulb. Translucent diffusers can be purchased if needed to help soften the light and shadows.
10. Think about the lamp's color and finish so it fits well with the style of the room, but make sure your it has a distinct material than the table it sits on. You can introduce one or two complementary colors to your room with a new lamp, but the others should be in the main color of your design scheme.
11. Favor versatile pieces that could be used in another room if needed, or just to change up the look.
12. When it comes to mixing lamp styles, one foolproof way I recommend is to look for pieces that have something in common, either the shade, metal finish, color, shape… The lamps can be different but should all have a key element that is alike.
13. Don't be afraid of mixing metals, but do so carefully and sparingly. A good rule of thumb is to have a dominant metal and one accent metal. Balance a dominant warm color with a cool accent color, and vice versa.
Warm: Brass, copper, gold
Cool: Aluminum, stainless steel, other silver metals
Neutral: Cast iron and other black metals
14. You can stack your table lamp on top of a pile of books to bring some height.
15. For a smaller space, use a lamp with a smaller base.
16. Use dimmer switches wherever possible to instantly create appropriate mood lighting for your comfort, feeling, and moment of the day.
17. Contrasting shapes are key when using multiple lamps in the same room. For instance, if you have a drum shade on one of them, don't have one on another nearby, unless symmetry is your goal.
18. The wrong types of bulb can cast the wrong light… and completely alter your carefully planned design scheme and wall colors. Between 3000K and 4000K is usually the way to go, as it is close to a neutral, natural light. But you should also consider the purpose of the room:
Warm (3000K): Bedroom, living room, family room, dining room, "or any space that requires an intimate and personal feel.
Natural & soft white (4000K): Kitchen and bathroom, and workspace
Cool (6000K): Usually for commercial spaces
---
I hope you enjoyed these tips. If you also have one you'd like to share, don't hesitate to comment below!
To view my go-to sources for beautiful lighting fixtures, visit the dedicated section in the Sourcebook.
First photo: The Four Walls blog
---