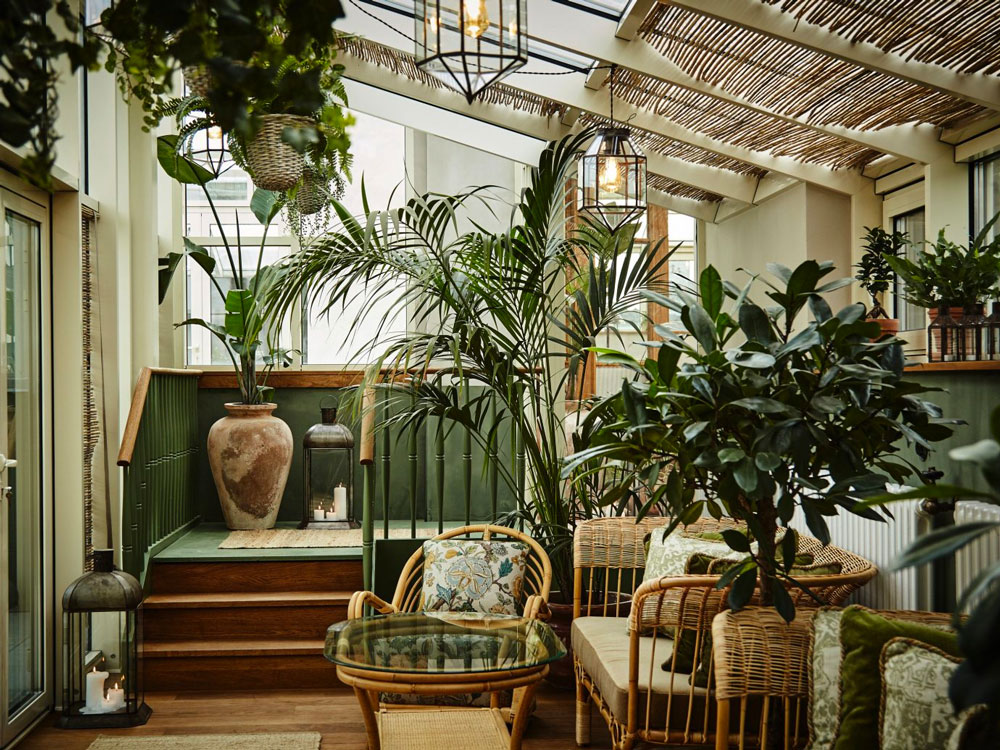 I am currently planning a trip to the 3daysofdesign event in Copenhagen at the end of May, and I thought I'd share with you a roundup of stylish digs in the Danish capital. From an unconventional place to stay to an iconic design lover's paradise, this is the list to save for later!
Here they are, in no particular order.
1. Hotel Ottilia
Located in the old Carlsberg brewery, this newly opened hotel will appeal to industrial design fans. The historic building has many original elements, adding to its unique look. The interior is a tribute to the place's past, yet it is cool and modern, furnished with many iconic and contemporary Scandinavian design. Hotel Ottilia offers (free) wine hour, a sumptuous breakfast that boasts organic and local products, a rooftop terrace with beautiful views of the city, as well as an Italian restaurant – Two more will be added, as well as an eatery. There is a gym, but you can also get a fitness kit in the lobby including wights, straps and a yoga mat, to workout in your room (nice idea!). It is a great accommodation if you are interested to venture outside of the city center, in a vibrant area of Copenhagen.
2. Hotel Sanders
Located in an Art Nouveau building dating back to 1869, near the picturesque Nyhavn Canal and the Royal Danish Theatre in Copenhagen, you'll find Hotel Sanders, one of city's coolest luxury boutique hotel. The interior, by London-based design studio Lind + Almond (formerly Soho House Group), is inspired by travels and theatre. The style fuses classic mid-modern Danish features with English eccentricities and Asian influences. Think wood-burning fireplace, filled freestanding bookcases, leather safari chairs, rattan and woven cane furniture, Murano glass chandeliers, jute wallpaper, aged timber and golden undertones. Exclusive artwork by emerging British artists can be found throughout the hotel. Small and intimate, the hotel is said to a warm, bespoke experience for guests. Facilities include the Sanders Kitchen, the TATA cocktail bar, the Living Room, an inner courtyard, as well as a rooftop conservatory.
Hotel Sanders
Tordenskjoldsgade 15
1055 Copenhagen K
+ 45 70 20 28 18
3. Radisson Collection Royal Hotel
The one and only hotel by renowned designer and architect Arne Jacobsen has recently received a facelift. Built in 1960, the hotel's new look still echoes Danish modernism and pays tribute to the iconic design's legacy, but with a distinctive, modern take. Space Copenhagen, a talented local design studio, added its own signature style to the interior. You'll find original Swan, Egg and Pot chairs, as well as other products, designed by Jacobsen throughout the hotel and its 261 rooms. Originally commissioned by SAS Airlines, it was the city's first skyscraper, and earned the label of the world's first design hotel.
Radisson Collection Royal Hotel
Hammerichsgade 1
1611 Copenhagen V
+45 3342 6000
4. Hotel Danmark
Enter the building on Vester Voldgade and you'll be welcomed by slatted wood walls, leather seating, a brass-clad reception desk that doubles as the 24/7 bar (free wine between 17h and 18h!), and friendly staff – A pretty good start! Rooms are small, but cleverly designed to make the most of the space. They are beautiful, too, and feature contemporary Danish designs.
The hotel consists of two linked buildings, each with its own history, and the architect kept this in mind during the renovations. Rooms in the old part are in shades of grey and white, while they have a moody color scheme in "newer" part, possibly to echo the emerald-coloured tiles on its façade.
Rooms on the 6th floor offer gorgeous views of the Tivoli fireworks on a summer's evening. You can also check out the fab rooftop terrace and bar. Another tip: Take one of the hotel's bicycles to tour the streets of Vesterbro and Christianshavn!
Hotel Danmark
Vester Voldgade 89
1552 Copenhagen
+45 3311 4806
5. Nobis Hotel
A major player on the Swedish hospitality scene has recently opened his first Danish property, the grand Nobis Hotel Copenhagen. It is located in a fabulous 1903 building – the former Royal Danish Conservatory of Music – right next to Tivoli and the City Hall Square. Designed by star architect Gert Wingårdh, you can expect the hotel to be a stunning, design-led, and first-class accommodation.
Nobis Hotel Copenhagen
Niels Brocks Gade 1
1574 København V
+45 787 414 10
6. The Krane

An old industrial coal-lifting crane on the harbour in Nordhavn, Copenhagen, was transformed into a sleek, contemporary and luxurious getaway in the sky. You'll be the only guests at this unique, unconventional, $2,900 per night accommodation. The interior is clad entirely in stained Dinesen Douglas fir, and it is furnished with built-in furniture, as well as custom-made pieces in leather, wood, stone and steel. There are plenty of large windows to make the most of the impressive vista, and to enjoy as much natural light as possible.
Designed to offer an immersive, multi-sensory experience, the space is minimal and entirely black, an homage to the building's past life in the coal industry. "Black plays a pivotal role in muting and minimising visual distractions so people feel almost enveloped in the interior," said lead architect Mads Møller of Arcgency. "There are hundreds of different shades of black. Depending on the time of day, you can see so many subtle nuances."
Guests can enjoy the spa, as well as complimentary bicycles or a BMW i3 electric car.
The Krane
Copenhagen
thekrane.dk
7. Vipp Loft
The Vipp Hotel is slightly untraditional: Instead of offering several suites inside one building, it offers individual "rooms" at different locations. The loft in Copenhagen is one of them, and it is designed by renowned architect David Thulstrup. The spacious 400-square-meter apartment is quite a sight to see, with its original features, Dinesen wood floors, high-end furniture and accessories, spa-like bathroom, fireplace, as well as a black Vipp kitchen. There is one bedroom as well as a mezzanine, accommodating up to four people.
Vipp Loft
Snorresgade 22
1101 Copenhagen
+45 4588 8800
8. The Apartment
Launched in 2011 as a 'shoppable home' by Tina Seidenfaden Busck, The Apartment offers a continuously changing selection of fantastic design pieces. It is also a gallery, featuring the work of contemporary artists, and now it is a home away from home, in Christianshavn, Copenhagen. Yes, you can now sleep at this "store"! It is equipped with a kitchenette, a drawing room, a library with a handpicked book collection, a large dining room and/or workspace, a spacious bathroom, and two bedrooms.
While I am more of a fan of pared-down, understated and minimalist interiors, I can fully appreciate the founder's exquisite sense of style and her keen eye for detail. She is one of the best at creating an eclectic look that seems effortlessly put together. It's not given to a lot of people to elegantly mix and match patterns, colours, design eras and origins the way she does. Tina is adventurous and she follows her instinct, and it pays off.
The Apartment
Overgaden neden Vandet 33, 1st floor
1414 Copenhagen K
9. Manon les Suites
Near the city centre and close to the lakes, you'll find Manon Les Suites, the recent addition to the Guldsmeden Group's properties in Copenhagen. It caught my attention for its Instagram-worthy central pool area – A true Instagram-worthy luxuriant tropical oasis, with large leafy plants in giant terracotta pots, a patchwork-effect tiled pool, loungers and daybeds, parasols, and glass roof five storeys up. It sets the tone for the rest of the hotel; mellow, relaxed, cheerful and hip. The style is a mix of international influences, from Bali to New York and Africa.
Manon Les Suites
Gyldenløvesgade 19
1600 København V
+45 45 70 00 15
10. Hotel SP34
Here's a trendy boutique hotel with an industrial chic interior, filled with cognac leather, concrete, brass, shades of grey and natural wood. It is sophisticated, modern, stylish and yet, very cozy. The look & feel has that beautiful Danish simplicity yet with a great mix of materials and textures. Comfy beds, a lively lobby bar, and a fabulous breakfast. And it's a two-minute's walk to the City Hall Square, Tivoli and Strøget, and close to the Central Station and Nørreport.
Hotel SP34
Sankt Peders Staede 34
1453 Copenhagen
Denmark
+45 3395 7777
For more travel picks, have a look at my Best of 2018 roundup!
Photo at the top: Hotel Sanders
---