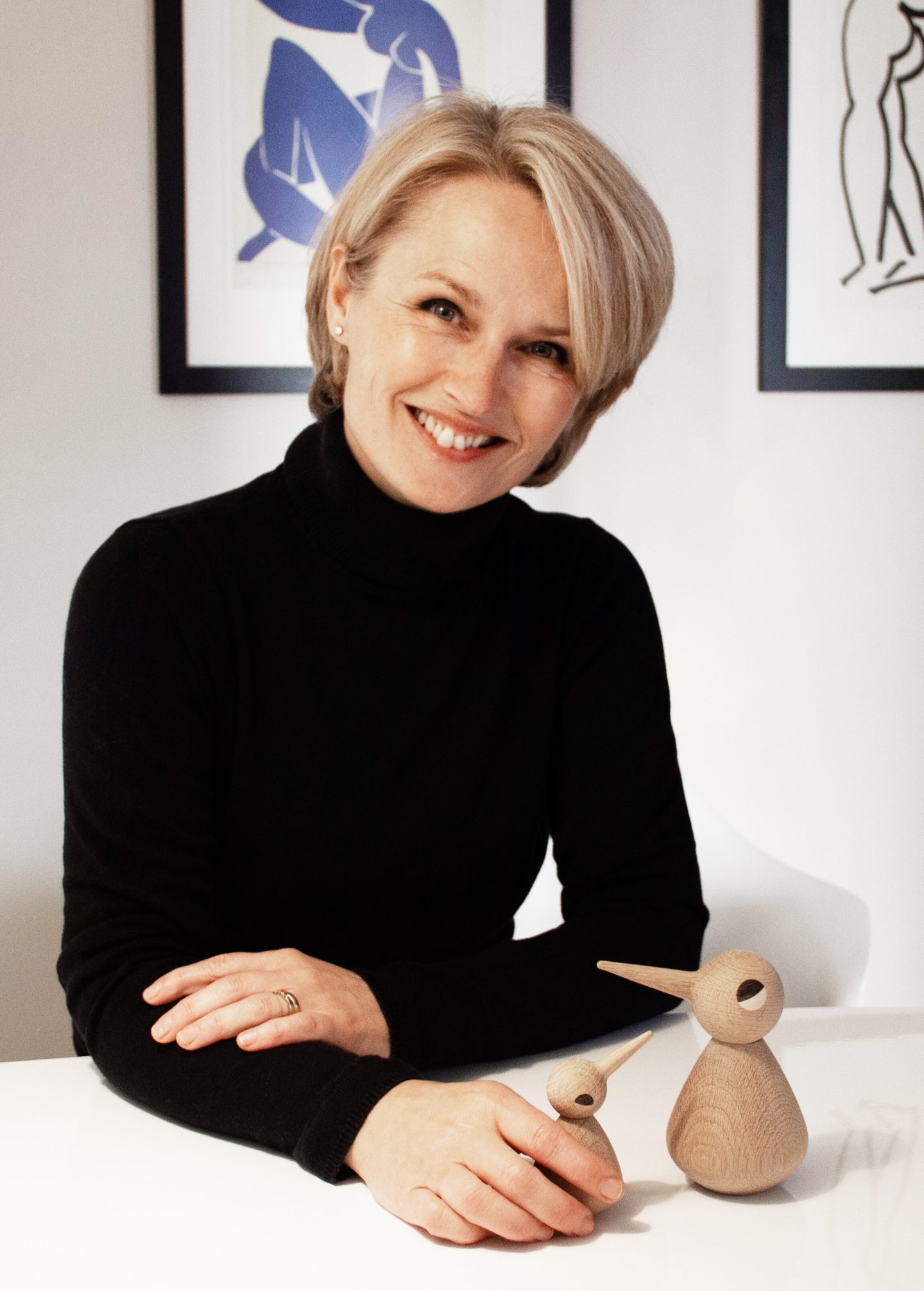 Being an entrepreneur and small business owner, I love to hear success stories of talented people who started companies with the goal to make a difference and to bring something new to the market; people driven by a vision, a passion, a curiosity, and a determination; people with a mission. Pia is one of them.
Pia is a Danish expat living in Toronto, Canada, who always had a thing for design and furniture from her home country. She launched Danish Design Space, a lovely little shop that celebrates slow-design, thoughtfulness, and sustainability, as well as the talent of artisans from Denmark. Pia curates craft and design objects with a story, made by hand and with love – Artworks, ceramics and other home decor accents.
I was curious as to find out more about her story, and she kindly agreed to answer my questions.
Q: Tell us a little about yourself. What is your background?
A: I am originally from Denmark, but lived in Tokyo, Japan for many years working for a Danish furniture and design company before settling down in Toronto. I have a background in business and interior design and love everything design and architecture. I am the founder and curator of Danish Design Space.
Q: What inspired you to start your shop?
A: I have always had a love for the creative arts and growing up I spent a lot of time painting and working with clay. While studying interior design I started dreaming about opening my own shop, combining interior design with small batch design pieces handmade in Denmark. After moving to Canada I found that the design culture here is very different from what I knew, and thought it would be the perfect opportunity.
Q: What sets your shop aside from it's competitors?
A: The focus on authentic design, craftsmanship and story telling. I truly believe that knowing the story behind a product creates a connection and adds meaning and value. I am working with a small group of very talented independent designers who are very passionate about what they do and are not widely available in North America.
Photo: Vases by Ditte Fischer, available at Danish Design Store
Q: Who or what influences your style? To what do you attribute your wonderful aesthetic?
A: I think having grown up in Denmark and having lived in Japan probably has a lot to do with it. Both countries have a very minimalist design philosophy, timeless style and a preference for muted colours. Running the risk of sounding very cliché, to me less is always more.
Q: How do you find the pieces/products for your store?
A: I find most on travels to Denmark, but Instagram and the internet is great for research when it is not possible to go to Denmark quite as frequently as I would like to.
Q: What are the biggest challenges you face with running your own store?
A: I love connecting with people in person, however, connecting with people online and on social media has been a steep learning curve for me. I am not a very public person so putting myself out there, being part of the story, when I would prefer to keep the focus on the pieces I sell, is a bit challenging. Also just being seen and heard online takes a lot of resources which can be hard to find when you are a small business.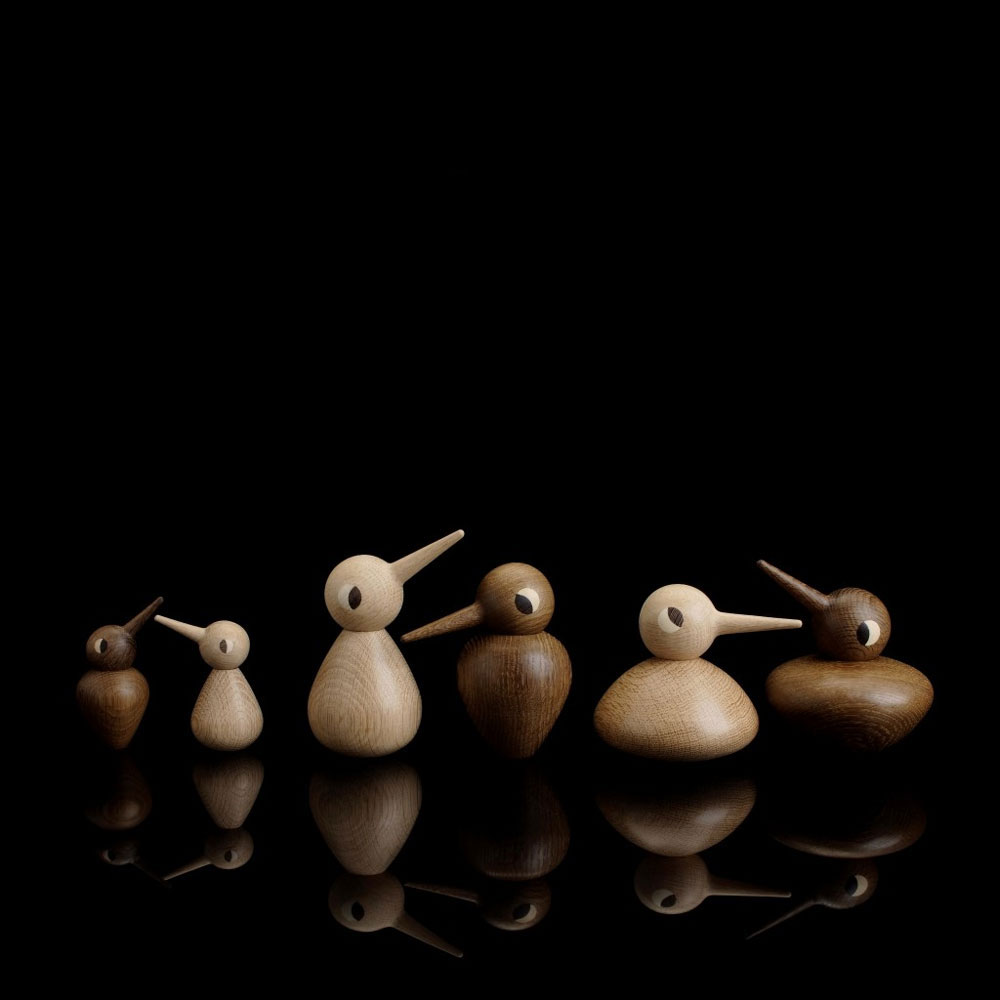 Photo: Birds by Architectmade, available at Danish Design Store
Q: What do you love most about having your own store?
A: I love that I have the opportunity of introducing my Danish heritage and beautiful designs to more and more people and have them enjoy it. I also love the creative freedom and wearing so many different hats at once.
Q: What are you proud of?
A: That I have managed to create what I feel is something truly unique, and that more and more people are starting to notice and appreciate the amazing work of the very talented artisans I work with. I feel that unless we support artisans and their crafts they will eventually disappear and with that a part of our culture and heritage.
Q: Do you have any special projects or exciting future plans?
A: I am very excited to be adding pieces from a new artisan soon, and in the near future, I would very much like to start helping people design interior spaces as well.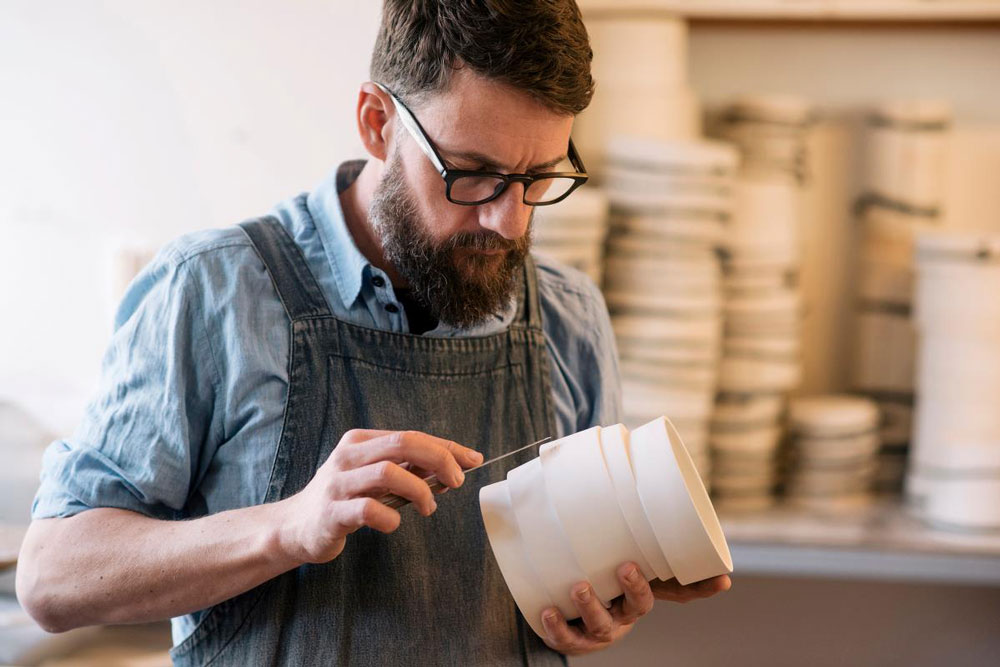 Photo: Lars Rank, putting the final touch to his Stacked Lighthouse Candleholder, which Pia selected for her shop
Q: Is style important in a home? If so, why?
A: I think style is very important in a home. For most of us our home is an extension of ourselves, so when we create a space that truly meets our needs and expresses who we are, we improve our quality of life. All homes are designed with roof, walls, floors, furniture etc. but it is with style, which essentially reflects our personality, we create a space that feels authentic and comforting.
Q: What is your take on the current trend of "buying less, but better"? Do you find it important and if so, why?
A: I hope the concept of buying less, but better is not just a trend but a permanent shift in consumer behaviour, because the throw-away culture connected with constantly changing trends is unsustainable. Not only is it bad for our wallets, it has a huge environmental and social impact as well.
Q: How does design benefits a lifestyle? Why is it important?
A: I think the benefits of design are under appreciated. Almost everything we use in our daily life is designed. From the phone in our hand to the home we live in, design connects us, engages us, and supports us. Good design has the power to improve our lives, it gives us energy and makes us feel good. If we look at our homes even a small thing like a simple vase has the power to transform and improve a space. The texture and shape of a beautiful vase on a table not only changes the look and feel of the table but the entire space that surrounds it. Adding flowers to the vase transforms it yet again adding another layer to the space. It engages us, makes us feel, and makes us happy.
Q: What is your all-time favourite design piece(s) and/or design piece(s) that is(are) on your wish list:
A: My absolute favourite is the Egg chair by Arne Jacobsen. Together with the Artichoke lamp by Poul Henningsen, and the Essay table by Cecilie Manz they make the top 3 of my design wish list.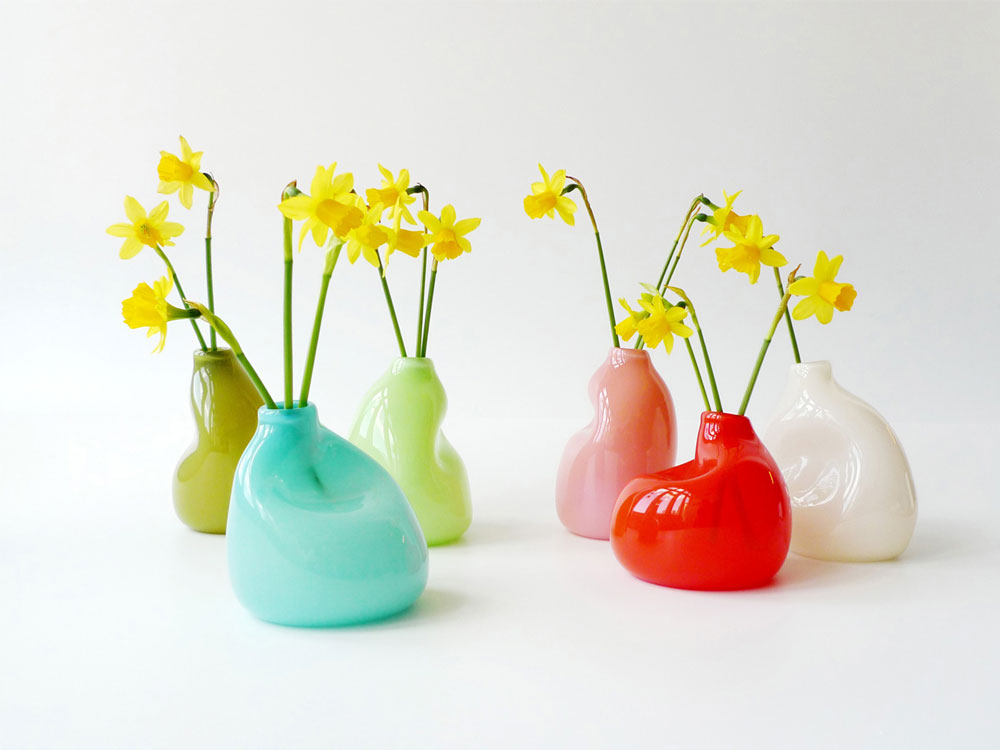 Photo: Gum Vases by Marion Fortat, which Pia selected for her shop
Make sure to visit Danish Design Space and to bookmark this great little shop!
Shipping from: Canada
Shipping to: North America – Free Canada-wide shipping, no minimum required
Brands: Ditte Fischer, Architectmade, Place de Bleu, Lars Rank, Love and Ink, Majken Mann, Marion Fortat and Kasja P.
For more top online shopping destinations I recommend, check out the directory.
Disclaimer: While Danish Design Space is a paid member of my shop directory, which is only available to online retailers I truly love, this post was not directly sponsored by the company. I had a genuine interest in knowing more about Pia.
---