Talented Danish designer/artists Silke Bonde just revealed her latest collection, "Grow Up", which consists of twenty-two unique, handmade pieces combining different crafts in one.
Silke took a trip to Tokyo last fall, and she was impressed to see so much green plants around the city. She enjoyed how they would grow wild in different directions, their ephemeral nature, and their beautiful "imperfection". This, combined to her fascination with Japanese aesthetics and the Wabi-Sabi world view, ignited her inspiration for the collection.
By using both water coloring and sewing, she created an exclusive series that is just what she was aiming for; a perfect blend of natural and organic shapes with something imperfect, asymmetric and incomplete.
They are created on 300g rough art paper, and 100 % cotton paper. Each piece is numbered and signed. Size 26×18 cm
With only 22 pieces available, make sure to quickly put your hands on one of them before it's too late!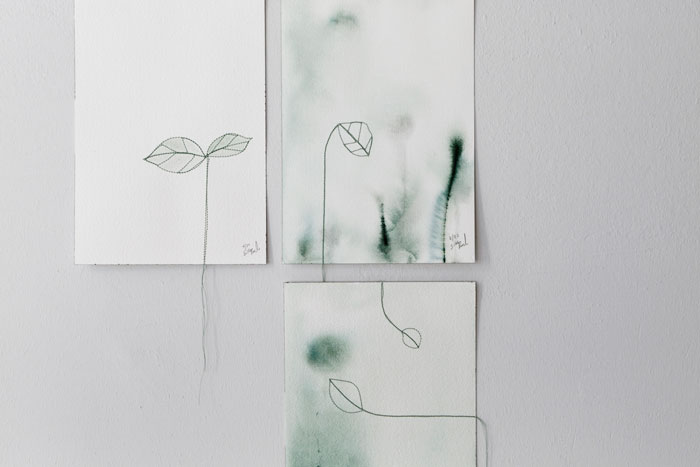 From Silke Bonde:
"The first thing I noticed when I came to Tokyo was all the green plants growing from every little spot in the city. Walking down the streets it seemed like everyone living in the city had their own small micro garden in front of their property.
I like the random and messy green look that blurs the line between public and private space. Also, I love the idea that every little property contributes to a greener world."
These beautiful green streets of Tokyo harmonize with my fascination of the Japanese aesthetics and the Wabi-Sabi world view based on the beauty of the imperfect, incomplete and ephemeral. An appreciation of asymmetry, simplicity and the ongoing processes of nature are also important aspects of the Wabi-Sabi aesthetics. Something I find very inspiring in my work too."
Silke also has other beautiful series, check them out here.
Photos: Studio Oink via Silke Bonde
---