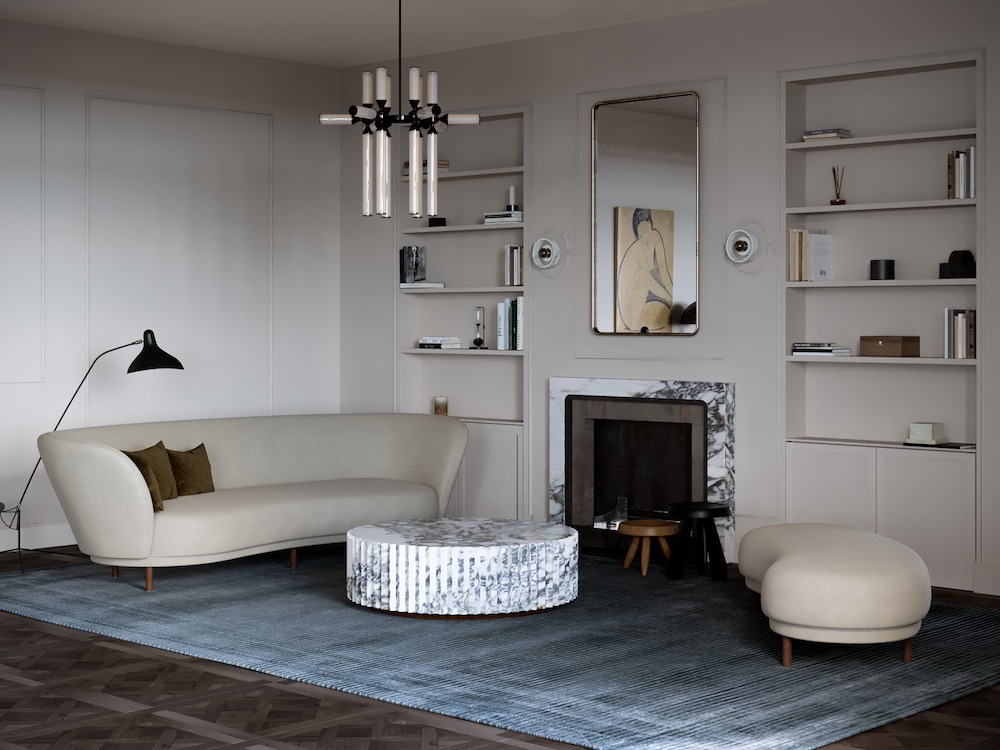 Today I am showing you an inspiring interior by Atelier Creative Varsovie (ACV). Magdalena Rada?owicz-Zadrzy?ska came up with the concept for this amazing space, and talented Katarina Rulinskaya created the 3D renders – Yes, you've read correctly…! Unbelievable, right? You have to take a second look at most pictures to detect that this is a visualization and not a real home. I am highly impress with the level of skills and attention to detail such project required, as well as with the overall vision for this interior concept.
Let's be honest, it was surely imagined as if money is no object. Materials, furniture, decorative accents… Everything is exquisite.
I spot designs by Gubi, Pierre Jeanneret, DCW Editions, Apparatus Studio, Charlotte Perriand, Workstead, and many more.
The style, inspired by Parisian apartments, is high-end and refined. Notice the sculptural and eye-catching lighting everywhere. I like the minimal look (first thing to do for an effortless luxe decor in my book), as well as the textures and the restrained but rich color palette which add warmth.
Notice the unique kitchen, with its curved walls with steel-framed windows, which give an industrial chic touch to the room. The blue cabinets are an unexpected element, which I love.
Enjoy this sumptuous home!
For a few ideas on how to inject a touch of luxe to your home without breaking the bank, have a look at this article.
For more beautiful interiors, have a look at the image gallery.
3d Renders: ACV
---